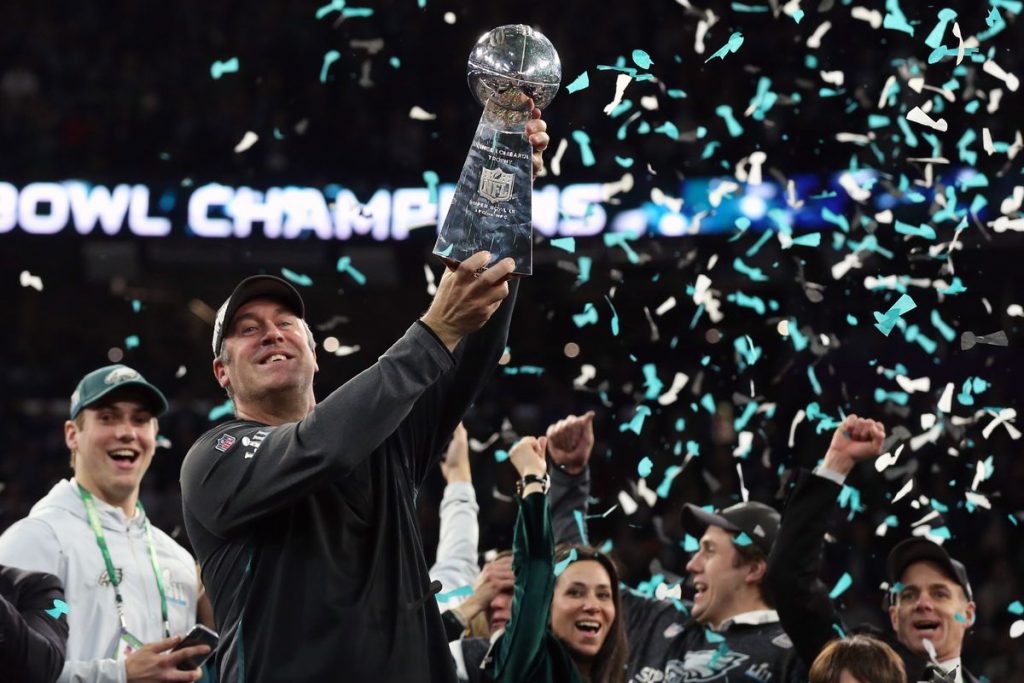 (Cover image courtesy of Star Tribune ; Image above courtesy of USA Today)
-Johnny Knast — @MrKnasty128
Every offseason in the National Football League brings with it a plethora of changes: new rules added to the rulebook (or old rules removed/rewritten), new rookies coming into the league from college, key veterans seeking more money (as if they don't make enough…) and moving from one team to another, via free agency or a trade.  This offseason has been no different than any other offseason (unless you're an Eagles fan like the majority of us – it took longer for us to get here – World Champs WHAT?!?!?!).
To begin this year's offseason, there have been seven new coaches introduced in cities such as New York, Arizona, Detroit, Indianapolis, Chicago, Nashville (Titans), and Oakland. The Raiders by far made the biggest shock when they hired former head coach Jon "Chucky" Gruden. Gruden had been a mainstay on ESPN since being fired back in 2008 by the Tampa Bay Buccaneers. Let's just wait and see how his second stint with the Raiders goes (times have certainly changed since he left the Bay). Another coaching saga this offseason belonged to the Indianapolis Colts who were all set to hire New England offensive coordinator Josh McDaniels following Super Bowl 52. However, two days after the Super Bowl, McDaniels informed the Colts he was staying in New England (coward move if you ask me). The Colts were left to start over their search but quickly filled the void by hiring Philadelphia Eagles offensive mind Frank Reich (boy I hated seeing that).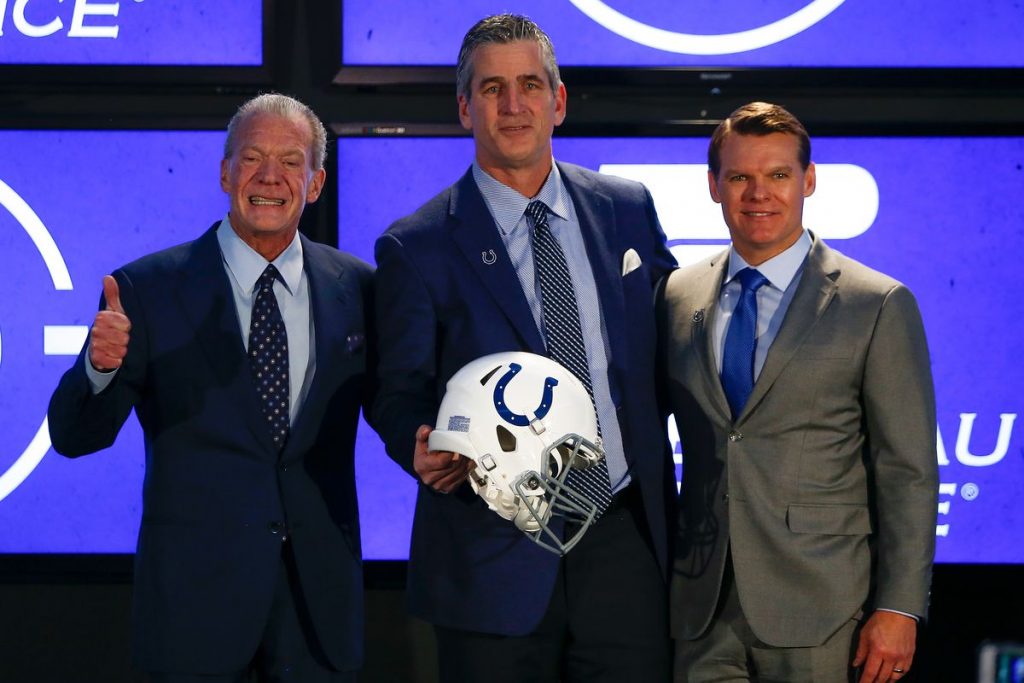 (Image courtesy of Stampede Blue)
Once the coaching sagas ended, next up was the NFL combine in Indianapolis which is always entertaining for fans and players alike. I enjoy watching the combine because it gives you the ability to scout players coming out of college (although as a fan we have no say in the matter, but… still fun to do). All eyes were on Hue Jackson and the Browns as they desperately searched for which quarterback would be able to help their franchise the most. Though most eyes were on the quarterbacks at the NFL combine, I believe Saquon Barkley (later chosen 2nd overall by the Giants) had the best combine ever by a position player and showed many why he truly was the best player in college football (even though he didn't win the Heisman…).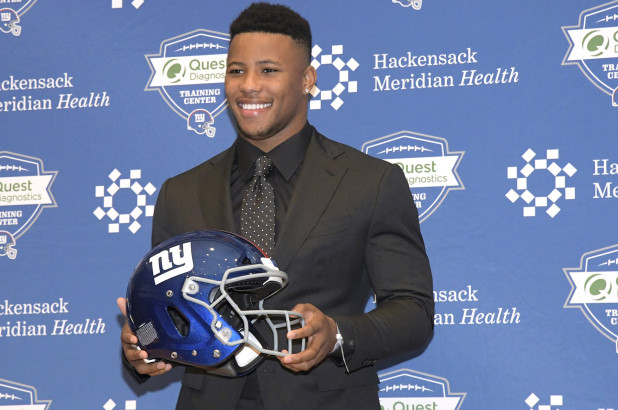 (Image courtesy of New York Post)
After the Combine wrapped up all was quiet for a few weeks until NFL Free Agency ramped up with many players going from one place to another.   The first name that comes to mind this offseason had to be quarterback Kirk Cousins, who we all knew was going to be let go once news broke that the Washington Redskins had acquired quarterback Alex Smith from the Kansas City Chiefs (still can't quite fathom that move…). Everyone thought that Cousins would wind up with the Jets or Browns based on the fact that they were the two teams with the most money (WRONG!!), but instead he signed a 3 year, $84 million fully guaranteed contract with the Minnesota Vikings (um…what??!!). With that the dominoes fell for the three quarterbacks who were on the Vikings roster (all free agents anyway).  Sam Bradford signed a one year twenty-million dollar deal with the Arizona Cardinals (and was escorted to their camp in a nice white truck with some red blinking lights on it).  Teddy Bridgewater signed a one year, $6 million contract with the suddenly quarterback-laden New York Jets.  Lastly the man that lead them to the playoffs and a game away from the Super Bowl, Case Keenum signed with the Denver Broncos on a two year thirty-six million dollar deal.
Although it is way too early to tell how teams and their free agents signings will pan out, I am kind of curious to see how it plays out with the Chicago Bears. With second year quarterback Mitch Trubisky leading the way, new first year head coach Matt Nagy, and the new offensive weapons they added via free agency (WR Allen Robinson, TE Trey Burton, and WR Taylor Gabriel), the Bears will look like a completely different team from last season.  The biggest name to move on the defensive side had to be nose tackle Ndamukong Suh, being released from the Miami Dolphins and signing a one year deal with the Los Angeles Rams. It is scary to see all-pro defensive tackle Aaron Donald teamed up with Suh (actually gives me the chills…poor poor NFL QB's). The Rams went into this offseason just like the Eagles did last year: fast and furious.  They acquired speedy WR Brandin Cooks from New England after just one season, and they were also tied to making a move to acquire WR Odell Beckham, Jr had he become available (thank goodness, he didn't).
With free agency in full swing the NFL and their owners held their winter meetings in Orlando, Florida and discussed rule changes for the upcoming season; The biggest one being the catch rule. Many players and coaches didn't know what the exact definition of a catch was after many questionable calls during the 2017 season.  Well, we finally now have the answer we've been looking for:  The new rule states that a player must possess the ball in-bounds (obviously) and make a football move, be it a third step, a step out of bounds, or a lunge forward (hopefully not backwards). Many calls were debatable in 2017, but two that come to my mind are the Jesse James catch (was ruled incomplete – costing Pittsburgh the game) and Zach Ertz lunging into the end-zone (thankfully it stayed as called on the field). A few other rule changes that were established are the automatic fifteen-yard penalty for leading in with your helmet (should be interesting to see how that plays out) and the twenty-five -yard line remaining the permanent touchback spot.  Lastly, a lot of debate has come about regarding the national anthem but I am not even going to get started there…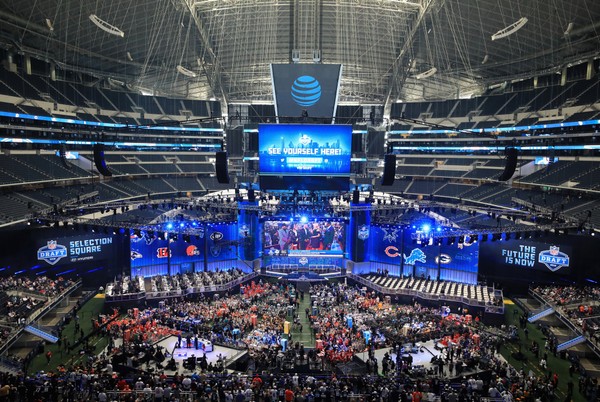 (Image courtesy of NJ.com)
The NFL draft took place April 26th-28th in Arlington, Texas at AT&T Stadium, also known as Jerry's World.  The fireworks flew for sure in the first round of the draft as five quarterbacks were taken with the first thirty-two picks, which saw the 2017 Heisman trophy winner go first overall (Baker Mayfield to the Browns) and the 2016 Heisman trophy winner go thirty-second overall (Lamar Jackson to the Ravens via trade with the Eagles). The Eagles made the most noise on day two (Thanks David Akers) when they moved up in front of the Dallas Cowboys in the second round to select the best tight end (expert's belief) Dallas Goedert out of South Dakota State (I am excited to see this kid play). The shock of the third round (in my opinion) belonged to the Pittsburgh Steelers when they selected Oklahoma State quarterback Mason Rudolph with the ninety-second pick.  It surely hasn't seemed like Big Ben is too thrilled with this pick as he made it clear to Pittsburgh that he wants to play at least another five years.  Only time will tell how that evolves in the Steel city considering they already have another young quarterback in Joshua Dobbs (fourth-round pick in 2016) on the roster. Day 3 wasn't all that eventful until round seven when the Dallas Cowboys (sadly) took Alabama RB Bo Scarbrough (who I wanted the Eagles to take). The Eagles also made a head scratcher of a pick by choosing OT Jordan Mailata out of Sydney, Australia. The kid has never played organized football in his life but is a heck of a rugby player (look him up on YouTube). Will he be able to make the NFL his new home?  We shall see…
Now that the draft and free agency are over (granted free agency is never over) it is time to get OTAs underway and mandatory mini-camps in full swing. The Eagles were supposed to be recognized at the White House June 5th; however, yet again politics got in the way of that scrapping the visit… nope, still not getting into it… The Eagles will host one more big party on Thursday June 14th where they will come together one more time as the 2017 team to receive their Super Bowl Championships rings (can't wait to see them get their bling!). After that is done it is time for all teams to get their last mandatory mini-camps done and then it is onto the 2018 NFL training camp season. Before you know it, we will be kicking off the NFL preseason with the annual NFL Hall of Fame game Thursday August 2nd with the Baltimore Ravens facing off against the Chicago Bears.
Stayed tuned for my BIG eight part series breaking down each NFL division and how I think each should playout this upcoming season.  In the meantime – GO BIRDS….i mean, um, go football! (we are definitely an unbiased bunch…of course…)
#TEAMNOBODY