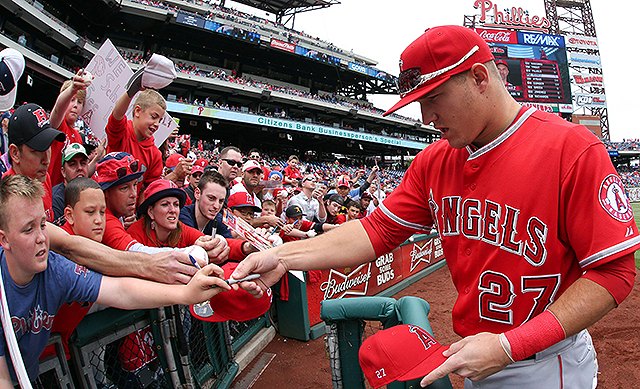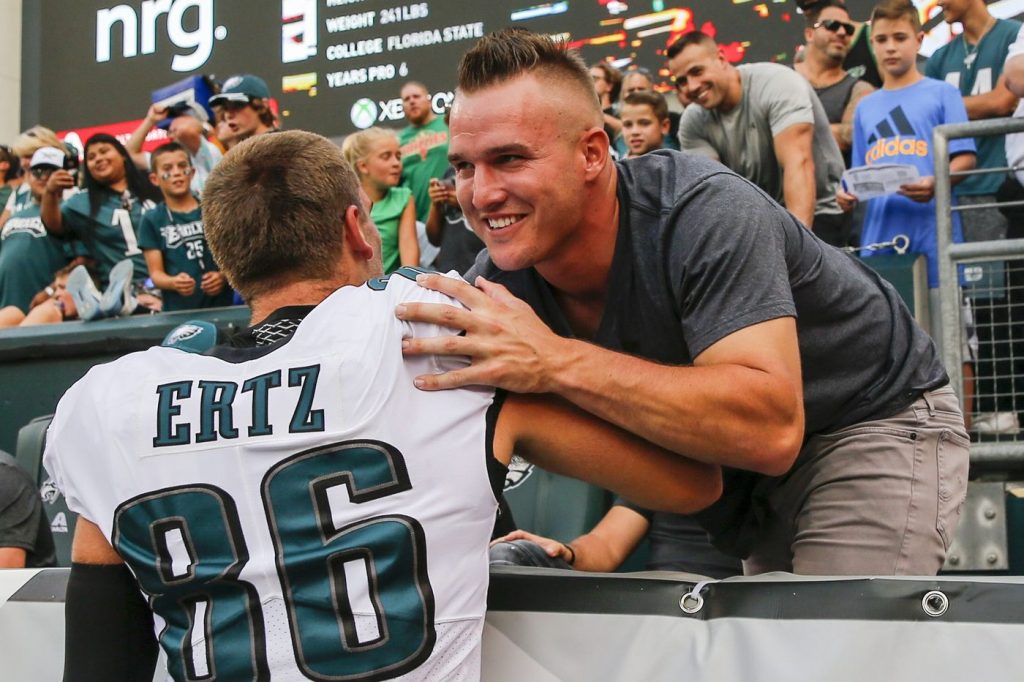 -Joe Gallagher (Photo credit above: Philly.com; Photo credit cover: USA Today)
Free Agency is upon us!  We've seen a few monster deals go down – Corbin signing with the Nationals, Goldschmidt to the Cardinals, Segura to the Phillies.  However the two most intriguing players are still available: Machado and Bryce Harper. As a fan of the Phillies, I would love to see either of these guys (or both) dressing up in the red pinstripes.  However, I still think we should be directing our attention to a 27-yr-old, Vineland, NJ native standing in Center Field out in Los Angeles. That same 27-yr-old who has season tickets to our beloved Eagles' home games, is in love with Carson Wentz and the philly faithful, and has stated numerous times he would love an opportunity to play at "home."  Yes – you guessed it: Mike Trout.
Okay, okay, so my friends have been giving me a boatload of shit for this lately, but I truly don't think it is as unrealistic as one would think.  After thinking of it, I've decided to create a step-by-step for the Phillies organization (Thank me later Klentak…) on how they can acquire THE guy.  It makes sense for us, makes sense for the Angels, and obviously makes sense for Trout – he would be all about coming home. I am sure a few of you will scoff at the 'makes sense for the Angels' point – but just read through the argument, and then let me know what you think!
The Blueprint for Mike Trout to the Phillies:
Trout, arguably THE best player in the game right now, is currently towards the end of a 6 year, $144.5 million dollar contract extension he signed back in 2014.  That means, he could potentially walk as a free agent at the end of 2020. With two seasons remaining on that deal, a roster full of expiring veterans (Pujols, Cozart…), a clusterf*k in the bullpen, Ohtani coming back from off-season Tommy John surgery, a GLARING need at Catcher – now would be the time to consider upgrading the team for 2020 and beyond.  And what better team to discuss with then our hometown Phillies.
Now, before I get to "the trade," there are a few things our Phillies still need to do:
Sign FA Manny Machado – Everyone has been hoping for this to become a reality.  I am not a huge fan of Machado; however I highly respect his baseball abilities and would gladly welcome him on the Phillies.  With the recent addition of Jean Segura, Machado would slot into a 3B role, creating a HUGE improvement in the offense for the Phillies: Hoskins (now back at 1B with the Santana deal), Hernandez at 2B, Segura at SS and Machado at 3B.  These 4 last season combined for a .275 batting average and 96 HRs. The signing of Machado frees up Maikel Franco (one of my favs…but time to go) for a change of scenery.
Re-Sign Wilson Ramos – Jorge Alfaro has the potential to be a stud.  However, we haven't quite seen it yet. What we do know is that Wilson Ramos is going to give you solid numbers from the Catcher spot – and he catches just as well as anyone else in the game.  Re-signing the 31 yr old to a 1-2 year contract would be a smart move for the team for two reasons: A) he's a veteran with a ton of experience and B) it frees up Jorge Alfaro for a potential trade (insert thinking emoji here…).  Andrew Knapp is a serviceable backup to Ramos. And it would make the Phillies first pick of the 2019 draft a very easy one: BEST catcher available!
Figure out which OF are actually going to be 'the guys' – Currently the Phillies have 6 outfielders listed in their top 20 prospects list, not to mention Nick Williams, Odubel Herrera, Roman Quinn, Aaron Altherr, and even Scott Kingery got some OF time last season.  Adam Haseley is a stud and could probably see the majors next season. Dylan Cozens has the potential to be a monster in the bigs (if he stops trying to be today's version of Adam Dunn), but I think he would benefit more from a DH opportunity. Moniak is still a 'stud' to some people but I see him as another guy who could use a change of scenery already in his young career.  Regardless, there are 11 guys who in the next 2-3 years would be competing for 3 starting spots. Keep that in mind.
Our Bullpen is a Clusterf*k… (and so is the Angels') – The bullpen last year was a disaster.  I was so high on Dominguez and then he just decided to give Les Sweetland (RIP) a run for his money for baseball's worst ever ERA.  But then of course… Hector Neris was like "Hold my Beer" and proved to all of us it could be worse… well, then there's Adam Morgan (Heyward's ball is still stuck in the atmosphere around Wrigley Field…).  The most interesting point here is that the Angels probably have the other, most dysfunctional bullpen in baseball this season. Half the bullpen could be a potential closer in the league, yet their pitching coach is about as good as reading pitcher/batter matchups as the kid in Billy Madison who prompts Sandler to say 'T-T-T-Today Junior!' (Wow, I've always wanted to use that quote in an article…..)  The Phillies and Angels have already shown us that they are willing to work on a deal, having just swapped Luis Garcia and Jose Alvarez.
The final step to the blueprint is money; not even OUR money.  There is another high-profile Free Agent in this year's MLB free agency: Mr. Bryce Harper.  So why do I bring him up? Well, Harper – the diva he is – would be a sure fire fit in Los Angeles, right?  How do I sell this: You get to play in Anaheim, however be considered an athlete in the Los Angeles Market.  You get to live in even bigger, better houses in Anaheim, with a 12.6% lower cost of living (yes I looked that up) and still be a mere 30 mins from the city, 10 mins from Long Beach and Santa Ana, and STILL be in the LA market.  The crime rates in Anaheim aren't even ¼ that of Los Angeles. You'd get to play with the Japanese Babe Ruth! You'd be able to keep all of your red-colored, non-logo'd clothing because you'd practically be in the same colors as the Nationals.  And since you are in Anaheim you can proudly wear your red out in public and not be confused as a member of the Bloods. Have I sold Anaheim yet? Alright, while I understand most of this is super-sarcasm, my point here is that trading Trout would free up a ton of money over the next two years that could be rolled into a deal for putting Harper in the Outfield in Los Angeles.  It would also allow them to give Harper an opportunity to have a say in the team they are building (especially considering they'd be bringing Harper in long-term) which I guarantee would be something that would interest him.
Okay so where does this blueprint leave us?  With each of these steps, comes the opportunity to free up a position player to offer in the trade package to the Angels.  What we do know about the Angels are four main things: They are in desperate need of a Catcher. They feature some aging veterans at key infield positions, which they are going to NEED to upgrade.  Their bullpen is a clusterf*k of promising 'maybes'. And lastly, Arte Moreno is the most impatient owners in baseball.
This leads me to my trade proposal:
Phillies Get:
Mike Trout
Cam Bedrosian
Angels Get:
Jorge Alfaro
Maikel Franco
Odubel Herrera
Dylan Cozens
Alec Bohm 3B (#2 prospect)
Adonis Medina RHP (#3 prospect)
Mickey Moniak OF (#6 prospect)
Ranger Suarez LHP (#8 prospect)
The Phillies would be giving up 4 of their top 10 prospects, along with an MLB experienced catcher in Alfaro, an MLB experienced third baseman in Franco and an MLB experienced, former All Star in Odubel Herrera.  Each of these guys are young with plenty of baseball ahead of them. The addition of Machado would free the Phillies up to make Bohm available in the trade. Re-signing Ramos allows the team to offer up Alfaro, with Catcher being an immediate need for the Angels.  Receiving Trout in the deal also allows the team to offer back Odubel Herrera (a guy I already can't stand – but everyone loves…) Medina and Suarez are two guys who could easily find themselves in an MLB rotation in short order (Ranger having been given a shot last season).  Moniak – one time considered the Phillies #1 prospect – JUST turned 20 this year and has plenty of time to become a stud. And Cozens immediately steps in as DH with Ohtani slowly coming back from Tommy John. In return, the Phillies get their hometown guy in Trout, and we see the second coming of BedRock with Cam Bedrosian coming in – who I feel could easily become our closer.  This helps the Angels solidify Kenyan Middleton as their go-to in the 9th.
I realize everyone will rebuttal that we'd HAVE to give up Sixto Sanchez.  But I just don't think that is the case. I think, when on the table, Moreno would have a hard time passing up on three MLB ready & experienced, YOUNG players who would immediately start.  Cozens could even slot in as the DH while Ohtani slowly comes back from Tommy John. Not to mention 4 of the top 10 prospects from the Phillies farm system. While 8 players seems like a lot, the ONLY one of these guys who really contributed for us last season is Odubel.  You can argue a ½ point for both Maikel and Alfaro if you'd like – so 2 total players were contributors. Our 11 outfielders goes down to 9 (8 + 1 with addition of Trout). And while I am high on Medina, we still have Sixto, Jojo and Irvin doing their thing in the minors.
I think this move would really help both teams out – Phillies get their guy, and the Angels get younger, something that is MUCH needed across their organization.  AND they can go throw all their newly found money at the Diva himself: Bryce Harper.
Not as crazy as you think anymore, huh.  
Let me know your thoughts!
#TEAMNOBODY