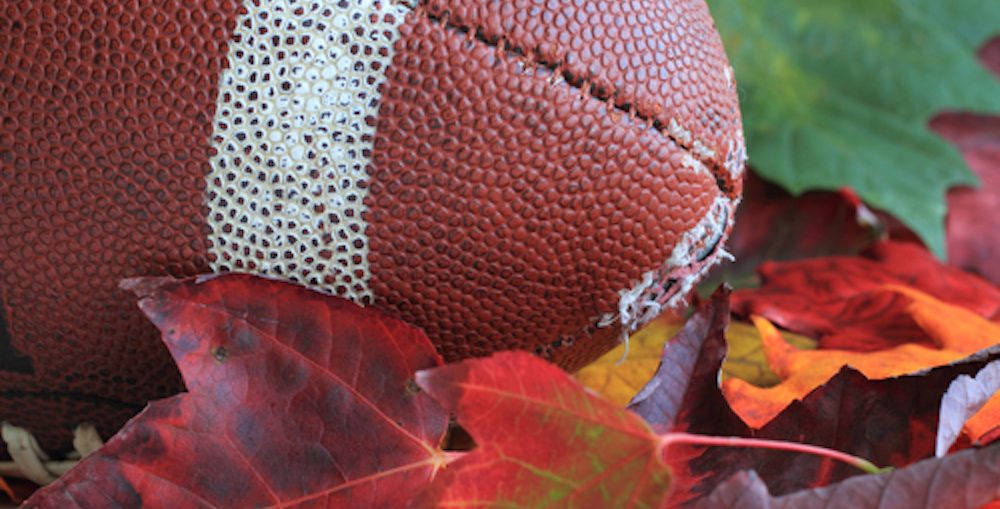 Week 6 has arrived. And with it, the sudden onset of fall weather here in the upper Midwest. We haven't seen the sun in a few days. It's been rainy and windy. To be quite frank, it's been AMAZING. Fall is hands down the best season. I'll fight you on this. I'll fight you until my death bed. October is the clutchest of months. All of the sports, all of the month, all of the weather. It's the perfect trifecta. And the first weekend of college football in October isn't necessarily the most star-stellar line-up of games, but it's college football, so there's at least a little bit for everyone this weekend. Here's the Week 6 College Football Preview.
Let's not waste anymore time and dive head first into the slowly growing pile of leaves that is Week 6.
---
All games on Saturday unless noted. All times ET.
(1)

Alabama (-35.5) at Arkansas (Noon, ESPN/WatchESPN)

Spoiler alert: Bama wins by 50.

Prediction: (1) Alabama wins 63-13
---
(19)

 Texas at

(7)

 

Oklahoma (-7.5) 

(Noon, FOX)

It's the Red River SHOOTOUT! And even though it's happening at noon, which is an absolutely bizarre scheduling decision given both teams successes this season, this game has all the makings of one helluva game to kickoff Saturday. You have to assume that the winner of this game has their ticket to the Big XII title game punched against (more than likely) West Virginia.

Prediction: (7) Oklahoma wins 37-30 (and we wait one more year for Texas to truly be back)
---
(6)

 LSU (-2) at

(22)

 

Florida 

(3:30pm, CBS)

In another edition of time travel football, LSU and Florida face off as they both try to establish themselves as the best second tier team in the SEC. Expect Florida to play with a little added passion this week as they try to carry the momentum from a week ago, when they beat Mississippi State.

Prediction: (6) LSU wins 17-14
---
(13)

Kentucky at 

Texas A&M (-5.5) 

(7:30pm, ESPN/WatchESPN)

Kentucky is having there best season since Truman administration. That continues today. (Side note: I've always wanted to say "since the Truman administration" as a factual statement because I feel it has always sounded cool.)

UPSET Prediction: (13) Kentucky wins 17-10
---
OBLIGATORY WISCONSIN PICK: Nebraska at
(16)

Wisconsin (-17.5) (7:30pm, Big Ten Network)

Every game the rest of the way out is a must win for the Badgers. Hopefully, this isn't an unforeseen speed bump along the way.

Prediction: (16) Wisconsin wins 37-20
---
(6)

Notre Dame (-6.5) at 

(24)

 Virginia Tech (8:00pm, ABC)

Notre Dame is playing the 24th ranked team for the second week in a row. That's pretty neat. Unfortunately, that will probably be the only neat thing for VT.

UPSET Prediction: (6) Notre Dame wins 33-21.
---
Joe's Game That NOBODY Cares About
North Texas (-27) at UTEP (7:30pm, Good Luck Finding This)
Where do I begin.  Only two schools have scored less points thus far into the College football season, than the UTEP Miners have:  Iowa State and UCLA. Athlon sports ranked UTEP as the 130th ranked team in the country (out of 130) to start the season…and they still find themselves there this week, heading into a matchup at home against the North Texas Mean Green… Last week, I wrote about those Mean Greens, a team I was expecting big things from this season…. And they broke my heart.  They unretired Mean Joe Greene's number for a game, only to blow their perfect start to the season via a blocked field goal that would've won the game against Louisiana Tech… Because of that, I will be rooting for the Miners this weekend to pull off THE upset of 2018, in front of all 86 fans that will be in attendance… and by upset I mean win WITH the 27 points… hopefully.
Prediction: UTEP wins (but only given the 27 points…so technically they'll lose…)
---
#TeamNobody