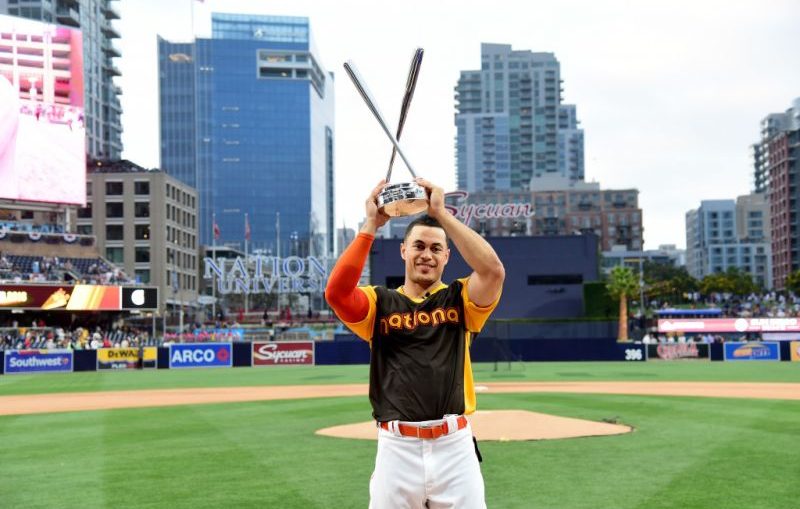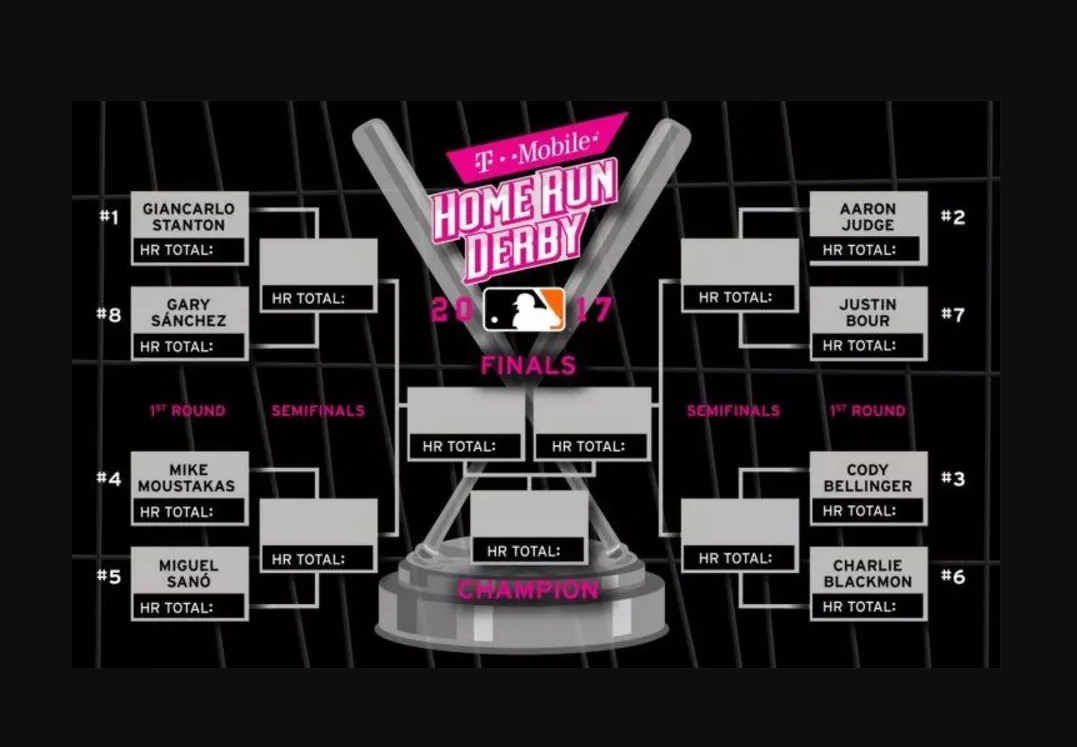 Tonight kicks off the 2017 MLB All Star festivities, with the event that I personally find more entertaining than the All Star Game itself:  the Home Run Derby.  This year's group of 8 came with its share of eye-brow raising choices, with some players (*cough Logan Morrison *cough) being very vocal about it.  Hearing all of the off-the-field banter regarding the 8 who were selected, made me curious as to what the selection process was.  After doing my research…I still don't know that I can give you that answer.  However, I can give you some insight on who was and was not invited, and a brief breakdown of what we can look forward to tonight!
Players in Home Run Derby (Mid-Season MLB home run ranking in parenthesis):
#1 – Giancarlo Stanton (tie-3rd)
#2 – Aaron Judge (1st)
#3 – Cody Bellinger (tie-5th)
#4 – Mike Moustakas (tie-5th)
#5 – Miguel Sano (tie-14th)
#6 – Charlie Blackmon (tie-16th)
#7 – Justin Bour (tie-16th)
#8 – Gary Sanchez (tie……81st….)
Okay, so this year's Home Run Derby features 4 of the top 10 homerun hitters this season, 7 of the top 16, and then we've got Sanchez way down there at 81st.  Of course, to confirm these numbers, I went onto mlb.com to review the season statistics on these players, of course most importantly their home run numbers.  Even more importantly, the top 10.  George Springer (2nd) declined to participate this year, basically stating he was not a fan of the derby and is not a "Home Run Derby Guy."  Joey Votto (tie-3rd) voluntarily passed as well, citing the potential for unnecessary injury and that he'd "rather save the energy (and home runs) for the field and during games which matter."
This then brought me to Logan Morrison, who was recently being blasted in the media for calling out the fact that Gary Sanchez was invited to the HR Derby with his meager 13 Home runs, while Morrison sits in a tie for 7th with 24 home runs.  Undoubtedly, my favorite quote in the whole debacle was when Morrison adamantly stated, "I remember my 13th home run…that was like a month ago…"  I can't blame Morrison for being upset.  He is 29 years old, and having the greatest season of his career thus far.  The only reason I can think of for him to NOT be invited to participate is because he plays for the Rays.  Well, that and his twitter-documented homophobia (which was rather pathetic…).
But even after reading into the Logan Morrison argument, I had to think to myself, who else was passed on, in order to get us all the way to Gary Sanchez?  My research continued.  Khris Davis (tie-7th) never got a call.  Jay Bruce, Justin Smoak, Eric Thames, Marcell Ozuna (tie-9th), their phones never rang.  Joey (the only thing I CAN do right is hit homeruns) Gallo, actually did get a call, but he declined; he didn't think he had earned the right to participate in the home run derby if not an all star.  Fan favorites like Bryce Harper, Paul Goldschmidt, surprisingly resurgent Ryan Zimmerman and out-of-nowhere Travis Shaw…nothing.  I can continue…through the top 80 Home Run leaders…and give you…80…options who should have come before Gary Sanchez.
Basically, I am just as surprised as Logan Morrison, Khris Davis and Eric Thames, that they are not participating this evening.  Maybe they all were in poor cell coverage areas?  Maybe MLB had wrong numbers?  Whatever the reason, Sanchez is by far the least deserving hitter in this year's Home Run Derby.  But what do I know, he'll probably end up winning…
My predictions for tonight:
#1 Stanton vs #8 Gary Sanchez:  You know my vote here.
#2 Aaron Judge vs #7 Justin Bour:  Aaron Judge wins this one with his eyes closed and batting lefty.
#3 Cody Bellinger vs #6 Charlie Blackmon:  The beard doesn't help him at all…Bellinger beats Charlie.
#4 Mike Moustakas vs #5 Miguel Sano:  Their odds are similar, but Moustakas is greek…so he most likely bets on Sano to win and then hits line drives the whole time.  So I'm giving Sano the win (sorry Miz)
Round two:
#1 Stanton vs #5 Sano:  While I am willing to wager Sano will hit the longest HR of the evening, he doesn't hit enough to beat Stanton.  Stanton takes this.
#2 Aaron Judge vs #3 Cody Bellinger:  In the rookie vs rookie battle everyone wants to see tonight, both guys put up big numbers.  BUT, I am super biased towards Judge so…Judge wins it in a close battle.
Grand Finale:
#1 Giancarlo Stanton vs #2 Aaron Judge:  This is a tough one for me.  My bias leans towards Judge, but I think the rookie will try too hard to destroy every baseball in the state of Florida this evening.  So, I am going to take the easy way out and say, once again, our MLB Home Run Derby champion is Giancarlo Stanton.
…and now we wait to see.
#TeamNobody