What a weird week. The NFL, NBA and Men's College Hoops have been surrounded in controversy and turmoil. Hugh Hefner died (although I honestly thought he died like 5 years ago). Not one, but two Kardashian/Jenners are "pregnant".  The iPhone 8 has officially been released. It's been a crazy one that's for sure. With all the crazy, at least we can depend on the fact that normalcy returns on Saturday's for college football. We're getting into conference play across all conferences now so the games will get more and more intense as the calendar progresses. And honestly, there's really nothing better than conference play. Teams that know each other well. Most of them hate each other, but also there's the level of respect they have. Man, it's great. And guys, you'll be happy to know that this week won't disappoint. Here's a look at my Week Five College Football Preview.
-Shawn
---
All games on Saturday unless noted. All times ET.
(5) USC at (16) Washington State (Friday, 10:30pm, ESPN/WatchESPN)
(If you haven't had the luxury of watching a Mike Leach interview, you owe it to yourself to go do and do so)
Washington State is 4-0 for the first time since 2001. They are taking their undefeated record into a Friday night match up against Pac-12 opponent USC. USC is currently riding the second longest win streak in the nation. Something has to give in Pullman on Friday night. Expect the Cougars to come out firing on all cylinders as they have outscored their opponents 87-19 in the first half so far this season. Meanwhile, the Trojans have outscored their opponents 72-38 after three quarters. This game will be a battle of the Tortoise and the Hare. Can the Cougars put up enough points to weather the Trojan storm in the latter stages of the game, or will the Trojans be able to limit the Cougar assault and finish strong?
Prediction: (16) Washington State wins 38-28
---
Northwestern at (10) Wisconsin (Noon, ABC/WatchESPN)
(This is a pro-badger blog. #BuckyIsTheBestBadger)
Football returns to Madtown. And thank god! Both teams are coming off a bye week so expect everyone to be well rested. This game will feature to stellar Big10 running backs in Badger Freshman Johnathan Taylor and senior Justin Jackson for Northwestern. With both running games being stellar, this game should come down to two things. Which defense can contain the opposing tailbacks and which Quarterback can potentially take over the game late if this stays close. Unfortunately for the Wildcats, that Badgers are superior in both of those categories. Wisconsin is toting a top 5 scoring defense as well as a Quarterback who is establishing himself as one of the best in the conference. I think we all know which direction I'm leaning in this one.
Prediction: (10) Wisconsin wins 42-17
---
Florida State at Wake Forest (3:30pm, ABC/WatchESPN)
(This is one of the craziest entrances in College Football. What is the correlation between a Demon Deacon and a motorcycle)
Florida State is unranked for the first time since 2011. And unfortunately, the road back isn't going to be an easy one. The 'Noles, coming off a home loss, head into Winston Salem to face an undefeated Wake Forest team.  The home loss for FSU doesn't bode well for the Demon Deacons. They always say that you should be afraid of someone who has nothing to lose. And at this point, Florda State has nothing to lose. Their National Title hopes went the way of DeAndre Francois' knee. They will come out swinging and unfortunately, Wake Forest is in arms reach this weekend. Expect FSU to come out of this one.
Prediction: Florida State wins 38-7
---
(24) Miss St at (13) Auburn (6:00pm, ESPN/WatchESPN)
(I think Gus Malzahn missed his calling.)
Remember when everyone was in love with the Mississippi State Bulldogs two weeks ago. Coming off a win against LSU, there wasn't a more trending team in College Football. Well, a week later, it was established that maybe that win was a fluke. In the Bulldog Showdown last Saturday, Mississippi State was whooped by the Georgia iteration of the dog. Mississippi State heads into a very difficult game against Gus Malzahn and the Auburn Tigers. I'm going to take this time to re-establish my argument that the SEC is the 3rd best conference in college football. They are incredibly top heavy. You only hear about 5 teams. And one of their analysts on their pregame show hit sub .250 in minor league baseball. Anyways, Auburn further reinforces the point that the Bulldogs don't belong in the picture.
Prediction: (13) Auburn wins 45-10
---
Memphis at UCF (7pm, ESPN2/WatchESPN)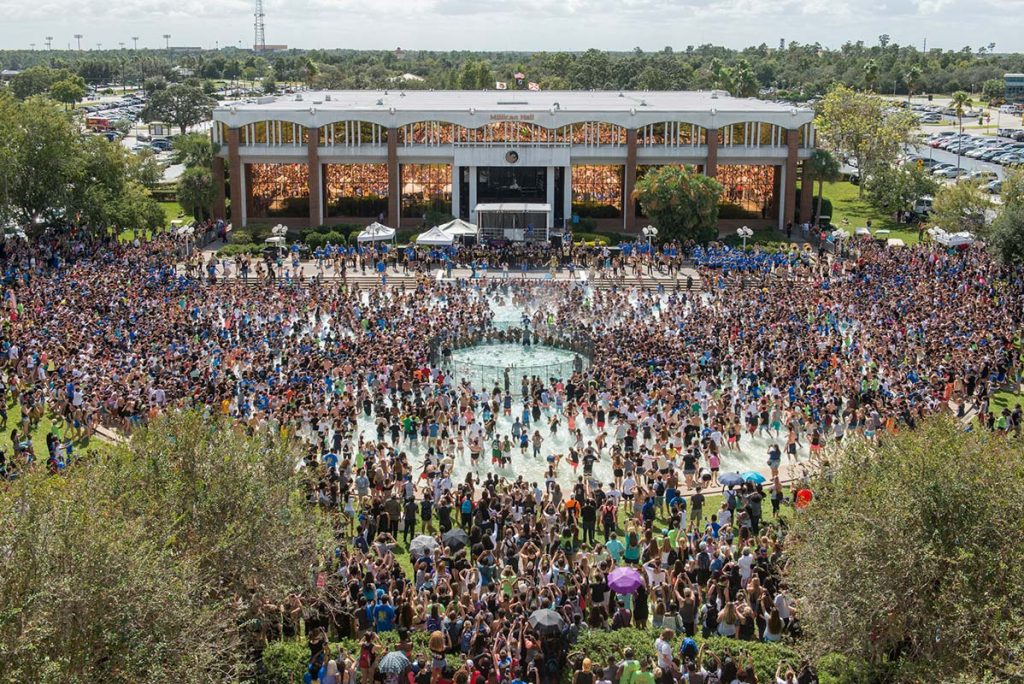 (Okay, this doesn't have so much to do with Football as it does with how gorgeous of a campus UCF has. This literally exists in the middle of campus. Usually with much less people)
UCF is not playing around this year. Well, at least when they get the opportunity to take the field. The Bounce House will be rocking as the Knights welcome in the Memphis Tigers. Now if you're looking at your preseason schedules, this game was actually supposed to be played back in Week Two but was cancelled because of Hurricane Irma. The Knights offense has been better than expected this year, ranking 2nd (49.5) in scoring offense this season. Now granted, this has been a very small sample size, but from what I've seen, they look quite good. Meanwhile, the Memphis Tigers rank in the Top-15 (43.7) in scoring offense. This one has the potential to be an explosive matchup.
Prediction: UCF wins 52-35
---
(2) Clemson at (12) Virginia Tech (7:00pm, ABC/WatchESPN)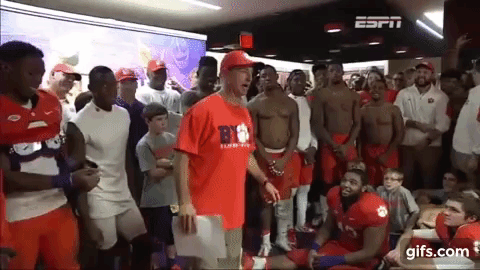 (DABo on 'em)
In a rematch of the 2016 ACC title game, these two teams take the field while having the potential to play three times within a calendar year. These two teams not only have a very solid chance of not only playing in the ACC Title Game come post season, but also very well finishing out this season in the top 4. Realistically, this is going to be a great game to watch and I'm having a hard time determining a winner. So I'm probably just going to ramble on a bit. Back to my conferences argument, while the SEC is incredibly top heavy, the ACC currently has five undefeated teams, which is the most amongst Power 5 conferences. This game is going to go a long way to establish the ACC as maybe the best conference in College Football. I think Clemson is too good to lose this one.
Prediction: (2) Clemson wins 38-35
---
And there ya go. Sit back this weekend. It's Fall. It's time to enjoy College Football. Talk to you guys soon.
#TeamNobody