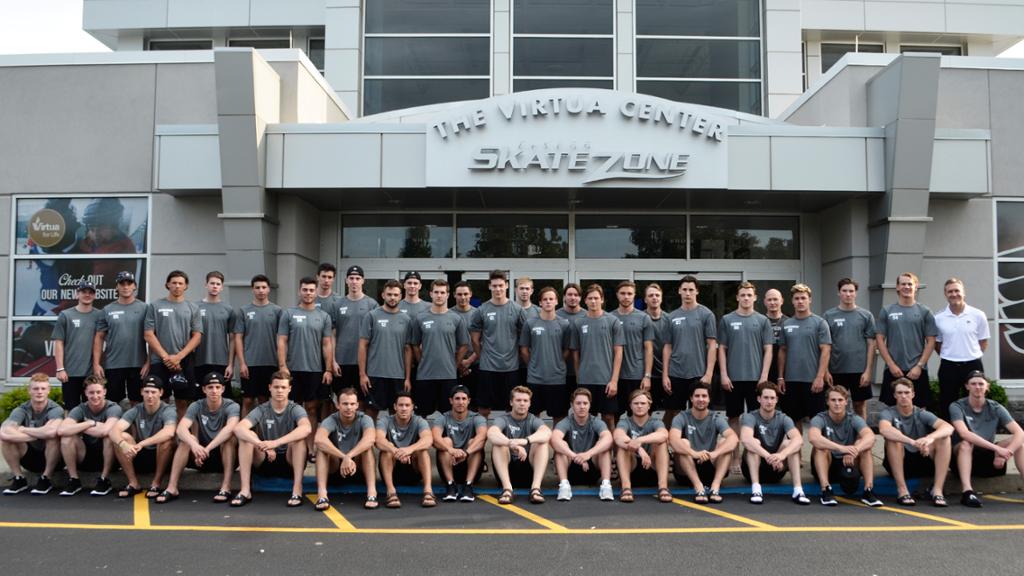 Photo credit: NHL.com; Main photo credit: CSN Philadelphia
The time has come to see our future prospects on the ice as the Flyers kick off their development camp. You can say we haven't been this excited to see our prospects in a long time. Our two goaltenders to keep our eye out on are Carter Hart, Western Hockey League Goaltender of the year and Felix Sandstrom, which had a great performance at the World Juniors. Hart had an impressive season with a 1.99 GAA and a .927 SVS%. Hart also had an outstanding World Junior tournament with a record of 3-1, helping Canada make the Gold medal match. As an 18 year old he has put up great numbers but has plenty of work to do before taking the next step. He has great awareness where the puck is at all times and can recover quickly from a shot. One negative thing I saw at the world championships was his inability to keep his stick on the ice. On the other hand Sandstrom put team Sweden on his back with a record of 4-1-1 at the World championships. The 6'-2″ goalie shows great amount of quickness in the crease. He made plenty of great saves throughout the tournament going post to post. In 22 games played in the Swedish league, Sandstrom finished with a 2.25 GAA and a .908 SVS%. I can't wait to see both Hart and Sandstrom between the pipes in a couple of years.
On defense we can keep our eye out on Travis Sanheim.  He finished his first year with the Phantoms scoring 37 pts in 76 game in the regular season.  After a slow start to the season, Sanheim felt more comfortable in his role as he helped the Phantoms make the playoffs. Sanheim is a 6'-4″ defenseman who isn't afraid to take a block for his goalie. He has a strong build, easily able to take players off the puck. However, his most impressing talent is his offensive ability. He has great vision on the ice, and with his speed, he has the ability to turn a defensive play into a offensive break.
Another big name to keep an eye on is undrafted free agent Philippe Myers, a great pickup by Ron Hextall.  Myers is getting ready for his first season with the Phantoms. After a short season due to injury in the World Juniors, Myers scored 35 pts in 34 game. Myers also has the speed to join the rush and has a great amount of power from the point. It will be fun watching Myers next year with the Phantoms, especially on the power play.  His ability not only to move the puck, but just ripping shots from the point, will be fun to watch.
Finally another player not quite talked about is David Bernhardt, a true strong defenseman, from blocking shots to taking players to the boards. He doesn't have the offensive ability but can be a solid guy on the blue line.
As for our forwards, the one who I can't wait to watch is Oskar Lindblom. Lindblom had a breakout year in the Sweden Hockey League, scoring 47 pts in 52 games. With a few roster spots open, he has a great opportunity to impress the Flyers this year. He has the speed and skill the Flyers need on their roster, with an ability to move on and off the puck.  You give him a slight amount of room, and he'll make you pay. The league is changing and players like this will be a key part in the years to come.
Another player that's looking to make the roster is Mike Vecchione, an undrafted free agent from Union College. Vecchione just signed a two year contract with the Flyers, as he joined them last year after his impressive senior year scoring 63 pts in 38 games. The Flyers have struggled to add depth to their roster in previous years, so Vecchione would be a perfect fit on the fourth line. Players coming straight from college to the NHL can be a slow process, trying to get them playing on an NHL level. However, as he showed in college, he has great control of the puck and uses his speed as an advantage to get up and down the ice.
Within the next few days will also see our new prospects Morgan Frost and Isaac Ratcliffe as they get their first taste in the Flyers organization. Also participating is German Rubtsov, David Kase, Mikhail Vorobyov, and Radel Fazleev. Soon to come will see all of these guys on the ice together competing for the same thing, winning a cup for our city!