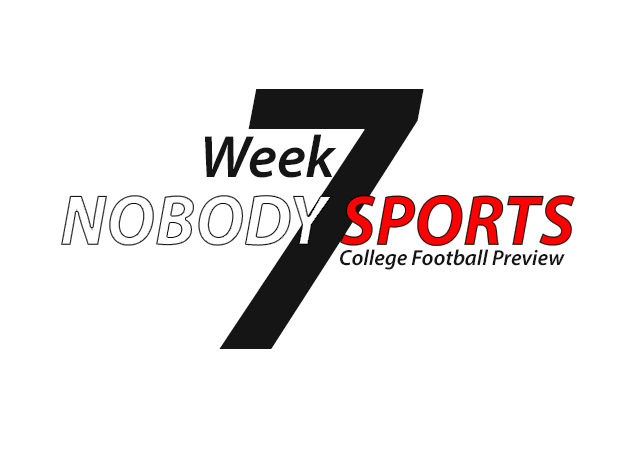 Hey gang! What's the perfect way to follow up a perfect week of college football predictions? Well, abandoning my faithful followers for Week 6. Sorry about bailing on you last week. It's been a bit of a shitshow on my end, but I'm back. And I picked a helluva week to come back to. Have you gotten a chance to take a look at the schedule for this week? There isn't a single Top-25 match-up this weekend. I KNOW! That doesn't mean there won't be good games to watch. It's just might be a little bit more difficult to find quality games throughout the day. But fear not friends, I'm here to guide you and bring you a short and sweet list of games to watch this weekend. Here's the Week Seven College Football Preview. Let's get this thing started.
---
All games on Saturday unless noted. All times ET.
(9) Washington State at Cal (Friday, 10:30pm, ESPN/WatchESPN)
Washington State is quickly working it's way into the hearts of College Football fans hearts. Senior Quarterback Luke Falk is having a stellar season, and another quality performance Friday night in Berkeley could bring him into the Heisman conversation. This game will go a long way to determine the seasons of both teams: the Cougars need to keep up their pace to keep them in the College Football Playoff conversation, and Cal is still seeking it's first Pac-12 win of the season. Expect the Washington State offense to be the difference maker as it has been all season.
Prediction: (9) Washington State wins 38-17
---
(24) Texas Tech at West Virginia (Noon, ESPNU)
When you think Texas Tech, you think 500+ passing yard games, correct? Well this hasn't been the case of the 2017 Red Raiders. Tech is averaging 163.2 rushing yards/game this season which has been a godsend for the Red Raiders as it has brought a semblance of balance to them this season. On the other side, West Virginia will be riding high as it's homecoming in Morgantown this weekend. Junior Will Grier will impress as he has time and time again this season.
Prediction: West Virginia wins 45-38
---
Purdue at (7) Wisconsin (3:30pm, BTN)
Well, I'm thinking you know how I'm leaning on this one. There really is no chance that Purdue keeps up with the Badgers at Camp Randall. The weather is supposed to be abysmal. I'm taking a rain jacket. Johnathan Taylor will be bringing is lunchpail. Expect a massive game out of the Freshman as the Purdue defense won't be able to contain the Badger superstar. This one will be over by halftime.
Prediction: (7) Wisconsin wins 55-14
---
(12) Oklahoma at Texas (2:30pm, ESPN/WatchESPN)
The Red River Showdown heats up again on Saturday. This is going to be a very big determinant as to what the realistic chances of Oklahoma's playoff chances are come seasons end. The last time the Sooners lost back-to-back games was back in 1999. I betcha can guess who the second of those two losses was against? Ding, ding, ding! You got it! The Texas Longhorns. I don't think it can emphasized how important this game is for Oklahoma. This one is going to live up to the history of this rivalry.
Prediction: Texas wins 24-21 (although if Oklahoma wins, expect Baker Mayfield to murder an actual steer on the field)
---
And there ya go. Short and sweet. It's good to be back. Have a good weekend guys!
#TeamNobody