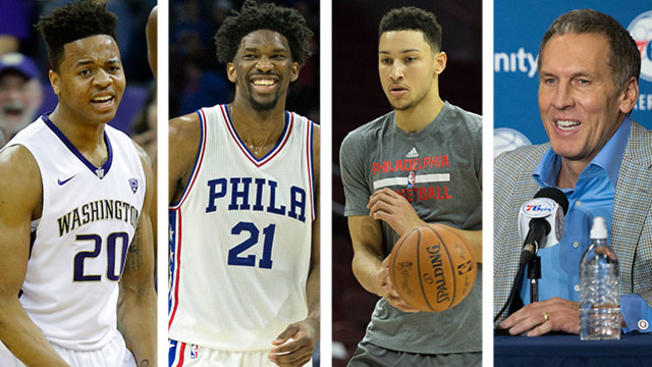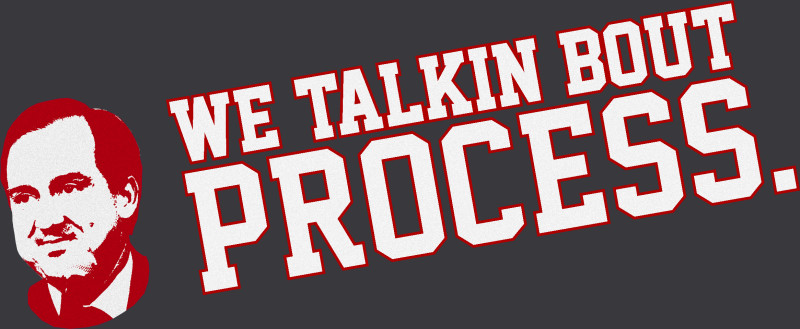 Source: teerepublic.com
How about those Philadelphia 76ers??  Tankadelphia no more!!  #TRUSTTHEPROCESS all day!!!
Here is my best guess on what the Sixers roster will look like. They are the hot topic in Philly right now and it could be interesting in how Brett Brown divides up the minutes:
Starting Lineup
Fultz – PG
Redick – SG
Covington -SF
Simmons -PF
Embiid -C
I believe this is how the starting lineup will look (barring injury, we've through enough, so let's not talk about this as even a possibility).
Simmons is nearly 7 feet tall, and extremely athletic, and I feel he is best suited to guard the opposition's 4. It also puts him in the best situation to grab the rebound and push the pace, and start the break. I can see the Sixers doing things similar to what the Cavs and Warriors do, where you will see Draymond Green and Lebron play that point forward role. That's what I see in Simmons.
Embiid is obviously the key to this whole thing. He is "The Process" and the face of Sixers and possibly even the entire city. He can get the ball in the post and beat you down there and he can also hit a three. And his defense is spectacular, as he is a great rim protector.
Covington is in the starting lineup because of his defense. He is really the only guy who you know can play perimeter defense and guard the opponent's best player. That's his main job on this team. He can also hit the three if needed.
Redick is the key free agent acquisition. He is exactly what this team needed. He is a knockdown shooter. That was the biggest thing that the Sixers needed. He spaces the floor and his ability to move without the ball and come off screens and hit the three is something this team desperately needed. And with Simmons passing ability, and lack of shooting it gives him and Fultz more room to drive and finish or kick it out.
And finally, Fultz. The number one overall pick has a wide variety of offensive ability and good size. He can drive, he can pass, he can shoot. All things you look for, and the reason he went first overall. He will probably share the ball handling with Simmons. He has the ability to play off the ball and still be effective, which is why the Sixers traded up to get him. He's the perfect fit. His defense will be question mark and something he will have to work on and get better at. With two rookies being the primary ball handlers, we will see turnovers and mistakes. They should get better as the year goes on and get acclimated to the NBA.
Reserves
TJ McConnell
Jerryd Bayless
Nik Stauskas
Dario Saric
Richaun Holmes
Amir Johnson
Jahlil Okafor
Justin Anderson
Now, this is where things get tough to figure out. How does Brown divide the minutes to these reserves? The Sixers lack some depth on wing. They have to many big men and to many point guards, but not enough wings.
Let's start with Saric. He will be the 6th man and probably the first guy off the bench. He probably should have been rookie of the year and showed last year that he belongs. If he works on his outside shot, he could be a really effective, good player for a long time. The Homie, as people call him, provides energy that could really work well with the second unit. He should also get time next to Embiid and some starters.
Now onto Okafor, many people (myself included) want to see the Sixers part ways with him. It would make some sense, because you still have enough big men, and you could add another wing guy (Timothe Luwawu-Cabarrot). He was the number three overall pick and has a great low post offensive game. His issues are that he doesn't rebound, doesn't play defense, is slow, and can really only score in the post. But, if you feed him the ball in the post he can score. Will he be happy playing only sparingly? If he is ineffective or the Sixers don't feel like he is willing to accept that, then the best move is probably just to cut bait and move on and admit you made a mistake.
TJ McConnell proved last year that is can play in the NBA. He is not very athletic and is smaller and his shot is not very good either. However, he makes up those deficiencies by providing energy and smarts. You know what you are going to get with him. He reminds me a lot of Matthew Dellavedova. There is nothing wrong with that, but he just isn't good enough to start if you want to win a title. He is perfect for the backup point guard and stabilizing the second unit.
Jerryd Bayless is a veteran who they signed last year, but only played 3 games due to wrist surgery. He was brought in to provide veteran leadership and also the ability to shoot and play off the ball with a guy like Simmons. He is healthy this year and can provide shooting and ball handling ability while playing next to Simmons and McConnell and Fultz.
Amir Johnson was signed to a one year $11 million contract. It was definitely a surprising move. It could signal the end to Okafor. He started 78 games for the Celtics last year and has been around the NBA for 12 years (he came out of high school). He provides exactly what you wish Okafor provided, toughness, rebounding, and defense. He also has the ability to knock down a three, although the sample size is small.
Nik Stauskas had one skill set coming out of Michigan and that was shooting. That's why the Kings picked him 8th overall (thanks for the pick swap, Vlade). In today's NBA, that is a good thing. He struggled with his shot his rookie year in Sacramento and in his second year here in Philly. He seemed destined to be out of the league in a few years. However, he finally started to shoot better last year and with the money he is owed will be around this year. He is nothing special and not the best athlete, but as the bench player with best shooting ability, he should see some time.
Justin Anderson, who came over in the Nerlens Noel trade from Dallas last year, may not get much playing time. He is a good defensive player, but has struggled to shoot in his brief time in the league.
Finally, we have fan favorite Richaun Holmes. I think he is so liked in this town because he's not Okafor. He provides energy and plays defense and is super athletic, and can hit the occasional three. How the minutes get sorted out is anyone's best guess. Injuries will help determine that as well. I have 13 guys mentioned and no way does Brown play all 13 every night. There just isn't enough minutes to go around. Some guys either won't make the team or get traded or just won't play. There is just to many guys right now.  And they are all NBA level talent. Who would have thought that 2 years ago? It will be interesting to see how it plays out.
* Timothe Luwawu-Cabarrot, Furkan Korkmaz, Jonah Bolden and some of the other late round picks and current summer league players are all bound for the D League. You want these guys to develop and sitting on the bench in the NBA doesn't help that. They need to play and the best way to provide that is the D League. TLC saw a good sample size of the NBA last year, but I don't think there is enough minutes for him. He would be the first to be called up if there were an injury or a trade (Okafor).
Final Predictions:
Mike:  39-43 7th seed in the Eastern Conference
Joe: 41-41 6th seed in the Eastern Conference
Mizis: TBD
* With the Pacers, Bulls and Hawks (all teams that made the playoffs last year) losing their best player and starting their own rebuild, three spots open up. The Sixers should grab one of them. They have enough talent to do it. As long as Embiid stays healthy and plays 60 games, I can't see how this isn't the final outcome for this year. I'm looking forward to this year, as are most of Philly. They are building this thing up and their talent looks better than most teams. Because they are so young, they are not quite ready this year. But, with Lebron potentially leaving and heading west after this year, the Sixers could be in position as early as next year. 10, 9, 8, 76ers!! Clap your hands everybody!
#TEAMNOBODY