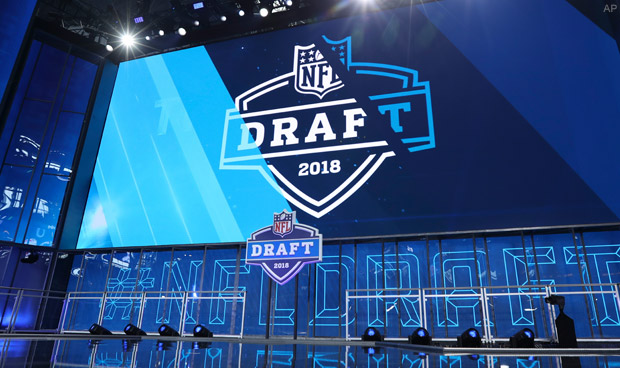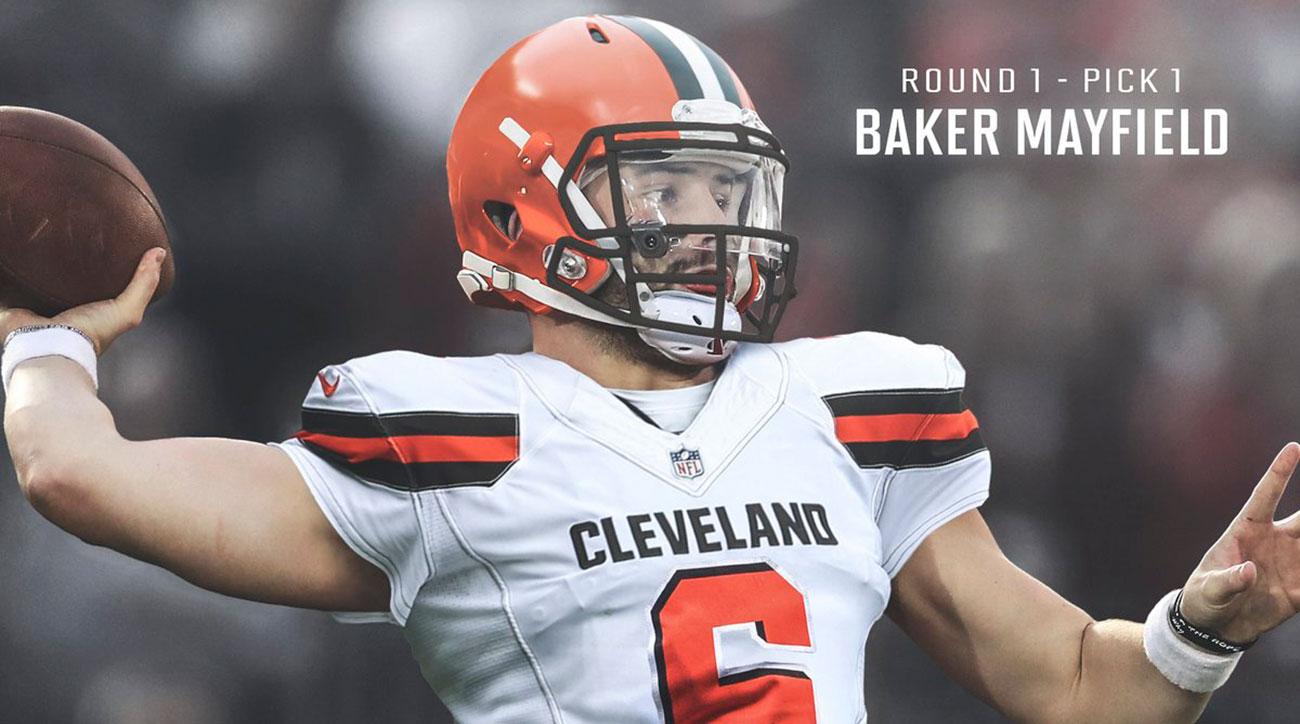 Photo courtesy of Sports Illustrated
-Johnny Knast
First and foremost, let me just say this: WOW.  Last night was the first round of the 2018 National Football League annual draft. The draft is being held at AT&T Stadium, aka 'Jerry's world' and I was not too overly impressed with how it was set up. I think Philadelphia last year was much better – as many people would agree (no, we are definitely not biased…nope…). However, I am not here to talk about the venue, but more so am here to discuss the fireworks, shocks and awes that made up the first-round last night.
The first pick belonged to the winless Cleveland Browns and we all know they DESPERATELY need a franchise quarterback (since 1999's Tim Couch debacle…) to help straighten out their quarterback woes. But in all honesty, did anyone think Baker Mayfield would be that guy??  I know I didn't. Many experts believed that Sam Darnold or Josh Allen would've been the first pick, and I personally thought it would be Darnold. But of course, the Brownies shocked everyone when they selected Mayfield… Many of us Eagles fans (myself included) hoped and prayed that the Giants would pass up on Saquon Barkley but sadly they didn't (meh, oh well – still tough to run with that sieve in front of you).  The Jets decided to give yet another USC QB a try by taking Sam Darnold with the third overall pick. I can't really blame them for this pick because I believe Darnold has great upside; but will his skills translate to the Jets? Can any good quarterback have skills on the Jets? (sorry, that was mean of me, Jets fans…)  The Browns were back on the clock at number four and you thought for sure they would draft Bradley Chubb… well, in typical Brownies fashion, they did it again and proved us all wrong when they selected defensive back Denzel Ward out of Ohio State with the fourth overall pick (head scratcher for sure). Which leads me to my first STEAL of the night belonging to the Denver Broncos.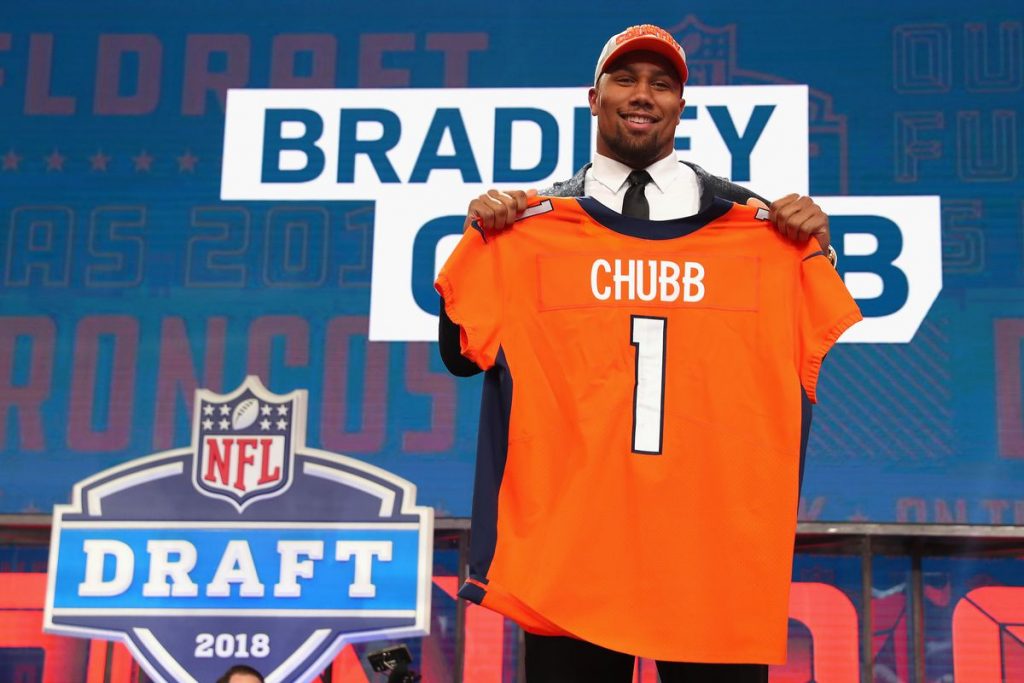 Photo courtesy of Mile High Report
    I was absolutely blown away when they made the announcement saying that the Broncos had selected DE Bradley Chubb. You pair Chubb with Von Miller and you instantly get an INCREDIBLE pass rush defense once again – which helped lead the Broncos to the championship in 2016. The next pick was the first pick in the Frank Reich – Indianapolis Era, and I believe they also hit a home-run by adding interior offensive linemen Quenton Nelson out of Notre Dame. Nelson will step into a starter role, Day 1.  And then – the fireworks began… The Buffalo Bills jumped up from twelve to seven to take no other than quarterback Josh Allen out of Wyoming, who many believed would be going first overall to the Cleveland Browns.  Shortly after that, the next big move belonged to the Arizona Cardinals when they moved up to the number ten pick via trade with Oakland. With that pick they selected quarterback Josh Rosen out of UCLA. You could tell Rosen was upset as he believed he was the best quarterback in the draft (just wait to hear Joe's rant on THAT one…)
Picks eleven and twelve respectively belonged to two of the three Florida teams (Dolphins and Buccaneers – thanks to the trade from Buffalo). Both teams I believe made very wise decisions with their selections, with the Dolphins picking Minkah Fitzpatrick out of Alabama who was the highest rated safety and the Bucs choosing Vita Vea out of Washington. Both players could step in and make an impact right away as a rookie. Da'Ron Payne was chosen 13th by Redskins – unfortunately for him he won't get anywhere near Wentz or Foles for that matter, so moving along… And then it happened – THE BIGGEST wow in my eyes of the first round.  The New Orleans Saints traded up THIRTEEN yes thirteen spots from twenty seventh to fourteenth in a trade with the Packers that also sent a 2019 first rounder to Green Bay (whaaaat???). With the pick the Saints chose defensive end Marcus Davenport out of UTSA (WHO DAT?) and all I can say is – holy sh!t!! The kid is a monster and had he gone to a bigger school he probably would've been a top 5 pick. Only time will tell if the trade helps or hurts the Saints seeing they gave up an additional first round pick (cheese-heads rejoice!).
Photo courtesy of Pro Football Talk – NBC Sports
          My next big wow pick belonged to the Los Angeles Chargers who at number seventeen selected safety Derwin James out of Florida State – all I can say is bravo you finally replaced Eric Weddle. The Cowboys selected nineteenth overall and many of us Eagles fans held our breaths thinking the Cowboys were going to take wide out Calvin Ridley… but then we realized they were the cowboys and being that they are the cowboys they of course DIDN'T replace Dez and instead chose interior linebacker Leighton Vander Esch from Boise State. Um… so, I get it they need to sure-up the linebacker core because you don't know the health of Sean Lee (ever) going into each season, but I feel they missed out a very solid wide receiver.  (But, who knows – maybe the highly regarded kid out of bumblef*ck Idaho who played 8 v 8 football because his graduating class was 10 kids, and then went and played on a blue football field because he's probably color blind and doesn't realize grass is green and knows all 406 people in his town – will be a better choice…-edited by Joe).  How did I know Joe would edit that…?
Picks twenty-one to thirty had some good picks and then others that left you questioning yourself. With the twenty-first pick the Cincinnati Bengals selected offensive lineman Billy Price out of Ohio State. Many remember Price as the guy who tore his pectoral muscle at the combine, so it makes me wonder if the Bengals believe he will be back in time for training camp or do they redshirt him for a year. I like all three picks between twenty-four and twenty-seven (Carolina, Baltimore, and Atlanta). All three teams got a dynamic weapon that can step in and help day one in some capacity. Calvin Ridley is going to be a beast paired beside Julio Jones (I am sure Matt Ryan was a little giddy…).
The tail end of the first round wasn't all that exciting, with the Patriots adding to their running back core when they selected Sony Michel with the thirty-first pick.  And then our Eagles came up to the plate… and in the words of Stefen Wisnewksi earlier today "With the thirty-second pick in the draft the Philadelphia Eagles select… wait, nah we're good…"  Yes that's right, the Eagles traded the thirty-second pick and one of their two fourth round picks to the Baltimore Ravens who then went on to select quarterback Lamar Jackson out of Louisville (making Joe overly excited as he was going to be super upset if LJ didn't go in the first round…). In return for the thirty-second pick the Eagles received number fifty-two overall, 125th overall and a second round pick in 2019.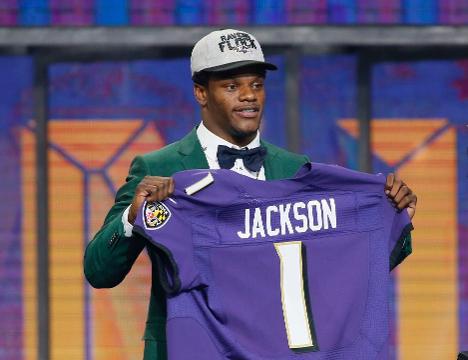 Photo courtesy of 247Trend.net
          To sum this all up, my winners for round one are: the Denver Broncos, Indianapolis Colts, New Orleans Saints, and Los Angeles Chargers. My losers sadly are the Cleveland Browns and the Seattle Seahawks who traded down to take who I believed to be a fourth round running back… Well now we just wait and see how days two and three play out.  As always this is just my opinion some may like it while others may not but at the end of the day I am just a nobody writing about sports…  ah the life!
#NOBODYSPORTS