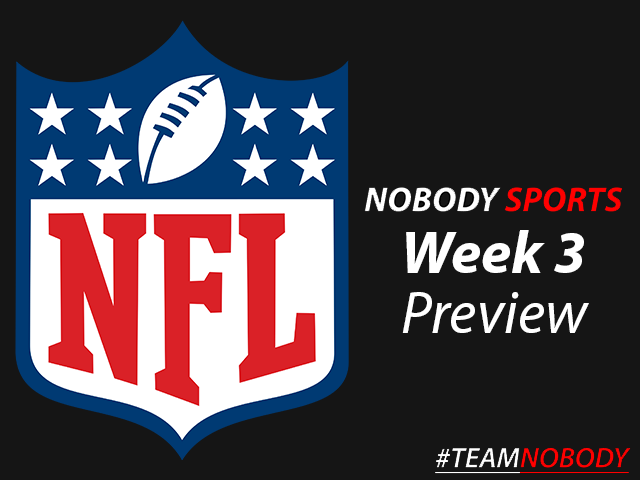 Alright sports fans! We here at Nobody Sports have decided to put our collective minds together and bring you a preview of the week ahead in the NFL. Joe, Mike, Miz and Johnny bring you their picks for the week three slate of games. They also give a few picks for all you degenerate gamblers out there looking for a little more action to add to your slips this week. So buckle in and let's dive right into the NFL Preview Week 3 edition.
Game

Mike

@MWright1313

Miz

@ghostofphilly

Joe

@JoeGal24

Johnny

@MrKnasty

at

Thursday Night

at

at

at

at

at

at

at

at

at

at

at

at

at

at

at

Monday Night

Over Pick

NE at DET (51.5)
DEN at BAL (43)
BUF at MIN (41)
LAC vs LAR (48)

Under Pick

CHI at ARI (40)
NO at ATL (53.5)
NYJ at CLE (39)
CHI vs ARI (40)

Underdog

(Pick 'em)

(+5) at BAL

(+3) at MIA

(+3) at ATL
Game of the Week:
Mike: NO at ATL
Two explosive offenses and two below average defenses should make this divisional showdown a fun game to watch.
ATL 35 NO 31
Miz: CIN at CAR
The fourth highest scoring team in the league with enter Carolina and continue its offensive dominantion. I see it as a close game going into the half but Cincy depth in offense will take over in 2nd half. With Mixon out i see Tyler Boyd, Tyler Eifert having a big game. McCaffrey will have a big game for Carolina but it won't be enough offense for a comeback.
CIN 30 CAR 21
Joe: IND at PHI
Carson Wentz is back! What more is there to say. The 'should-have-been' MVP returns to an Eagles offense desparately in need of its Leader. The Colts defense ranks 26th in picks and sacks AND has to play on the road. I'm feeling good about Wentz picking back up where he left off.
PHI 31 IND 10
Johnny: LAC at LAR
Chess match between the two LA teams and two of the best young running backs in the league. Both back eclispe the 100 yard mark and score a touchdown. However, in the end Goff will outduel Rivers and find Brandin Cooks for the game winning touchdown in the final minute of the game.
LAR 35 LAC 31