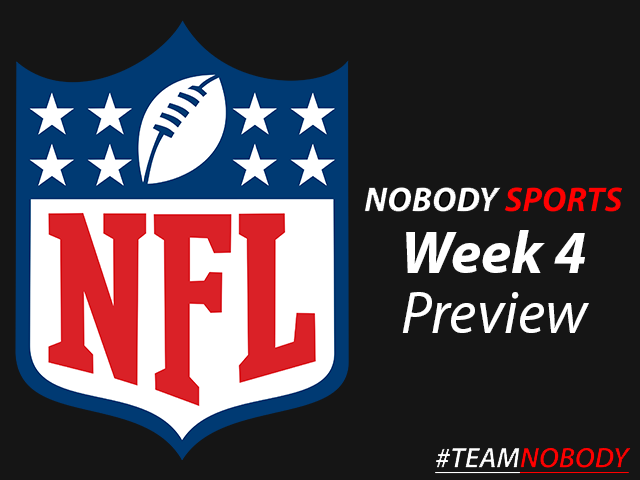 Welcome back! Joe, Mike, Miz and Johnny are back to bring you their picks for the week four slate of games. Let's not waste anymore time and dive right into our NFL Preview Week 4 edition.
Editor's Note: You'll see a score under each of the guys starting this week. Scores are decided by the following:
+1 – Correct Picks
+1 bonus point- Correct Over/Under Picks
+2 bonus points – Correct Underdog Picks
We'll be scoring all season long so stick around to see which Nobody becomes Somebody.
Game

Mike

(13)

Miz

(7)

Joe

(8)

Johnny

(12)

at

Thursday Night

at

at

at

at

at

at

at

at

at

at

at

at

at

at

at

Monday Night

Over Pick

CIN at ATL (51.5)
MIA at NE (48)
KC at DEN (56)
SEA at ARI (38.5)

Under Pick

BAL at PIT (51)
TB at CHI (46.5)
HOU at IND (47)
SF at LAC (46.5)

Underdog

(+1.5) at IND

(+3) at OAK

(+6.5) at NE

(+6.5) at NE
Game of the Week:
Mike: MIN at LAR
This is one of the best Thursday Night Football games they have come up with since they have been doing them. The Rams look like the best team in the league through three weeks, and the Vikings are also one of the better teams (although, I don't know what happened last week). Look for this game to be a highly entertaining game, with the Rams continuing to show the world how good they are. Also, being the home team has proven to be a big advantage on Thursday nights
MIN 27 LAR 31
Miz: BAL at PIT
A huge divisional game early in the year, Ravens look to continue their winning ways against a struggling Steelers team. QB Joe Flacco will look to take advantage against a struggling defense as Ravens pull off a big win and stay on top of the division. Close game but Ravens defense comes up big at the end.
BAL 27 PIT 20
Joe: MIA at NE
Can Ryan Tannehill finally be the QB we all want to see him become? The Patriots haven't been looking too hot and "Father Time" may be catching up to the Great TB12. And a disrespectful 6.5 pt dog….give the 'Fins some respect already!! Miami in the "upset".
MIA 31 NE 24
Johnny: KC at DEN
QB Patrick Mahomes first big test comes on the road in Denver. Though he will throw for over 300 yards and 3 TDs. He will throw his first INT of the season as well. The Chiefs go to 4-0 on the year but will be tougher than the experts say.
KC 31 DEN 27