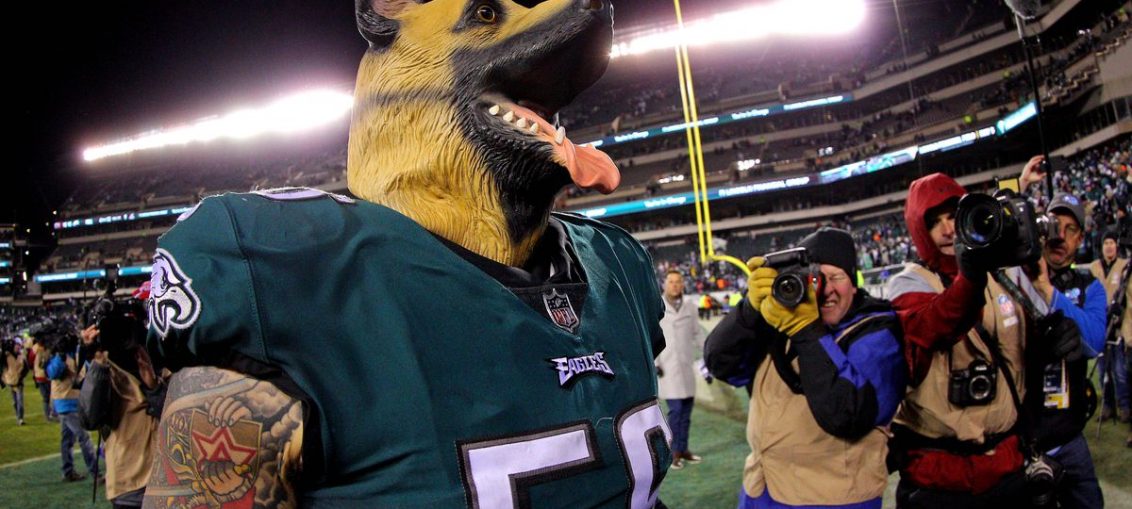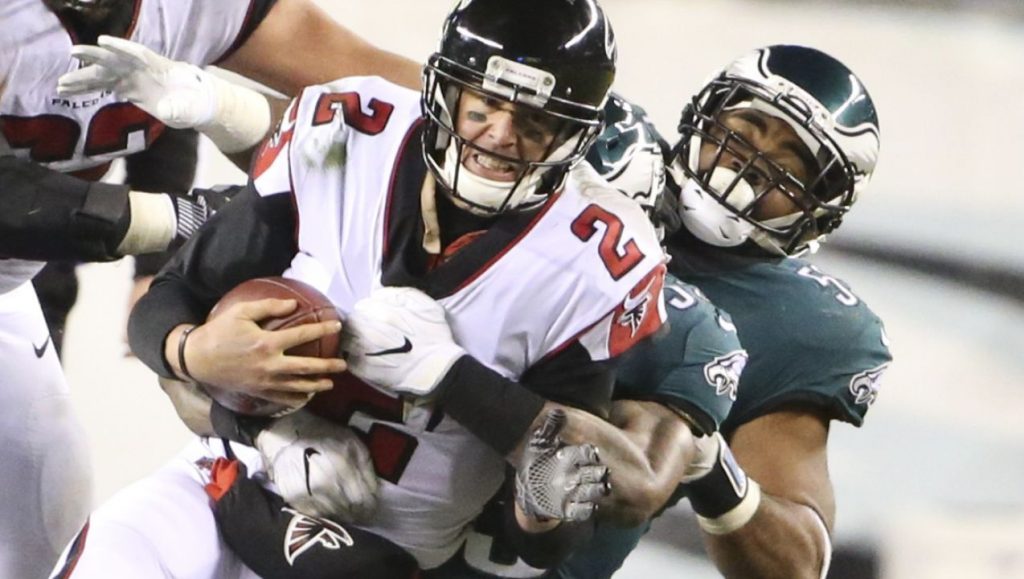 (cover photo – Bleeding Green Nation; Above image – New Journal) 
-Johnny Knast
January 13, 2018.  If I was you I would remember it as the day the Philadelphia Eagles proved everyone wrong (well, of course except the fans – because we knew they could so it). After losing starting quarterback Carson Wentz to a torn ACL in December, many reporters, especially those on the NFL Network (who claim they know what they are talking about…), wrote off the Eagles and dropped them from favorites of the NFC to the laughing stock. Sure, the Eagles are known to crumble once losing their starting quarterback but I felt this year would be different; and quite honestly it has been. It is heartbreaking to lose your starter so late in the season, but what makes it hurt even more is when he is having an MVP-like season. As a true fan of my beloved Eagles, as well as every other writer on this blog (well except Shawn I guess?) we never stopped believing.  And it has finally paid off.   
The Eagles are one of the few teams that have an experienced back-up quarterback, and sometimes that is what helps carry your team. Eagles back-up quarterback is non-other than St. Nick, Nicky 6, Sir Nicks A Lot, aka Nick Foles.  Foles, a 3rd round pick out of Arizona back in 2012 by Philadelphia nonetheless, has been tested before and has proven in the past that he can step up when needed.
The victory in my eyes was a defensive victory. The Eagles turned the ball over on just their second offensive play (Jay Ajayi fumble) after getting 42 yards on a defensive pass interference call. I love the addition of Ajayi for the Birds but the man needs to learn how to hold onto the ball. However, after the turnover Atlanta marched down the field and was held to just a field goal. Defensive victory for sure. After the fumble on the first carry of the game Jay Ajayi found a nice rhythm and was thrashing the Falcons defense for six to eight yards every carry. The game went back and forth for awhile as both defenses caused numerous three and outs. The Eagles finally got on the board after a one yard touchdown run on fourth and goal by LeGarrette Blount (they finally ran the ball when they should have; O…M…G ::claps::).  A missed extra point (DOINK) by Jake Elliott put the Eagles up 6-3 and many people believed (myself included) that the missed extra point would come back to haunt us. After causing the Falcons to punt the ball after a good defensive series the turnover bug struck the good guys this time on special teams. Kenjon Barner yelled for the Eagles to get away from the ball, but it took an Atlanta bounce and hit two Eagles (Patrick Robinson and Bryan Braman) both of whom in the wrong place at the wrong time. The Falcons capitalized on the short field and scored on an unbelievable six – yard touchdown pass from Matt Ryan to Devonta Freeman. With the touchdown Atlanta went back up 10-6. Philly had a nice drive right before the end of the first half and Jake Elliott converted a 53 yard field goal to make it 10-9 at half (a huge momentum swing in my opinion).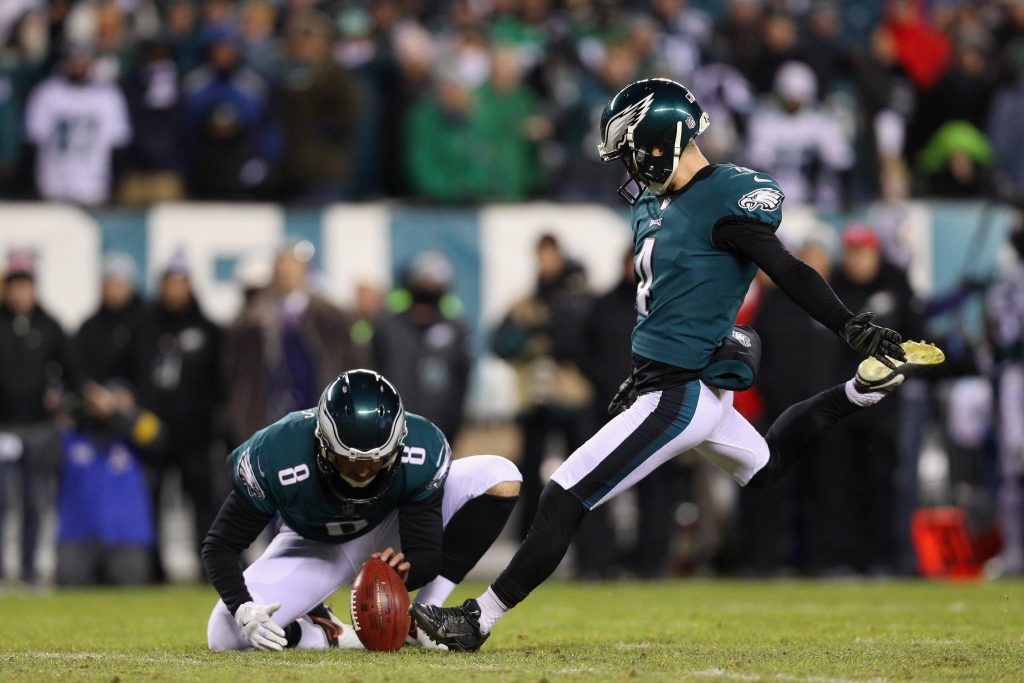 (Chicago Tribune)
In the second half, the defense for the Eagles came out to play. They held the Atlanta Falcons scoreless in the second half.  They put amazing pressure on quarterback Matt Ryan, who you could obviously tell was under serious pressure all day. Fletcher Cox did exactly what he is paid to do which is make crucial stops against the run and put pressure on the quarterback. Though the defense did its job and shut out Atlanta's offense in the second half, I would've still liked to see some turnovers. We caused so many in the first half of the season and as of late we haven't had many at all, which I really don't understand why. Also, I am not a fan of this "sticks defense" that we play on 3rd and long (when we should've been playing the "triple-team Julio Jones" defense…but I digress).  I am actually surprised it has not come back to bite us in the ass yet. Any who, Nick Foles also got into a nice rhythm in the second half of play. You can tell he was getting more and more comfortable. Granted we didn't get touchdowns – which is the goal every time your offense has the ball, in case you or the eagles front office forgot – but we did get two very important field goals and the best thing is we had NO turnovers in the second half – which makes me happy.
Ultimately the game was in the defense's hand. Eagles up by five with four minutes to go – I know I was worried. Anytime you are facing a quarterback like Matt Ryan, or as he's called Matty Ice, you should be worried. He thrives under pressure as was shown when he converted a 4th and 6 on a 22-yard pass to (a completely uncovered) Julio Jones. I'm happy I cannot bite my finger nails anymore because I wouldn't have nails anymore (well, technically I slowly bit them all off this season since Foles came in so there's that….). Atlanta drove all the way down to the 2-yard line and set up the biggest play of the game: 4th and goal from the 2. Ryan rolled out to his right looking for Julio Jones who slipped on the play then Ryan was flushed out of the pocket.  Jones managed to get up, but Ryan's throw was a little too high; and in my opinion even if Jones would've caught it he would've come down out of bounds.  Hands-down the longest 2 football-seconds ever.  Just one of those heart wrenching moments that could have gone so many ways, and for once it went in the Eagles favor.  Foles took a couple knees and the game was over, as the Eagles held on for a 15-10 over a very good Falcons team.
(ESPN.COM)
Foles finished the game 23-30 for 246 yards, 0 touchdowns and more importantly 0 interceptions. To some that stat line is non-impressive, but to me it shows hope – Foles was finding good strides in the second half and looked much more comfortable than the previous two games. What I also like about Nick that many people probably will agree on is that he gets everyone around him involved in one way or another.  To me that says something because it takes the quarterback to make everyone else around him better and Foles (as well as Wentz) do that very well.
Onto the NFC Championship for the Eagles as they await the winner of the New Orleans Saints and Minnesota Vikings who play Sunday at 4:40 pm. It is going to be a tough game no matter what; however, I personally hope we can play Minnesota because I think we match-up better with the Vikings than the Saints ( I won't get started on that until we know who we are playing). Only time will tell!!
This is Johnny Knast from NoBodySports Signing off!!!
#NobodySports