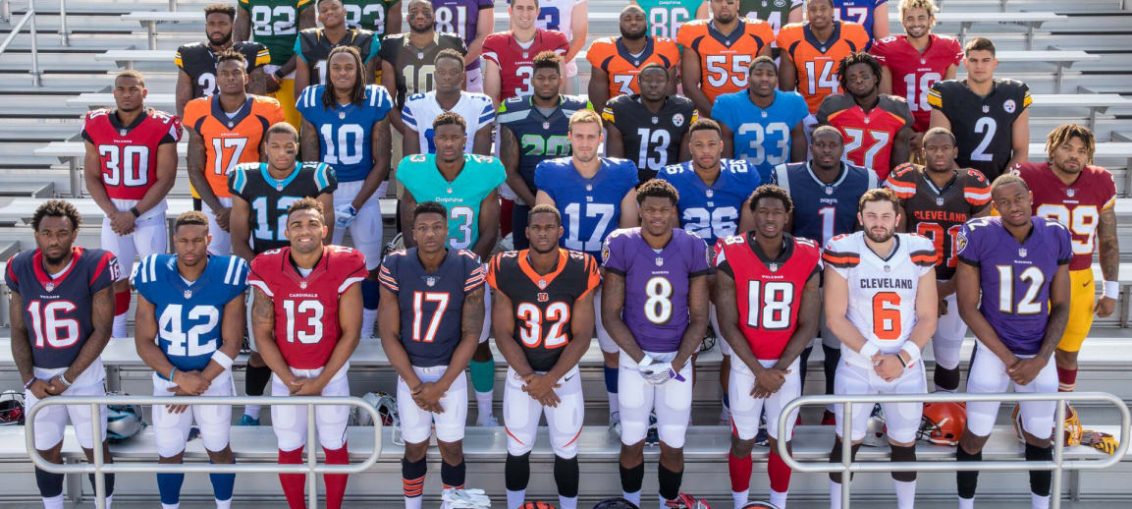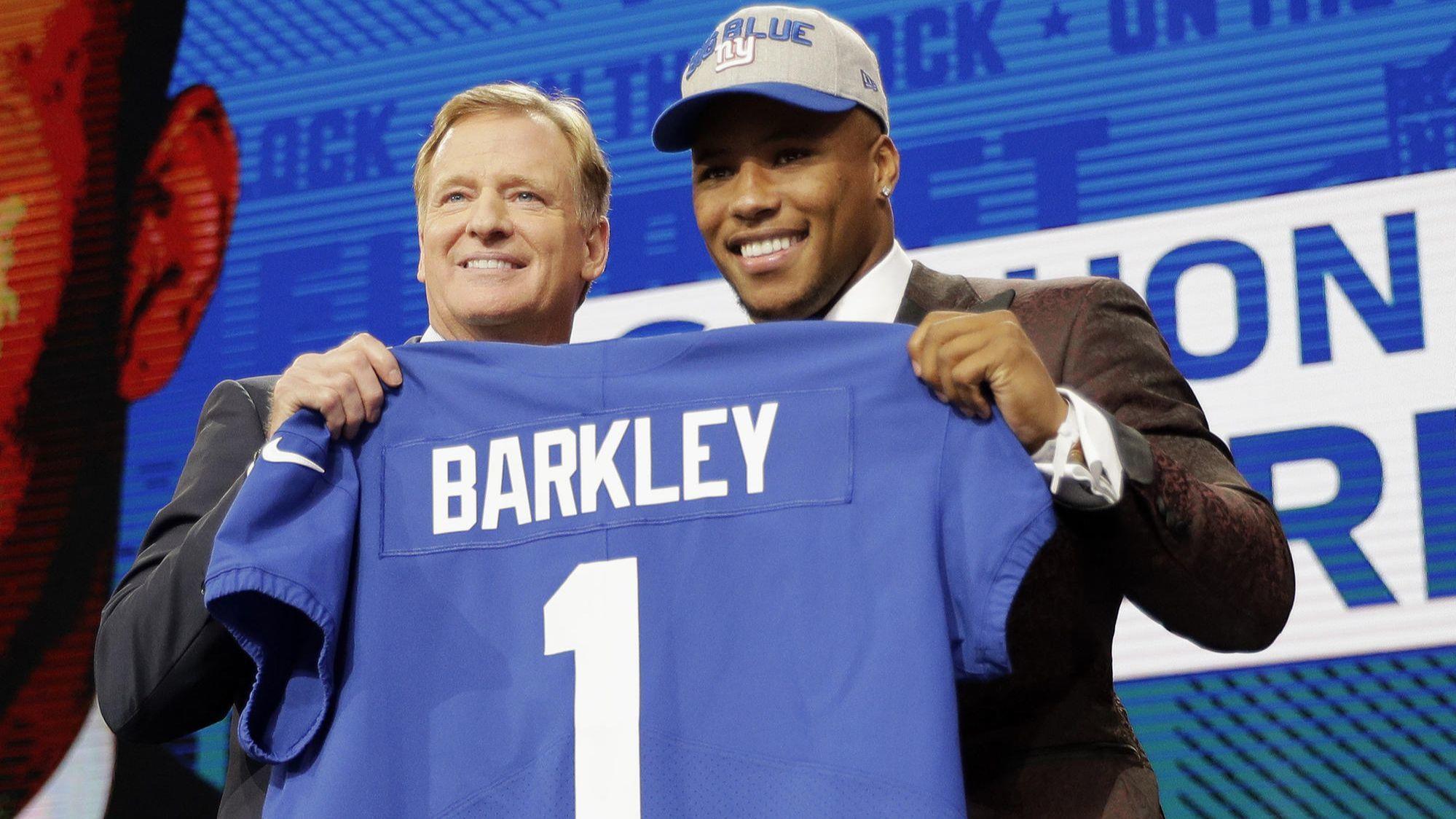 (Cover photo credit – courtesy of Kevin Koski/NFLPA; Photo credit above – The Morning Call)
-Johnny Knast (@MrKnasty128)
I can't speak for everyone, but I am personally stoked that the NFL is back and is shaping up to be one of the most interesting seasons to date. Training camps have mostly come and gone yet again and some teams are already scratching or even shaking their heads because of underperforming prospects or worse – those dreadful injuries. We are already halfway through the pre-season and there are some rookies who in my eyes are out-playing certain veterans. In this piece I will give my opinion (remember I am a nobody just talking about sports) on five offensive rookies I believe are gearing up for break-out seasons.  I will also include one honorable mention because honestly there are a lot of rookies in this league who can be game changers on offense.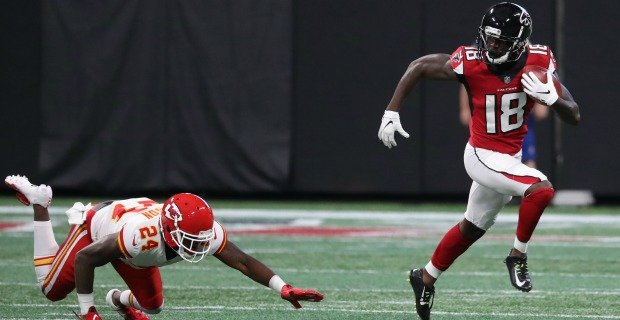 (Photo credit – 247sports.com)
The first rookie on my list is Atlanta Falcons wide receiver Calvin Ridley. Many had Ridley as a projected top twenty pick in the draft and I too was certain he would be. I personally held my breath when the Cowboys were on the clock at nineteen because I thought for sure they would draft Calvin to replace an outgoing Dez Bryant but nope I was wrong… (but don't worry the Cowboys made up for it). Instead, Ridley fell to the twenty-sixth pick which belonged to the Atlanta Falcons – which makes a scary offense that much scarier. Calvin should be able to step in week one and find a home as a slot receiver behind Julio Jones and Mohamed Sanu. Ridley replaces Taylor Gabriel who left to join the offensively improved (to be determined) Chicago Bears. Early reports out of camp had Ridley getting a ton of praise from the coaching staff as well as a few veterans on the team. Matt Ryan has a new offensive weapon, and the NFC South better watch out!  My bold prediction is for Ridley is to have 45 receptions for roughly 500+ yards receiving and 4 touchdowns. It's hard to take targets away from proven veterans like Jones and Sanu but Calvin will be able to contribute this year as a rookie, that's for sure!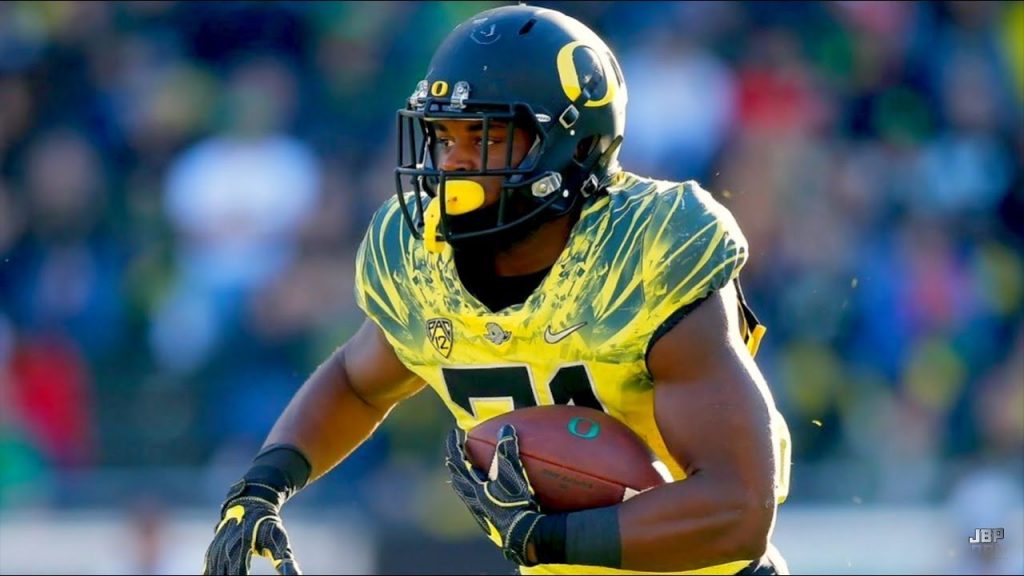 (Photo credit – Youtube Screen Clip)
NFL free agency, along with the draft, shapes the league and changes certain teams to a point that leaves you shaking your head because you are so puzzled by your team making a certain move. This brings up my next rookie to keep an eye on, who belongs to the Denver Broncos.  They used their third-round pick on running back Royce Freeman out of the university of Oregon. When CJ Anderson left Denver to sign with Carolina, that left Denver looking for a back-up behind Devontae Booker. So, why not draft a running back (99.9% Denver hits a home-run…. but many still remember a certain Ohio State back that didn't pan out too well) in a deep running back class. Early in camp it seemed like Freeman actually had the edge over Booker to become the starting back but we all know Denver loves a running back-by-committee scheme.  Even so, I believe Royce has a solid year, even if Case Keenum struggles as quarterback. My predictions for Freeman are: 700+ rushing yards, 200+ receiving yards and 9 (yes nine) total touchdowns!
The next three on this list are all in the same division (because sorry, but the NFC East is THE top division in football – it's the new AFC West). I am going to name one New York Giant (we all know who), one Dallas Cowboy (deep sleeper), and the last one will be for your Super Bowl Champion Philadelphia Eagles (I'm not biased or anything right). The New York Giant is a no brainer, because quite frankly he WAS the best player in college football last year, but many ask if his game will be able to transition from college to the pros.  Well we shall find out, especially when he squares off against one of the NFL's top defenses week one of the 2018 season.
(Photo credit – Clutch Points)
I am just going to come out and say it now that Saquon Barkley wins the 2018 NFL offensive rookie of the year (it really hurts to say that being an Eagles fan but… just being honest).  I am just giving credit where I think credit is due…deservedly due. If you can't accept that then please stop reading this right now (okay okay, just kidding… but I understand – I AM an Eagles fan so… yes it hurts). Barkley is just a complete freak athlete, and I believe he helps the Giants become a much scarier offensive unit than they have had in years. Yes, I know Manning is getting older (fossil *cough*) but when you got players like Odell with his $95mil, Sterling Shepherd, Evan Engram (Joe loves the guy – just ask him) and a veteran running back in Jonathan Stewart (just signed from Carolina) your job becomes that much easier. The question for the G-Men this year will be their offensive line. They rebuilt the left side by signing Nate Solder from the Patriots and drafting guard Will Hernandez from UTEP in the second round, but how is the right side going to hold up (only time will tell)?   All Barkley has to do is be the Barkley that shined at Penn State, establishing him as the game changing back he is. If he can do that, then I believe Saquon finishes with 1000+ yards rushing, another 500+ yards receiving and 12 touchdowns, and is a unanimous pick for offensive rookie of the year.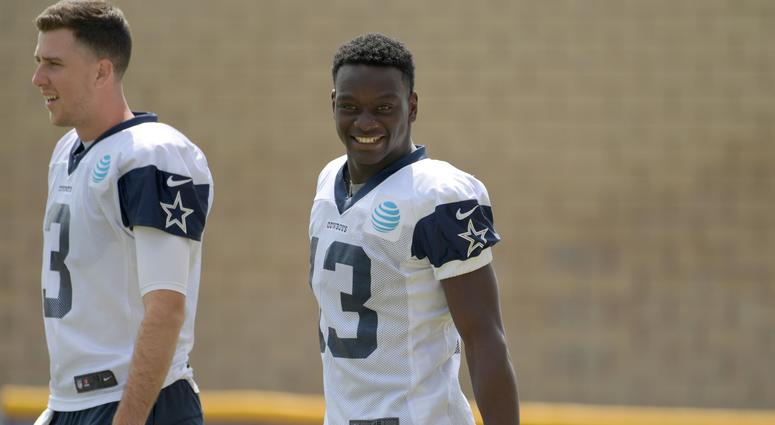 (Photo credit – 105.3 the Fan)
The next player on my list just slid in last minute because quite frankly he has surprised me the first two weeks of preseason (and because Joe allowed me to put him on here haha thanks Joe). We all shook our heads when Dallas didn't take a wide receiver in the first round, especially since they could have gotten Ridley or DJ Moore to replace Dez.   However – enter third round pick Michael Gallup out of Colorado State. Who is this kid you may ask? He was a two-year starter at Colorado State after transferring from Butler Community College. In just two years, Gallup racked up 176 receptions for 2,690 yards and 21 touchdowns, in just 26 games. Those are crazy stats, especially for a kid playing for the Colorado State Rams of all teams. Gallup slides into the Dallas lineup, competing with Tavon Austin (recently acquired from the Rams – draft weekend trade) to be the number four wide-out behind newcomer Allen Hurns, Terrance Williams, and speedy slot receiver Cole Beasley. Gallup has two touchdown receptions in two preseasons games and seems to be forming pretty solid chemistry with quarterback Dak Prescott (especially since those pics came out…). He won't put up huge numbers as a rookie but will still make his presence felt somewhere along the line.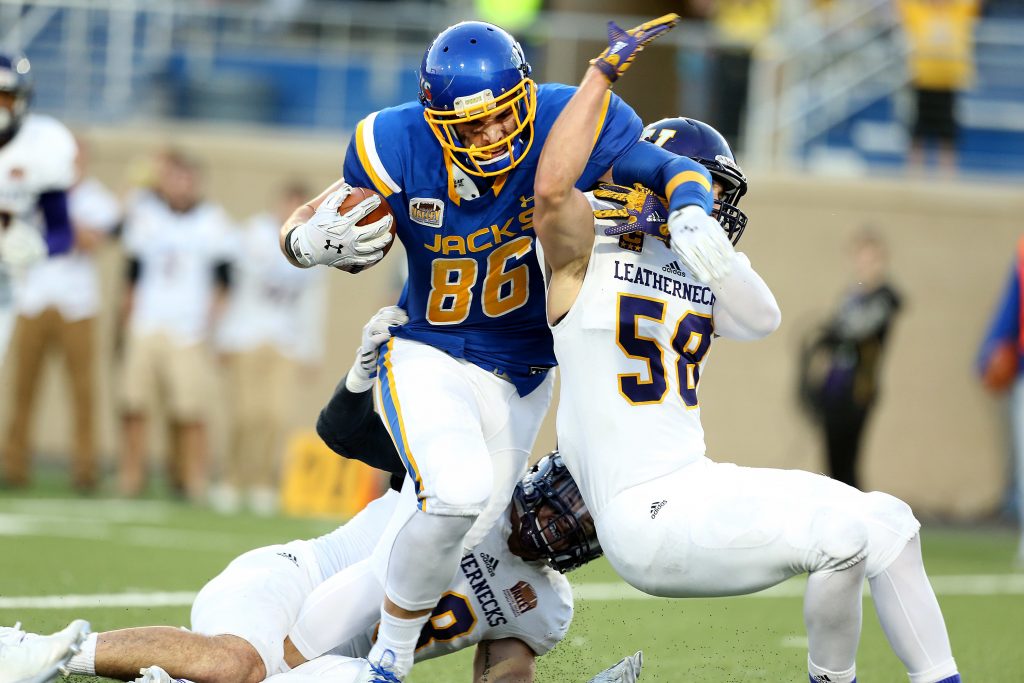 The final guy in my top five rookies (time for my bias to show) is the rookie tight-end set to be a number two tight-end before his idol Zach Ertz:  Please welcome to your Super Bowl 52 champions Dallas (yes sadly that's his first name…) Goedert. He is an absolute freak athlete and was arguably the best tight-end in this year's draft class. Philadelphia fans should be thanking Howie Roseman for making the move to trade up and get ahead of the Dallas Cowboys (who were looking to draft him to replace all-pro Jason Witten), which led to an epic draft day speech by the one and only David Akers, in AT&T Stadium of all places (https://www.youtube.com/watch?v=_1NpsGssBdU&t=92s ).
Dallas is a 6'-5", 255 lb tight-end who can catch and -run-block (replacing Brent Celek). Teaming up with Ertz, the duo should give the Eagles arguably the best, most dangerous one-two tight end combo, like the Patriots had back in the day when they had Gronk and Aaron Hernandez (hopefully Goedert keeps his guns locked up though…). Dallas won't put up huge numbers in his rookie year but I believe he finishes with 30 receptions for 300+ yards and 3 touchdowns. He'll only progress over the years.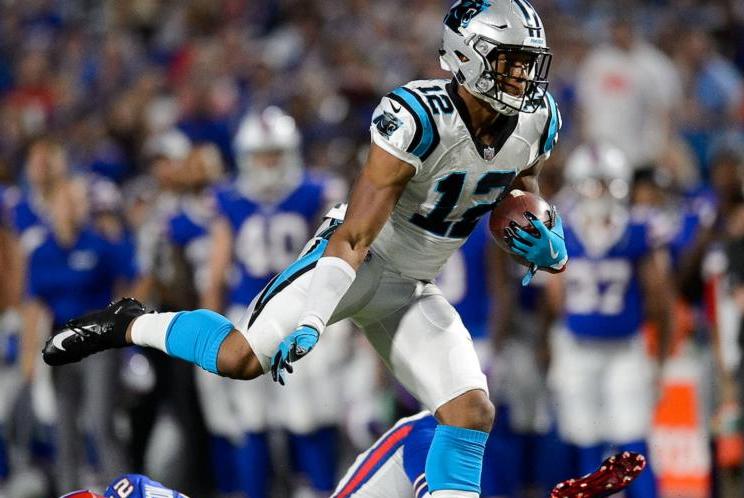 (Photo credit – UPI.com)
Lastly, I want to give an honorable mention to Carolina Panthers wide receiver DJ Moore. Moore was drafted twenty-fourth overall (two spots above Ridley). DJ should slide in as a number two wide-out alongside Devin Funchess. Moore's game is being compared to the greatest player in Carolina history – Steve Smith, Sr.  However, what could derail DJ though is if he can't stay out of trouble off the field. He was cited a few weeks back for going 118 mph in a 65-mph zone (typical rookie…). He got cited for reckless driving and will be appearing in court in early October. He has informed the Panthers of the incident so I guess we will see if Carolina or the league takes any disciplinary action. But if not, Moore should be a solid contributor and should see plenty of targets as the number two wide receiver.
Many people will read this and be left questioning themselves why I didn't mention any of the top five quarterbacks from the draft.  Well quite frankly, I am not that sold on any of them having a good year. I think they will all see the field at some point or another this season (Darnold may even start…) but in my opinion, none of them are NFL ready.   Not to mention, the only one who has some sort of offensive help around him is Josh Rosen out in Arizona, although he will start the season behind the always fragile Sam Bradford (decent mentor though). Baker has a shot to be good in time, but will the Browns really do an about-face this year? Out of the five quarterbacks I'd put my money on seeing Josh Allen in Buffalo first, especially if AJ McCarron can't go week one – but again only time will tell.
Happy reading and remember these are all just my opinions… I am just a NOBODY… but I sure as hell am a SOMEBODY who loves sports!!!
John Knast
@MrKnasty128