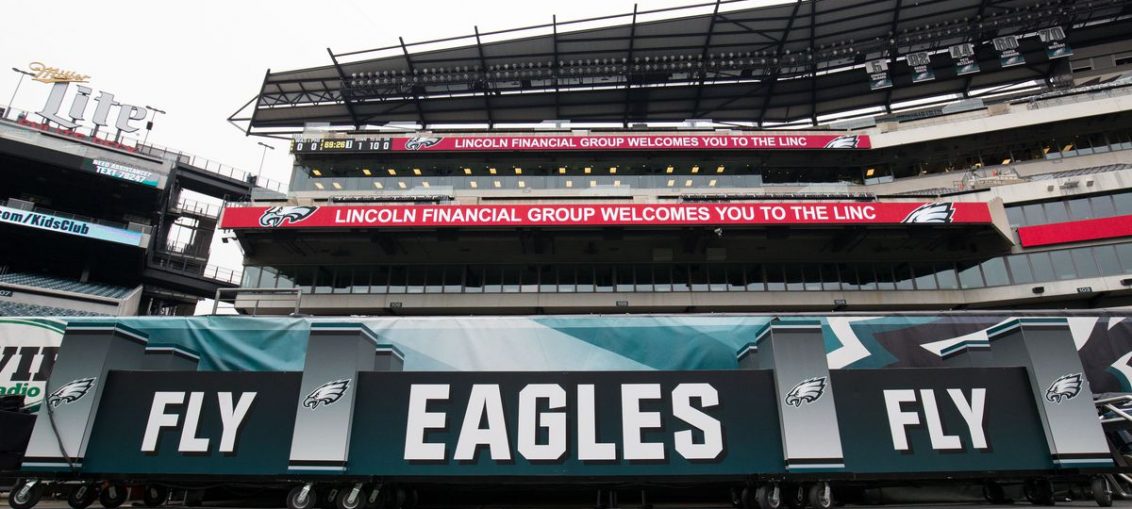 (Cover photo credit: BleedingGreenNation; Above photo credit: CBS Sports)
-Mike
The Eagles roster has had some changes since the last time I did my roster projection. That is usually the case, as training camp and preseason games go on. They have signed some guys and traded for others, and some have even come back from injuries. The most important thing was for the Eagles to come out of training camp and the preseason without any injuries and that's exactly what they have done (okay knock on wood in the 4th preseason game, but we likely won't be seeing any of the stars). With that being said, here is my final 53 man roster projection right before the final preseason game and the final cuts happen.
Starter     Backup     Inactive
QB: Carson Wentz, Nick Foles
Carson Wentz is the franchise. He is the most important person on the team, as is any starting QB. The Eagles will go how he goes. If he plays well the Eagles should do well. If he struggles then they will struggle as well. I expect a big step forward for Wentz. Foles is a concern because he hasn't played in any preseason game, and has barely practiced due to injury. There is definitely concern since it's his elbow, but Pederson insists he will be fine for the start of the season. Also, no other QB on the roster has proven to be any good, so Foles is going to be the backup. Hopefully he will never have to step on the field though and can just polish up his clipboard-holding skills.
RB: LeGarrette Blount, Darren Sproles, Wendell Smallwood, Donnell Pumphrey
The first three guys are locks to make the team. Blount is not going to get cut like some have suggested in the offseason. He's not going to have the year he had in New England last year, but he should still get the most carries of anyone on the team.  If he can get some first downs on third and short, then he will do his job. Sproles is going to do what Sproles does. He probably won't run the ball too much, but he is valuable in the passing game out of the backfield and will also be the primary runt returner. Smallwood is a guy the coaching staff loves and he should also see a decent amount of touches. His biggest problem has been health. He will have a role on offense this year. I'm predicting the last spot goes to Pumphrey simply because the Eagles traded up in the 4th round to get him. There is something there that they like. He hasn't done much, and he has been outplayed by undrafted rookie Corey Clement, but chances are Pumphrey would get claimed off waviers and Clement won't. There is also a possibility that the Eagles could put Pumphrey on IR for the year and put Clement on the roster so they can keep both. However, being drafted and trading up to do so has more value than an undrafted guy. That's just how it is. Clement will be a practice squad guy and that's not a bad place to be. Any injury and he will be the guy they look to. Pumphrey will be inactive as he tries to add some weight and learn the game more.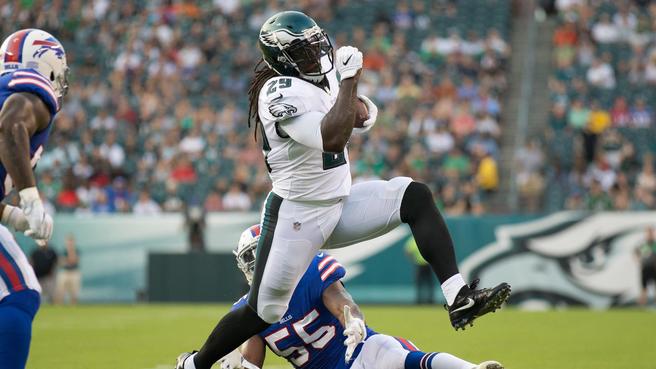 (Photo credit: CSN Philly)
WR: Alshon Jeffery, Torrey Smith, Nelson Agholor, Mack Hollins, Marcus Johnson
I think these five guys are locks to make the team. They could add a 6th guy like Greg Ward or Bryce Treggs (both of these guys have played well), but I'll say they stick with these guys. Jeffery is the #1 type receiver they have been looking for. He should have a big year. Torrey Smith provides that deep threat, as we saw that in the last preseason game. He can still run pretty fast. Agholor will get a chance to do work from the slot after the trade of Jordan Matthews. Agholor has the skill set to be a very good receiver in this league. He has just had trouble getting out of his head. It's all mental with him. He just needs to get back to the basics. He will still play a big role on this team. Mack Hollins is a 4th round rookie who has shined this preseason. He is a big body and will play a role on offense as the 4th receiver. He is also an excellent special teams player. Marcus Johnson is a guy who the Eagles love, and was part of the reason they traded Matthews, because they felt comfortable with him. He will need to make a mark on special teams as well.
TE: Zach Ertz, Brent Celek, Trey Burton
This is an easy call to make. Ertz will play a major role on offense, as he will also help in the slot to help make up for the loss of Matthews. He is in for a big year. This is his year, I promise! Celek is back for his 11th season, all with the Eagles, and is more of a leader and blocker at this point then a receiving threat. He might catch a couple passes, but not much more. Burton is essentially the 2nd tight end because he is an actual threat to catch the ball. He is also a key special-teams member. I expect the same type of stuff out of Burton as we have seen. Billy Brown has had a nice training camp and could make the team as the 4th tight end, but I think they will try and load up on some other positions and get him to the practice squad.
(Photo credit: BleedingGreenNation)
OL:  Jason Peters, Issac  Seumalo, Jason Kelce, Brandon Brooks, Lane Johnson, Stefen Wisniewski, Halapoulivaati Vaitai, Dillon Gordon, Chance Warmack, Taylor Hart
The offensive line has struggled in the preseason games so far, but it's only preseason, so I don't want to get carried away. I think this is a good group overall. The starters have been set for a while now, so no changes from the last time. Wisniewski can play guard or center, so he will be the first off the bench for those positions. Vaitai can play either tackle spot and Gordon is a tackle that will also lineup at fullback occasionally, so he should be active as well. Warmack was brought in as a free agent. He's a former top ten pick, but has struggled. He should make the team. Taylor Hart is a guy who was a defensive tackle that has converted to offensive line this year. Head Coach Doug Pederson gave him praise in his last press conference, so they may try to keep him around.
DL: Brandon Graham, Fletcher Cox, Timmy Jernigan, Vinny Curry, Derek Barnett, Chris Long, Beau Allen, Destiny Vaeao, Alex McCallister, Elijah Qualls
The strength of this Eagles team is the defensive line. Defensive coordinator Jim Schwartz loves to rotate guys in and out, so they should all see playing time. Fletcher Cox is one of the best tackles in the league and with newly acquired Jernigan in the offseason penetrating from the other side of him; Cox should see less double teams. If not, Jernigan should wreak havoc. Graham is an elite pass rusher who should continue to thrive. Curry's starting spot is in question as he hasn't showed much, but I don't think they want to rush first round pick Barnett in there, so Curry will start. It's only a matter of time before Barnett starts however. He has been all over the place in preseason. Chris Long provides veteran depth along the line. Beau Allen just returned from injury and he will slot right back into his role from last year. Vaeao is a coaching staff favorite, who has also looked good all summer. McCallister is still very raw, but he has shown some improvement and he's long and extremely athletic. Qualls was a 6th round pick, but hasn't shown much so far.
LB: Jordan Hicks, Nigel Bradham, Mychal Kendricks, Najee Goode, Kamu Grugier-Hill, Nate Gerry
Jordan Hicks is a budding star in the league. He is extremely important to this team. He is the quarterback of the defense and the play caller. The depth at linebacker isn't great, so the Eagles can ill afford to lose him. I haven't heard much on Bradham this off season, and that's not always a bad thing. He has stayed out of trouble and he will look to have another strong season. Kendricks has been a trade candidate all off season, but a trade has not happened. He has three interceptions in three preseason games, so the ability to make plays is there (and has always been there). Playing time could be thin since most teams have three receivers, and that would essentially take him off the field, since he has trouble in coverage. Kendrick's strong suit is blitzing. Jim Schwartz needs to dial them up more when he is on the field. Goode is a decent backup who could do the job in a pinch. He is also a core special teams player. Same goes for Grugier-Hill. Nate Gerry is a 5th round pick this year, who is converting from safety to linebacker. The coverage skills are there, but he needs to bulk up and be a better tackler.
CB: Ronald Darby, Jalen Mills, Patrick Robinson, Rasul Douglas, Dexter McDougle, CJ Smith
I mentioned in my last projection that cornerback would be the position where there would be the most changes because it wasn't a good group. That is exactly what has happened. The Eagles traded Jordan Matthews and a third round pick to acquire Ronald Darby from the Bills. This is a young guy who has the potential to be very good. He instantly becomes the #1 corner on the team and makes this position better. That drops Mills to the number two corner, where he is more suited because of his lack of speed and deficiencies. Patrick Robinson is now the slot corner, where he is also more suited to play. He is battling with Ron Brooks for that role. Brooks has been hurt all of camp and has barely played. I think the Eagles cut bait with him and save themselves some money. Rookie third round pick Douglas has just looked ok in camp and preseason games, but his spot should be secure. Dexter McDougle was just picked up in a trade with the Jets. He's a former third round pick who has also battled some injuries. He doesn't have much time to impress the coaches, but I say he snags a spot. He is also more of a nickel corner. CJ Smith grabs the last spot, as he has continually worked with the second team in camp. Jaylen Watkins has also been playing well, and the Eagles have been playing him at corner. He is a tough guy to leave off the roster, and he could very well still make it over some of the corners like Robinson or McDougle. He can play safety too.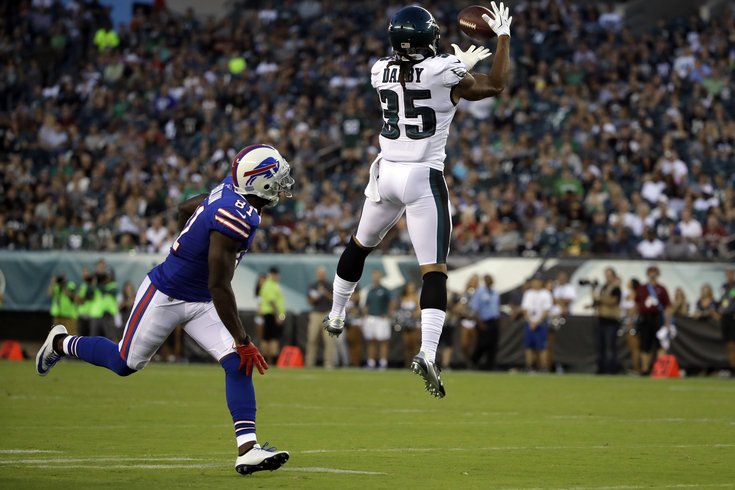 (Photo credit: Phillyvoice.com)
S: Malcolm Jenkins, Rodney McLeod, Corey Graham, Chris Maragos
Jenkins is the heart and soul of the defense. He is one of the leaders on the entire team. He is also a very good player. McLeod has had a solid camp and those two combine to form one of the better safety tandems in the league. Corey Graham was signed a week or so into camp and is familiar with what Jim Schwartz wants to do because he played for him in Buffalo. He started for the Bills the last two years. He was a former cornerback turned safety like Jenkins, so he can come up and cover when asked. The third safety could play a vital role on the defense, so we could see a lot of Graham. Maragos won't play much on defense if at all, but he is arguably the best special teams player in the league. He is the captain of the unit. Every team needs that type of guy.
K, P, LS: Caleb Sturgis, Donnie Jones, Rick Lovato
This is another easy call to make. Sturgis is the only kicker in camp, and had a pretty good year last year. He has missed a couple kicks in preseason, and I do have some concerns with him, but with no competition, he is locked in. The Eagles brought in a punter in camp, but I think that was more to give Jones a rest because he is 37 years old. Jones is still one of the better punters in the league. I actually did this yesterday, and I had Dorenbos as the long snapper, because I didn't think anyone else would be the long snapper. However, in a surprising move the Eagles traded him to the Saints last night. Dorenbos was a hell of a person and an inspiration to a lot of people. It sucks to see him go, but I get the move. Rick Lovato was in camp and apparently he has done a good job and the Eagles feel comfortable with him. He's younger and cheaper than Dorenbos. From all of us here at NobodySports, we wish Dorenbos the best of luck!!
IR: Sidney Jones (CB)
The second round pick will want to play this year, and by the middle of the year, he might even be healthy enough to play, but the Eagles don't want to rush him back. When he returns next year, he gives this team a potentially loaded cornerback group.
Practice Squad: QB Dane Evans, RB Corey Clement, WR Shelton Gibson, WR Greg Ward, TE Billy Brown, OL Tyler Orlosky, LB Don Cherry, LB Joe Walker, CB Aaron Grymes, S Tre Sullivan
Let us know your thoughts!
#TEAMNOBODY