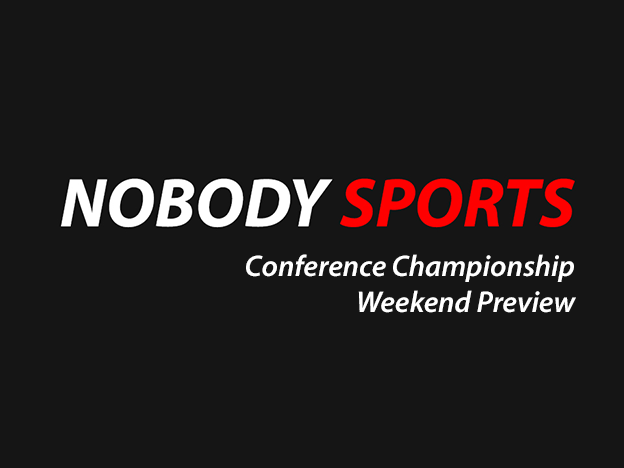 Guys, girls, dogs, guinea pigs, flying squirrels! We've made it. Championship Weekend is here! And boy does it have all the makings of being either incredibly chaotic, or just a minor obstacle on the path to the CFP. Either way, we have a fantastic slate of games on the menu, so let's quit wasting time and dive right into our college football preview for the conference championship weekend. (Note: All of these games are games of the week. So if you like college football, don't pick and choose this weekend. Get yourself into a position where you will be able to watch all of them.)
-Shawn
---
All games on Saturday unless noted. All times ET. (Please note: you should also watch the Mountain West and MAC Championship games. Who knows what can happen in those?)
(12) Stanford vs (10) USC (-4) (FriYAY, 8pm, ESPN/WatchESPN, Levi's Stadium)
USC was a team that many still consider to have a chance at the CFP. The last time these two met was all the way back in week two in the Coliseum when the Trojans walloped the Cardinal 42-24. As the season progressed, the Trojans fell to (and subsequently made me a lot of money) WashU and were themselves walloped by Notre Dame. They come into this game at 10-2, and if they pair a win with a weekend of chaos amongst the rest of the Power 5 conferences, they realistically could be selected by the committee this Sunday. Enter Stanford hoping to play spoiler once again to their conference rival. (PS – that is one of my favorite college football moments). Unfortunately, I think Sam Darnold will be too much and will be more likely to out on his shield, then allow Stanford to take the conference crown.
Prediction: (10) USC wins 20-13
---
(20) Memphis (+7) at (14) UCF (Noon, ABC/WatchESPN)
I'm extremely conflicted with this UCF team. One one hand, going undefeated over the course of a college football season is extremely difficult. To play perfect, or near-perfect, football all season and not lose once is an awe-inspiring feat. To be ranked 14th after a season of absolute dominance over the American Conference is an absolute travesty. On the other hand, I don't know how this high powered offense would match-up against a Power 5 team, week in and week out. This being said, I think it will go a long way to evaluate the legitimacy of the ranking criteria if the Knights are able to overcome the supremely hot Memphis Tigers on Saturday. Expect McKenzie Milton to continue his stellar season on Saturday. Here's hoping Frost sticks around. I'll be devastated if he goes to Nebraska and Bucky has to make him their bitch once a year. (I'm looking at you P.J. Fleck.)
Prediction: (14) UCF wins 41-38
---
(11) TCU (+7) vs (3) Oklahoma (12:30pm, FOX, AT&T Stadium)
Well, Big 12. Here you go! You wanted a conference championship game soooooo badly. You're getting one. Here's the issue, your conference having a bid in the CFP is essentially in the hands of Baker Mayfield. And we're quite aware how busy his hands have been. Oklahoma has been rolling this season. When these two met three weeks ago, Mayfield and co. rolled on their way to a 38-20 victory. Expect Gary Patterson to have a better gameplan this time around. And expect this one to be successful.
Prediction: (11) TCU wins 24-20
---
(6) Georgia (+2) at (2) Auburn (4pm, CBS, Mercedes-Benz Stadium)
Boy, oh boy! This one is going to a doozy. After Auburn's "upset" (not really but ESPN's dicks all went soft when Bama blew it) of Nick Saban's Alabama squad last weekend, Auburn jumped all the way up to the second spot in the CFP rankings. If you ask ol' Nicky boy, his squad should be in. But alas, they are currently on the outside looking in heading into conference championship. And a game they will be watching with millions on Saturday afternoon is going to be a helluva game. I honestly have no idea how this one is going to go. (Am I actually looking forward to the SEC championship game? Yes, because Alabama isn't playing in it. Maybe if they didn't schedule Mercer before the most important game of their season, they would've been ready.) In games like this, always go with what your gut tells you, and bet the opposite.  Gus Malzahn does it and sends Auburn into the CFP with a rousing "BOOM!"
Prediction: (2) Auburn wins 21-20
---
(7) Miami (+9.5) vs (1) Clemson (8:00pm, ABC/WatchESPN, Bank of America Stadium)
Oh Miami! A week ago, you and your Turnover Chain were an absolute lock to be playing a CFP game come January. But college football is a game that is better when wrenches are thrown in. After losing to Pitt in the regular season finale, Miami needs to crush Dabo Swinney and the Clemson Tigers to have a sniff of a chance at the CFP. Don't expect this to happen. Dabo wins. And when Dabo wins, he dabs on 'em. The defending national champs will be heading back to the CFP and will have a true chance at defending their title.
Prediction: (1) Clemson wins 38-31
---
(8) Ohio State at (4) Wisconsin (+5.5) (8:00pm, FOX, Lucas Oil Stadium)
It's real. It's here. We made it.  I would like to point out, that I pretty much called this. With an exception for Johnathan Taylor, I was pretty much on track. This being said, there is one more obstruction on our path to perfection. Ohio State. If you even mention that the last time these two met in 2014, the Buckeyes left that meeting with a 59-0 victory, you deserve to be punched in the throat. That was a completely different team from top to bottom. This Badgers team that will take the place in Indy is the team that team wanted to be. I don't have much to say on this game because it makes me nervous the more I think about it. I'll be in Indy. I'm going to be trembling for the better part of four hours. We're going to fucking do it. Suck it CFP committee!
Prediction: (4) Wisconsin FUCKING WINS 34-30
---
Guys, it's conference championship weekend. Just go watch football.
#TeamNobody