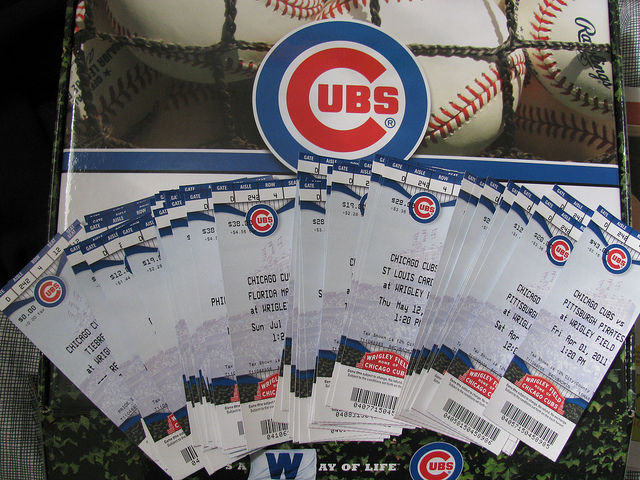 -Joe Gallagher
I recently had an interesting conversation with a co-worker and friend of mine, one which I thought should be shared with other sports fans.  We were discussing the general concept of the season ticket waiting list.  Living in an area that is equidistant to both Green Bay and Chicago, I have listened to fans of both the Cubs and Packers discuss the tens of thousands of individuals patiently waiting for an opportunity to hold season tickets in their hands.  Growing up as a Philadelphia sports fan, season ticket opportunities were typically available for Phillies, Sixers or Flyers seasons.  Eagles (since they are the best team ever) were usually hard to come by.  It wasn't until the Phillies run from 2007-2010 that Phillies season tickets were hard to come by.  And the Sixers are JUST gaining relevancy after years of Tankadelphia.
However, our discussion was primarily around the Packers, and the 70,000+ people on the list for season tickets to Lambeau.  We discussed people having their season tickets willed to them from parents and grandparents.  We discussed ticket agencies having access to hundreds of season tickets.  We discussed current season ticket holders merely having their tickets for the sake of reselling them through online outlets like stubhub or seatgeek, at twice or triple the face value.  
It was then that my colleague suggested a wonderful idea.  Why not have season tickets cycle through the list from year to year?  For example, say you have a 60,000 seat stadium.  You have 60,000 current season ticket holders, and then another 70,000 people on the waiting list.  In year 1, the current 60,000 season ticket holders get their tickets.  In year 2, the NEXT 60,000 season ticket holders get tickets, while the former 60,000 season ticket holders are given the option to be added back to the waiting list.  This happens year after year, spreading the wealth of the opportunity to have season tickets to your sports team.  
Let's think about the reality of this for a second.  This concept would not affect anyone who has club box seats, suites, etc.  The secondary market would still be there for those who obtain season tickets:  as a season ticket holder, you have the right to do as you wish with your tickets.  Ticket agencies would have the same opportunity to get onto these lists as the average individual.  The respective team will still sell all of their tickets and/or provide an opportunity to all who are interested in season tickets.  Most importantly, everyone will have the opportunity to call themselves a season-ticket holder at some point in their lifetime.
Socialism at its finest.
Sports are a platform that unite many, and attract the attention of millions of people.  Something as unimportant as bettering the procedure through obtaining season tickets, could spark further ideas towards spreading the wealth of comparable situations: concert tickets, broadway ticket availability, season passes to various events throughout the country.  Look, we aren't trying to ruin familty traditions or take away season tickets that have been within a family for multiple generations.  Maybe there would be special exceptions for tickets that HAVE been within a family for multiple generations.  Who knows.  This is just the beginning of the discussion.  However, realistically there are people on waiting lists for season tickets who will most likely never have the opportunity to get their hands on them.  Not due to financial restrictions, but primarily due to availability.  
Why not start the discussion?  Thoughts?  Comments?  We'd love to hear!
#TEAMNOBODY    
Note: While this article was composed by Joe Gallagher, we here at NobodySports credit the initial concept to our friend Daniel Krisher.  The content of this post was written in collaboration with Danny.  We look forward to your thoughts!