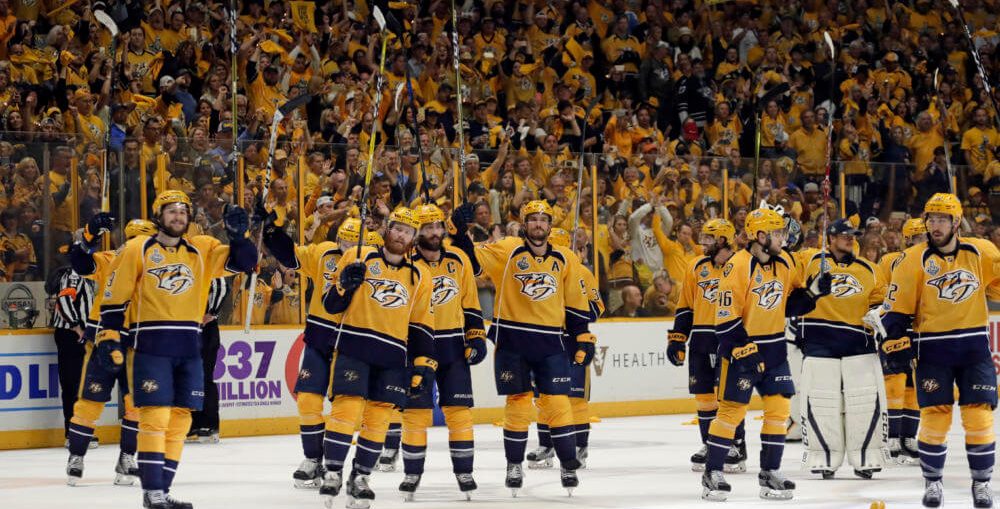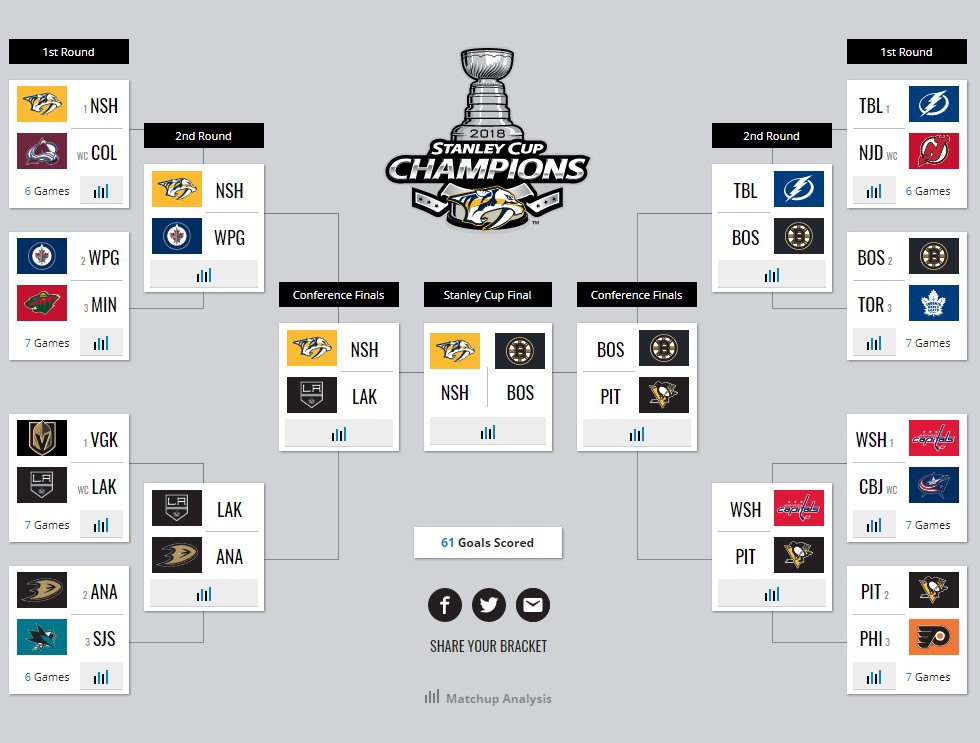 (Cover photo from FanRag Sports; Image above – created by our very own Mike Wright)
-Joe Gallagher & Mike Wright
Hey y'all!  It's time for the 2018 NHL playoffs to begin!  With my Canes out of it, and Shawn already moved on to baseball, Mike decided to put together the above chart with his predictions as to how this year's playoffs are going to play out.  Instead of merely posting this and saying, "Here we have it", I decided I would take the approach of telling him I would post it, but then actually debate his picks…because, well, why not?!  Oh, and we are a day late on this – which is my fault because work has had me slammed and my mom is coming to visit me in Wisconsin for the first time since I moved (which for those of you who know – this is a HUGE event…she is driving as we speak…14 hours…)
Starting with the top left, I agree (x2).  I think Nashville and Winnipeg make it through their first round, setting up the second-round battle of the two furthest teams from one another (not to mention different countries altogether – get those air miles ready).  Although I guess the Predators logo does look like something one would find frozen in ice somewhere up in Winnipeg?
Bottom left, I kind of disagree with; the Golden Knights are legit.  They really don't have much to lose as this is their first season ever…and they are the #1 seed…so I don't really see there being much pressure there for them.  I personally think the Knights win this series to move on to face the Ducks (I agree there).  I mean besides, I'd much rather see the Knights vs the FLYING V!.
Upper Right – I think Mike nails it here (sorry to all the Auston Matthews fans out there), the Bruins are just too good.  I am very much so looking forward to that second-round matchup, as I really think it can go either way.  Bottom Right – well, well, well.  I want to pick the blue jackets purely because of my biased dislike of the capitals…but I agree they will win this series…FINALLY…THEY WIN…FINALLY.  As for that last pairing…heh…7-0…heh
So, moving to the 2nd round, I agree with the Preds moving on – although cool to see Winnipeg playing great hockey this season!  I still disagree with the Kings pick, as I think the Knights are going to be moving on here to give us the ultimate Western Conference Finale.  As for the other side, it pains me to say it, but it looks like we very well could be seeing Boston playing the Penguins…which is something I will not tune into…
Okay so for the Finale, the Stanley Cup, the battle of the top two teams in the league.  Drum roll please… the Sabres beat the Coyotes in 7!!  Oh wait, nope, that would be the battle of the worst…my bad guys.  Okay okay, yes, as Mike has stated, it is also my pick as well – The Nashville Predators WILL be crowned your Stanley Cup Champions.
Predators in 6 – Sorry Bostonians…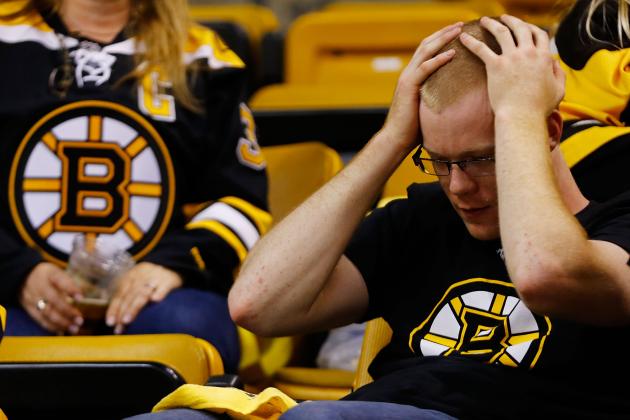 (Photo from Montreal Racing)
#TeamNobody