(Cover photo credit: Billboard; photo above – Bein Sports) 
-Mike Wright (@MWright1313)
Guess whose back? Back again. Mike is back, tell a friend. I know it has been way to long since I have written anything for Nobody Sports. I am going to start pushing more things out, because I enjoy doing this and I want to get back to doing it and help grow the site. So, with my first piece I will start with the defending Superbowl Champions Philadelphia Eagles (I honestly thought I would never ever see that headline). They just started training camp with 90 guys, and will need to be down to 53 by the time week 1 kicks off against the Atlanta Falcons on September 6th. Now, unfortunately, I don't get to go down the practice every day and watch them practice, so my predictions will be based off of last year, and what I have read so far this year at OTA's and early on in training camp. So, without further ado, here is my prediction: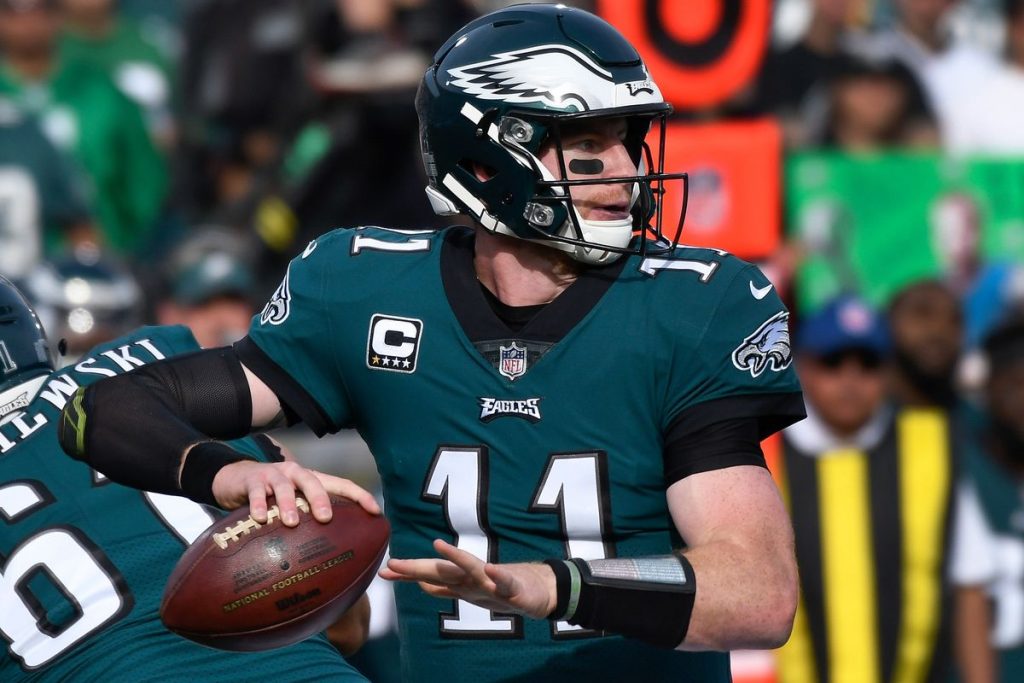 (Image credit – Bleeding Green Nation)
QB (3)
Carson Wentz, Nick Foles, Nate Sudfeld
The obvious biggest story of training camp, and basically the Eagles season in general is the health of starting QB Carson Wentz. By all accounts he has looked great and people say if you didn't know he tore his acl last year, you wouldn't know it this year because he looks great. He is a competitor and wants to play week 1, and I believe he will, but the doctors need to clear him to play. He is by far the best QB on the team, the face of the franchise, and will be an annual MVP candidate. But, you also don't want to rush him back and having a guy who just won the Superbowl, and out dueled Tom Brady, as your backup isn't a bad thing. What Nick Foles did last year was incredible, and I still think there is a possibility he could get traded if the team feels good with where Wentz is at, and about Sudfeld's progress. Sudfeld is a guy the team is high on, and brought him onto the roster last year, so I think he makes it again this year. Barring an injury from another teams QB, I think the Eagles go into this season with these three QB's. It's definitely a good group.
RB (4)
Jay Ajayi, Darren Sproles, Corey Clement, Donnell Pumphrey
The first three guys are locks to make the team. Jay Ajayi will most likely lead this group in touches and yards this year. He is a free agent at the end of the year and will want to have a big year, so he can cash in. He was brought over in a mid-season trade from the Dolphins and was a huge part of the team. Darren Sproles tore his acl and broke his arm on the same play against the Giants in week 3. He is 35 years old, and most likely playing his final season, and he looks as quick as ever, and looks to be recovered from the injury. Corey Clement was a surprise to make the team out of training camp last year, seeing as he went undrafted. But, the Eagles kept 5 running backs when camp broke. About half way through the year, it was clear as to why he made the team, as he really stepped up after Sproles went down. He could be the number one back next year with Sproles retiring and Ajayi a free agent. The 4th RB comes down to a group of Pumphrey, Wendell Smallwood, Matt Jones, and Josh Adams. I'm giving Pumphrey the advantage here since he was a 4th round pick last year, who the Eagles traded up to get, and the fact that he looks bigger and better than he did last year. He sat out the year on IR, so he needs to big camp and preseason to stay. I'll say he does as of now.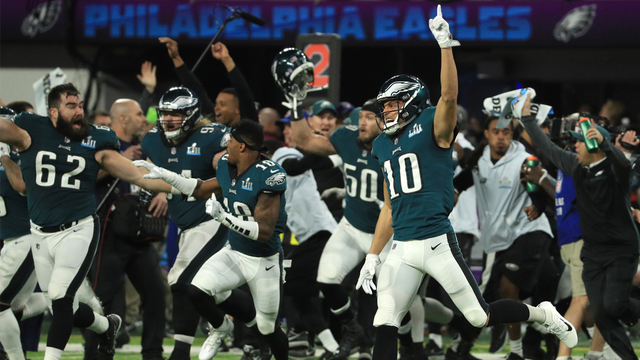 (Image credit – Fox 5 Atlanta)
WR (6)
Alshon Jeffery, Nelson Agholor, Mike Wallace, Mack Hollins, Shelton Gibson, Greg Ward
Jeffery is the clear cut number receiver on the team. He is coming off of offseason shoulder surgery and probably won't play much in training camp or preseason, but by all accounts he will be ready to go, and after signing a contract last year, he will be the man on the outside. What a season Agholor had last year. After being completely awful his first two years in the league, the Eagles moved him to the slot, and what a season he had. His quickness and ability to make people miss was on display all year. He is looking faster than ever and will continue to man the slot. I expect another big year. Wallace was brought over in free agency to replace the Torrey Smith, who they traded away. Wallace is better and should be an improvement over Smith. He still has the speed and should help open up the offense with some homerun deep balls. Hollins is back in the same role he had last year, as the 4th He should continue to get some opportunities on offense, but he will mostly play special teams. Gibson has had a breakout camp so far, and looks way better than he did last year, after he couldn't catch anything. He made the Eagles last year and was even active as the year went on, but really only played special teams. He will need to make his mark there again this year, as opportunities on offense could be limited. They could only keep 5 receivers based on how things play out, but I will go with 6 for now. Ward was on the practice squad this year, and his name has come up as a guy to watch by the coaches so far. I say they keep a guy like Ward who is young and still developing, over veterans that you know who they are like Markus Wheaton and Kamar Aiken.
TE (3)
Zach Ertz, Dallas Goedert, Richard Rodgers
This position, along with QB, is probably the safest and easiest to pick. Zach Ertz is an all pro type talent, who will probably lead the team in catches and targets this year. He is an outstanding athlete and great route runner who is the ultimate security blanket. Rookie second round pick Dallas Goedert is a freak athlete at 6'5" and 260 lbs. He comes from a Division 1AA school in South Dakota State, but he dominated that level, and so far that hasn't been an issue. He and Ertz together could wreak havoc over the middle of the field and near the goal line. Rodgers is coming over from Green Bay and should make the team as the third tight end. There might not be much passes headed his way, but he's a veteran who should step up on special teams, and also help with blocking.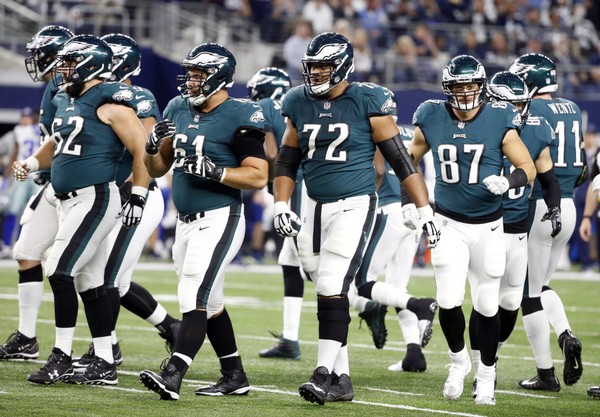 (Image credit – Pennlive.com)
OL (9)
Jason Peters, Stefen Wisniewski, Jason Kelce, Brandon Brooks, Lane Johnson, Halapoulivaati Vaitai, Chance Warmack, Isaac Seumalo, Matt Pryor
This group is probably the best overall group in the entire NFL. Lane Johnson might be the best tackle in the league. Brooks is one of the best guards, and Kelce is an all pro center, and also one of the best speech givers in Philly history. Peters is a future hall of famer, who is 36 years old and coming off a torn acl. So, it's fair to wonder how much he has left, but he was playing at an all pro level before his injury last year, and is also one of the most respected guys on the whole team. Wisniewski stepped in last year after Seumalo just couldn't get the job done. He took the job and ran with it. He was a stabilizing force along the line. Vaitai stepped up in a huge way after Peters went down last year. He can play both tackle spots and is a very good backup to have after getting tons of experience last year. Warmack is a guy who was a top 10 pick, which you don't see much for a guard, and he hasn't lived up to that, but he is one of Offensive Line Coach Jeff Stoutland's favorite guy, so he should stick around and be the backup at both guard spots. Seumalo was one of the few disappointments last year. He can play all five spots along the line and was a 3rd round pick, which should give him an advantage over other guys, but he could also get cut if he doesn't step up. Matt Pryor was a 6th round pick out of TCU this year and he has really impressed. He can play guard, and could be the reason a guy like Seumalo gets cut. Rookie 7th round pick, and rugby superstar from Australia Jordan Mailata is an absolute freak of nature athlete, but he has never played American football, and is super raw. If he shows anything the Eagles may try and get him on the roster, but I believe he is a practice squad guy, who they would like to develop there instead of taking up a roster spot.
DL (9)
Brandon Graham, Fletcher Cox, Haloti Ngata, Derek Barnett, Michael Bennett, Chris Long, Destiny Vaeao, Elijah Qualls, Josh Sweat
This is a loaded group. The offensive and defensive lines are the strength of this team, and arguably the main reason they won last year. Graham is coming off ankle surgery, and hasn't practiced, but he should be good to go for the regular season. He is one of the best defensive ends in the league, and made the play of the Superbowl when he stripped sacked Brady. He is a free agent after the year, and wants a new deal, so it'll be interesting to see how that dynamic plays out. Cox is a perennial all pro, and besides Aaron Donald for the Rams, he is probably the best DT in the league. Haloti Ngata was brought here on a one year deal. He was an all pro for a couple season in Baltimore. He isn't the same player he used to be, but he is still a big body and good against the run. Derek Barnett showed flashes last year of why he was a first round pick. I expect his production to go up this year, even with all the rotating these guys do. Bennett was brought here from Seattle via trade. He has been a great pass rusher for many years now, and is just another guy they can bring in without losing production. He has some off the field issues, and is getting up in age, but he can play both end and tackle, so he should fit in just fine. Chris Long was outstanding in a limited role last year. He had 5 sacks and 4 forced fumbles. He will resume the same role as last year. He is also a great role model and outstanding guy. He's a guy you want on the team. Destiny Vaeao should resume his role as the 3rd He may have to step up a bit with the lack of depth at tackle. Qualls was a 6th round pick last year who didn't play much, but was with the team all year, and has some potential. Josh Sweat was the team's 4th round pick, who many considered a steal. He's an athletic freak who had some injury concerns, which is why he fell. He has looked healthy and explosive at camp so far. One notable omission is Tim Jerningan. He had off season hernia surgery and is currently on the Non Football Injury list. He can be activated off of that, but he will most likely miss the start of the season, and he won't count against the 53 man roster, so I think that's the way the Eagles will go with him until he's ready to play.
LB (6)
Nigel Bradham, Jordan Hicks, Corey Nelson, Nate Gerry, Kamu Grugier-Hill, Joe Walker
This is an interesting position for the Eagles. Most teams run 3 WR's, so when that happens they only play 2 LB's. So, basically only 2 guys play, with a 3rd guy getting less than half the snaps. That should continue to be Bradham and Hicks. Bradham was an absolute beast last year, especially after Hicks went down, and the Eagles rewarded him with a contract in the off season. He is suspended for the first game of the year however. Since it's only one game, it shouldn't be that big of a blow. Hicks has been a very good player when healthy, but his one issue has been health even going back to his college days at Texas. He tore his Achilles last year, but he has been practicing in most drills in camp so far, and has looked good according to reports. With Bradham suspended and Hicks hurt a lot, the other guys could play a factor this year. Nelson was brought over from Denver on a one year deal. He has been mostly a special teams player, but is looking for more of a role with the Eagles. He has good coverage skills when he has played, and Defensive Coordinator Jim Schwartz values that highly in LB's. Gerry and Grugier-Hill are both guys who also want more of a role this year. They are both former safeties who are now linebackers, so they have the necessary coverage skills. Gerry has put on some more weight and improved his tackling. Grugier-Hill has been outstanding as a special teams player so far, and should continue with that. But, maybe he shows enough to earn more of a role on defense. Walker was also with the team last year, and has played some middle linebacker with the first team in camp, while Hicks moves outside. That could be a good sign for him. Schwartz says he wants guys to learn multiple roles and positions.
CB (6)
Ronald Darby, Jalen Mills, Sidney Jones, Rasul Douglas, DeVante Bausby, Avonte Maddox
This is another position of depth for the Eagles. In fact, it's so deep that if they were to make a trade, like there have been rumors, this is probably the position where a guy could be traded. Darby is a free agent after the year, so he could be the guy to go since he will probably command a lot of money, especially with a good year. He came over from Buffalo last year before the season and then dislocated his ankle during the first game. He ended up coming back, and he played well. He should have a starting spot locked up. Jalen Mills has worked his way from being a 7th round pick to a good starter. He will probably start on the outside again this year next to Darby. His swagger and confidence is a reason Schwartz loves the guy. Nickel corner is a spot where the Eagles need to decide who is going to play that position. That spot is basically a starting position in today's NFL. Patrick Robinson did so well in that role last year, but he left to go to New Orleans, so the Eagles need to find someone for that role. Sidney Jones is a guy who was a 2nd pick last year, but was also the highest rated corner by experts. He tore his Achilles while working out for the draft, so the Eagles took him knowing he wouldn't play last year. He did play the last game of the season, and hes ready to show why he was so highly thought of. He's getting the first opportunity for the nickel role. It's not his natural spot, as he is probably more of an outside guy, but the Eagles want to find a way to get him on the field, and this would be his best way. He will have time to learn it more as camp goes on. Douglas got some opportunity to play last year after Darby went down and Jones not playing. He played well and had a couple of interceptions. He will try and carve out a role on defense, but it could be hard to come by unless a trade is made. Bausby is a guy who has been a camp standout so far. He has also gotten first team reps at the nickel. He has been a guy who has been doubted plenty of times so far. He went undrafted out of Pittsburg State in 2015, and has been cut and bounced around from the Chiefs and the Bears. The Eagles signed him to the practice squad last year, and it finally looks as though he may have found a role for him here. Maddox was the Eagles 4th round pick this year out of Pittsburgh. He is small at 5'9'', but he is quick and shifty, which could work well in the nickel. He should make the team because of where he was drafted.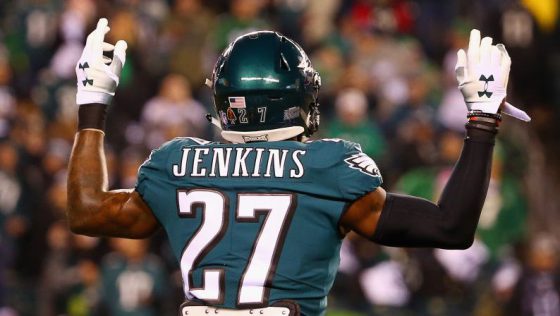 (Image credit – ProFootball Talk – NBC Sports)
S (4)
Malcolm Jenkins, Rodney McLeod, Tre Sullivan, Chris Maragos
Jenkins is the leader of the defense and an all pro safety. He plays everywhere. He will play safety, corner, and linebacker. He does it all. He will also get reps in the nickel corner role which makes the 3rd safety on the team a very important. McLeod is a guy who had an up and down year last year, but is back and when he's on his game gives the Eagles one of the best safety duos in the league. He will be back in the same role as last year. The 3rd safety position last year was played by Corey Graham. He is still a free agent and many people believe he will be back this year at some point because of the lack of uncertainty. He played an important role because he played almost half the snaps last year. As of now Sullivan would be the guy to take on that role. He was on the practice squad and is a big hitter. The Eagles like him a lot and Jim Schwartz has mentioned his name multiple times in press conferences. If they feel comfortable with him, then they may not bring back Graham. Maragos was another one of the long list of players to tear their acl. He is still recovering from it since he hasn't practiced. He has made his mark on special teams. He is only a fill in at safety, and has struggled when he has had to play. He is the captain on special teams, and that's where he will continue to play. However, if the team doesn't feel he is ready or isn't the same player he was, then he could be cut and save the team some money. The latter outcome wouldn't surprise me. Look out for undrafted rookie Jeremy Reaves as well.
Specialists (3)
Jake Elliott (K), Cameron Johnston (P), Rick Lovato (LS)
Elliott was signed from the Bengals practice squad last year after Caleb Sturgis got hurt, and he took the job and ran with it. He was outstanding last year, including the game winning 61 yard field goal in week 3 against the Giants that really was a huge momentum boost for the rest of the season. He needs to work on getting better at extra points, but the Eagles brought in no competition for him in camp, so he is the guy. Johnston is a guy the Eagles brought in last year to compete with all pro Donnie Jones, but he couldn't beat him out. In the off season Jones decided to retire, so the Eagles brought back Johnston. Johnston has really struggled in camp so far, but there isn't anyone in camp to compete with him. However, I would imagine the Eagles will be looking at other teams for punters if Johnston continues to struggle. Donnie Jones has said he would like to play again, so maybe the Eagles can work something out with him. Punter could be an issue for this team. Lovato stepped up after the Eagles traded long time long snapper Jon Dorenbos (ultimately that saved his life, since it was revealed in the physical that he had a heart condition that needed surgery immediately). Lovato had no issues and should be fine.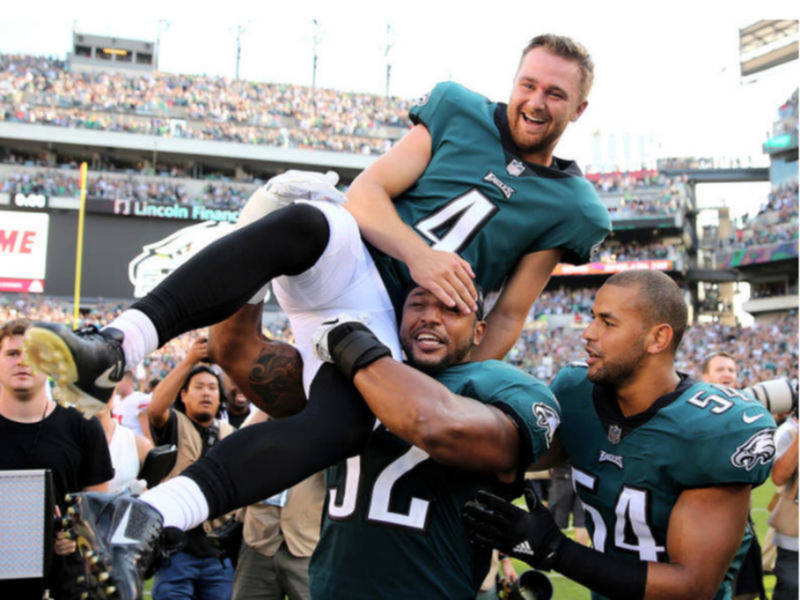 (Image credit – Patch.com)
Practice Squad (10)
Josh Adams (RB), Rashard Davis (WR), Billy Brown (TE), Jordan Mailata (OL), Aaron Evans (OL), Joe Ostman (DE), Bruce Hector (DT), LaRoy Reynolds (LB), DJ Killings (CB), Jeremy Reaves (S)
#TEAMNOBODY