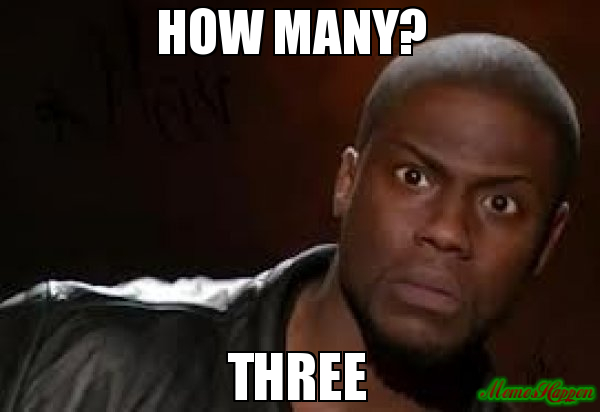 **We'd first like to give our T's and P's to all of those affected by the Hurricane Florence as the storm begins to make landfall. While there are games that are being cancelled due to the storm, there are millions whose lives will be affected and we hope that all of those in the line of the storm stay safe.
How have two weeks of the college football season already passed. Well, the calendar shows us that week three is officially upon us, with three games already played last night. (Told you to keep an eye on Boston College.) A week ago, we had some really interesting outcomes. We saw two top-25 teams fall to unranked opponents, including Kentucky going into Gainesville and putting an end to a 31-game losing streak against the Gators. We saw Arizona State Incorporated, led by their CEO Herm Edwards, eek out a last minute field goal over Michigan State. In what may be considered the biggest shocker of the weekend, we saw Eastern Michigan take down the bumbling Purdue Boilermakers in West Lafayette.
Week three has some VERY intriguing matchups across the board for some teams, as well as one last opportunity to get things in order for the upcoming conference schedule. Also, starting this week, we're going to bring you our "Game That No One Cares About" where Joe will bring you a game that he's interested that no one else should be (although this week's is quite contentious as it is a mid-afternoon matchup in the MAC that I have had circled for weeks as a potential Parlay closer.).
(A quick snapshot for those keeping score at home, a week ago, we went 3-1, bringing our season record to 7-4)
---
All games on Saturday unless noted. All times ET.
**MANDATORY BADGER PREVIEW ALERT** BYU at
(6)

Wisconsin (-22) (3:30pm, ABC/WatchESPN)

When this home-and-home series was scheduled, I'll say that I was definitely excited. Needless to say, after the Alex Hornibrook show last year and hanging 40 points on the Cougars in Provo a season ago, I'm excited that this game is going to be one final opportunity to get all the pieces in place before conference play begins next week. Wide receiver Danny Davis will be available after serving a two game suspension stemming from an off-season incident with teammate Quintez Cephus. (Cephus who will stand trial on two charges of sexual assault, is suspended from the team indefinitely). Off-the-field issues aside, Davis will be a welcome boost to a receiving corp who hasn't missed a step with the absence of two standouts from a season ago. Junior A.J. Taylor has been a star, collecting five catches for 134 yards and a touchdown in the 45-14 victory over New Mexico.

Prediction: (6) Wisconsin wins 47-10 (with probably 30 points being scored in the second half)
---
(12)

LSU  at

(7)

Auburn (-10.5) (3:30pm, CBS)

LSU has probably surprised some people with how they have performed this season. After upsetting Miami in the opening game of the season, Coach O and the Tigers have become a team to keep an eye on in the ever intriguing SEC (I think I just threw up a little typing that…). Their eventual downfall however will come when a team is finally able to capitalize on the Tigers inability to close out games. Look back at the Miami game, in which after leading the game 33-3, they allowed two late scores. Even a week ago, they were unable to score more than one in the second half. With the national spotlight now firmly on them, and an SEC conference match-up on the docket for this weekend, expect the Tigers to find that killer instinct and close this one out.

Prediction: (12) LSU wins 33-24
---
(17)

Boise State at

(24)

 

Oklahoma State (-2)

 (3:30pm, ESPN/WatchESPN)

Do you like offense? What are your thoughts on teams that are averaging above 56 points/game? What about teams that are averaging over 600 yards/game? Did you answer yes two these questions? Then do I have a game for you? Enter Boise State and Oklahoma State. A week ago, Boise State put up 818 total yards a week ago. Oklahoma State leads all of college football with 674.5 yds/game. This game is going to be the equivalent of two drunk 40-somethings throwing haymakers down at Drunky's Tavern over who's wife can slam the most PBR tall boys in five minutes. Last man standing anyone?

Prediction: (17) Boise State wins 59-51
---
(4)

Ohio State (-12.5) vs

(15)

TCU (8:00pm, ABC/WatchESPN, AT&T Stadium)

"It's win or lose, and then your season is going forward or getting over with," Head Coach Gary Patterson said when asked about this game. This game has two very different outlooks for both sides. On one hand, TCU will try and downplay the importance of this game. For Ohio State, this game serves as the end of Ryan Day's coaching stint in the absence of suspended head coach Urban "I Guess I Didn't Realize That Was Bad" Meyer. If Ohio State is able to leave Arlington with a "W" then the post season hopes are still very much alive. A loss and the committee will have a very hard time selecting them, even if they are able to win the Big Ten Championship, as was evident a season ago.

UPSET Prediction: (15) TCU wins 24-20 (solely based on my hope that Urban Meyer actually suffers for being a scumbag and loses his season before he can even start)
---
(22)

USC at Texas (-2.5) (8:00pm, FOX)

This game will serve as a reminder that college football is fully back. USC and Texas renewing their rivalry in the rubber match of this high-profile matchup. Both teams enter this season 1-1 with hopes that a win Saturday night will propel them into a successful 2018 season. A season ago, this game ended in a Double OT thriller at the Coliseum with the Trojans being led to success by, now Jets starter, Sam Darnold. This game easily could've went the other direction before Quarterback Sam Ehlinger fumbled near the USC goal line. Expect another nail biter in Austin on Saturday night.

Prediction: Texas wins 27-17
---
Joe's Game That NOBODY Cares About
Eastern Michigan at University of Buffalo (-3.5) (6:00pm, ESPN+)
This game features a tale of two schools trying to achieve something neither has done in a LONG time: begin 3-0. The last time Buffalo started the season 3-0 was 1983…as a Division 3 program. The last time Eastern Michigan were relevant was 1987 – their last MAC title. Both programs have started off strong, with Buffalo upsetting my Temple Owls last week and Eastern Michigan pulling the upset on Purdue last week on a last-second field goal. The MAC always quietly has a few decent teams, with some players finding their way to the NFL (and some getting record $90 Million deals). That being said tune into this entertaining, defensive battle. If you can find it.
Prediction: Buffalo wins 31-27
---
Week 3. Time to go! See y'all next week.
#TeamNobody