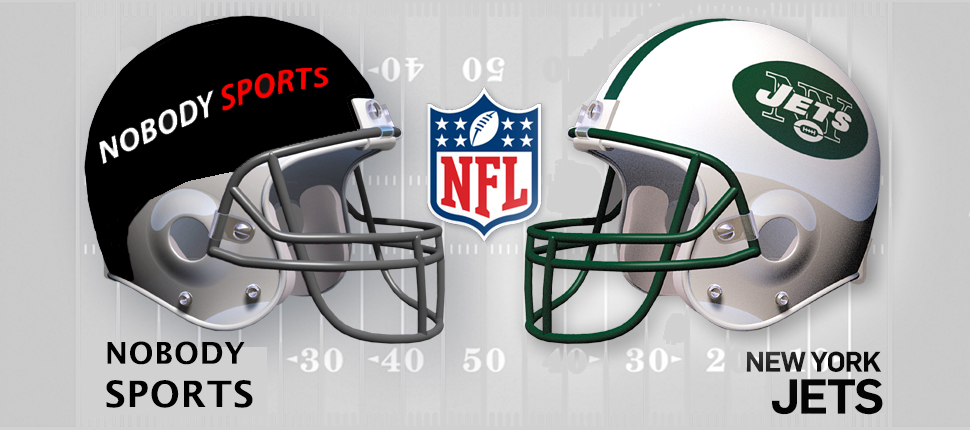 -Joe
Vegas put out the betting line today that the New York Jets are 1,000 to 1 odds of winning the super bowl this year.  They are 200 to 1 odds of winning the AFC East (should also be 1,000 to 1 because there's no chance they're beating the Patriots.   Ever.)  One 'anonymous' NFL Executive went as far to say that this year's Jets Roster is "The worst I have seen in over a decade."  Well…38-year-old Josh McCown will be taking the opening day snaps at Buffalo this weekend.  Luckily for McCown, Buffalo doesn't appear much better, with Tyrod Taylor and TJ Yates both in concussion protocol.  Also, the Bills surprisingly waived their sure to be backup RB, Jonathan Williams, in favor of 31-year-old Mike Tolbert.  Jordan Matthews is questionable to start and Sammy Watkins is…well, Sammy is in LA…  This is easily the worst game of the opening weekend.
So where am I going with all of this?  Well, I decided I would put together an NFL team of unsigned Free Agents, and/or practice squad guys, and see if my team (on paper) would be chosen in a weekly football pool.  Tanking frustrates me in the NFL (yes, I am a Sixers fan and a huge hypocrite but the NBA is different and not the focus of this piece so don't judge me); SO, below is my squad (just starters) who would be going out there against the Jets this weekend.   Would you pick the Joe Gallagher FA All Stars or would you pick the NY Jets to win this matchup?  Leave your votes in the comments section below.
The Nobody Sports Joe Gal Free Agent All-Stars vs. The New York Jets Week One Roster
(Field location: neutral)
A few comments regarding the 2017/18 Joe Gal FA All Stars Starting Lineup
Quarterback
Robert Griffin III is ready to go, FINALLY.  Unfortunately for him it might be too late.  However, if he is completely healthy and ready to go, you easily have a top 32 QB in Griffin, with very little mileage on the rest of his body (his knees don't count because they are as dependable as a 92-yr-old grandpas').  My backup to Griffin, of course, would be Kaepernick, who still in my opinion is good enough to be on an NFL roster.  I have confidence in one of these guys to be able to do enough against the Jets defense.
Running Back
DeAngelo Williams ran last year with the Steelers like he had just been drafted out of college.  The guy has more juice in the tank and could easily put up 10+ TDs this season.  Jonathan Williams would be MY #2 RB, but the Broncos just signed him.  So, my #2 RB will be Chris Johnson; I am going with the All-AARP backfield.
Wide Receiver
Initially, Jeremy Kerley was my first pick here because knows the Jets playbook, so that wouldve been my Belicheck move.  He could teach the defense the routes ahead of time so they are prepared.  Also (no offense to Temple Alum Robby Anderson), Kerley would be the #1 WR for the Jets.  Well…the Jets must've been tapped into my computer as I was writing this because they went ahead and signed him…so I've placed Darelle Revis on my defense for the exact same reason.  As for my wideouts; Victor Cruz; I have him on my roster just for the Salsa potential.  I'm an Eagles fan 100%, but the Salsa was always hilarious to watch.  Eddie Royal would be my #2 WR because he is super serviceable, and Lorde wrote a whole song about him so he will do just fine.  Rod Streater (yes, Temple Homer pick) is super underrated and has a ton of juice left.  My slot guy for sure.
As for the rest of my roster, if you are curious as to why I picked who I did, feel free to ask!  But on paper, I think my team gets the W.
#TEAMNOBODY
#NFLGENERALMANAGERINANOTHERLIFE