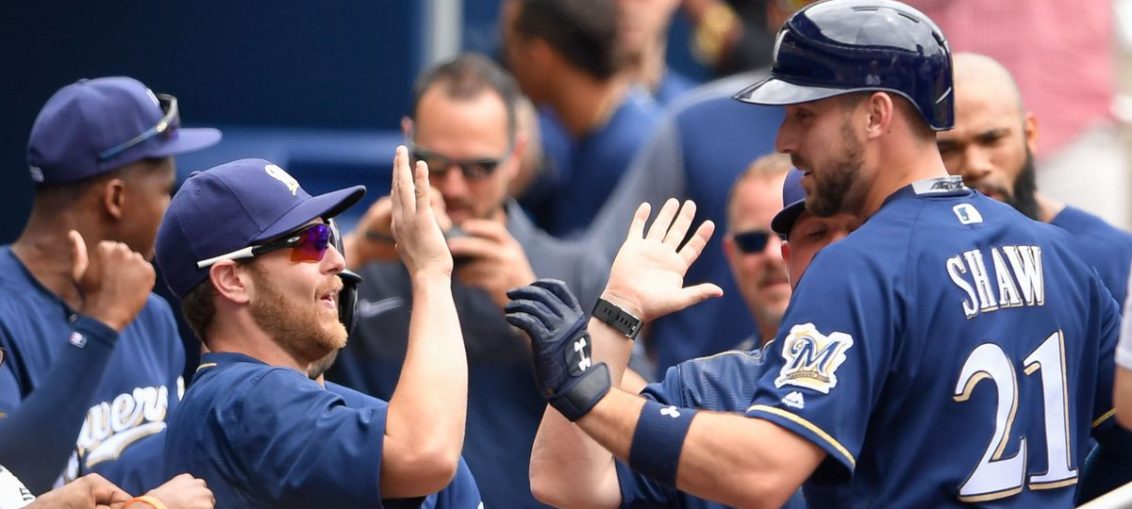 Current feeling as I write this…Cover Image credit: BrewCrew Ball
March 2017. Anybody will tell you that March's in Wisconsin breed hope. Hope for a livable spring, and that summer is right around the corner. For Sconnie Sports fans, it also means that Badger Sports will slowly become a memory of a seven-month long binge on Cardinal and White and it's a time that most of us look forward to another summer following the little baseball team that could over in Milwaukee. This past March was no different. The Badgers were limping into a tournament where no one was giving them a chance. (This is where I will end the discussion of the Badgers because there are no more tears left to cry. Thanks Florida.) Major League Baseball futures were out, and there they were. The Milwaukee Brewers at +10000 to win the World Series. Riding an absolutely ridiculous hot streak out of bowl season right into college basketball, I had a few duckets to throw around at some off the wall wagers.  Milwaukee Brewers to win the World Series at +10000. Might as well throw $330 at it and see what happens. And as someone who likes to hedge season long bets, I had to pick up the other end of the spectrum. Milwaukee Brewers over/under 100.5 losses. Naturally, you bet the over, cause that's what a good gambler does. Over 100.5 losses – +215. Throw another $100 at that one and call that a safe one. It's the 2017 Brewers for crimeny sakes. Junior Guerra is our Opening Day Starter. Either way, seemingly hedged my bets.
Fast forward to the All-Star Break. The Milwaukee Brewers are sitting 5.5 games up on the Cubs and Cardinals. Let's read that again, the Milwaukee Brewers are 5.5 GAMES UP ON THE CUBS AND THE CARDINALS. This puts any right-minded Brewers fan in a very precarious position. Yes, we want the team to succeed. (I also wouldn't mind taking home a cool $33,000). But, myself, being the realist that I am, realizes, this team is not built to make a run. At this point, I wouldn't even bet on this team to win a Wild Card game.
So, what do we do? This my friends, this is why I love the game of baseball. Baseball is a marathon, not a sprint. Yes, it is a marathon in regard to each individual season asthere will always be 162 games. But I'm talking in longer terms than a season.Any GM worth their weight in saltines needs to have the foresight and look at a team as part of a larger organization. This team is not built to last into October right now. Do we have pieces in the organization to move around to secure a frontline pitcher that we so desperately need (see: Sonny Gray or Jose Quintana) or maybe sure up a bullpen that has been lackluster at best (see: Brad Hand or A.J. Ramos)? Sure, but what would that get us. Knocked out two games later than we would. Maybe? And then what. That rental moves on to bigger and better paychecks on one of the coasts, Gold Coast included.And then we're back to where we were a year and a half ago.
So here's how I see it.We have a complete outfield in the minors in Sweet Lewis Brinson, Corey Ray and Brett "Laugh Heard Round the World" Phillips. We have potentially the best hair of any minor league pitcher in Josh Hader. His pitching isn't too bad either. But do these pieces keep this team a contender for the foreseeable future? I'd say yes, but again, this is baseball. I mean who would've expected Jimmy Nelson to pitchout of his giant gourd this year. Zach Davies is somehow 10-4, which coincidentally adds up to his age. Chase Anderson is apparently an above average pitcher.Orlando Arcia is living up to his billing as a defensive centerpiece of our organization. Turns out trading Tyler Thornburg for Travis Shaw wasn't too bad of an idea. Corey Knebel has finally become one of the league's most electric closers. Keon Broxton forgot that he was supposed to be a holdover in Center Field.And then there's Eric Thames who apparently needs back some of the piss and blood that major league baseball has stolen from him. Ryan Braun and Jonathan Villar haven't necessarily been models of perfect health. Domingo Santana plays worst defense than most right fielders down at the Beer League Slow Pitch leagues.
So, as we come out of the All-Star Break in first place, we are staring a "major" series when the Phillies bring the worst record in baseball into BrewTown this weekend (I GOT MY BROOM READY! SHOTS FIRED BOYS!), this next week and a half is going to be very telling of where the front office of this team thinks we are. Mr. Stearns, if you want my completely unbiased opinion (now remember, I have quite a bit at stake this season too), stay the course. I'm in it for the long haul. We'll get there. You can just pay me that $33k in a consultation fee and we'll call it even. It's Shawn with a "W".
#TEAMNOBODY