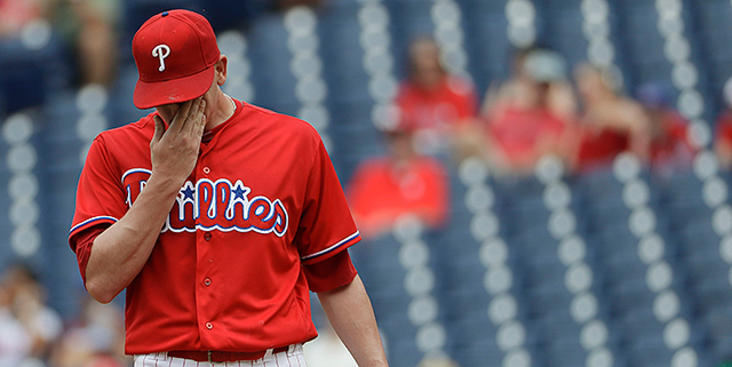 One word can easily sum up the Phillies 2017 first half:  DUMPSTER-FIRE.  Okay, I'm not sure if that is one word or two, but at this point it doesn't even matter.  The team has been a mess, disaster, monstrosity, debacle, (insert other like-terms here).  A half-season removed from a 71-91 record, the Phillies could be more worse than they were last year.  They were supposed to continue their forward momentum this season, having gone from 63 wins in 2015 to 71 wins last year.  However, thus far in the season, they are on pace for a measly 54 wins…no, that is not a typo.
So, how does this team turn it around?  The answer is simple, and it is the same answer from last year and the latter part of 2015: PROMOTE THE PROSPECTS.  As a lifelong Philadelphia fan, this has by far been the most frustrating issue with the organization.  For some reason, we like to let our players rot away in AA and AAA ball.  Ryan Howard and Chase Utley both turned 24 when they finally got the call for a full season.  They will go down in Phillies history as two of the greatest players all time AND are both future Hall of Famers.  Pat Burrell also turned 24 when he finally got his first full-season call.  Brock Stassi had been crushing home runs at various levels in the organization before they finally gave him a chance this year…at age 27.  And he hasn't even really gotten a chance for AB's with Tommy Joseph in front of him.      
The Phillies have arguably one of the top 10 (if not top 5) farm systems in all of baseball.  There are guys in AAA right now, ripping the cover off the ball on a nightly basis.  Yet, we watch the likes of Ty Kelly (who?), Cam Perkins (what?), Odubel 'no-hustle' Herrera (wait, he was an All Star last year?) and others just stumble through at-bats (or I guess crawl in Herrera's case).  The heart just doesn't seem to be there.  We need an injection of life into the team.  We need an injection of life into the fans.  Something needs to change, and it needs to change soon, and fast.
So, without further ado, here is my blueprint to making the Phillies better, faster, sooner…FINALLY.
Catcher:  Cameron Rupp should be a trade candidate as the trade deadline approaches.  While he is serviceable, he is old (28) and really has seemed to take a step back from last season.  While the Phillies wouldn't get much for him, they should take what they can get (lower end prospect) and call it a day.  Call up Alfaro FINALLY, and allow Alfaro and Knapp to be your everyday catchers.
First Base: Tommy Joseph has been more than serviceable at first base.  However, he is also a major road block for baseball's next Aaron Judge, Rhys Hoskins.  The Phillies need to call up Hoskins, FINALLY.   Hoskins is absolutely obliterating the baseball in AAA.  Batting .292 in the International league, Hoskins is 2nd in home runs (behind someone you may just find a little further down in this article).  Hitting home runs in the minors doesn't put another Commissioner's trophy in our case!  The team with arguably the best farm system in baseball (the Yankees) are hurting for a first baseman right now.  The Phillies should exploit that weakness, and see if they could get the Yankees to overpay for Joseph.  They'd get him on the cheaper side for a position of need, and he would provide power between Aaron Judge and Sanchez in the lineup.  It would be an intriguing move for both sides, and could net the Phillies a decent prospect.
Second Base:  I personally am a huge fan of Cesar Hernandez.  He is quick on the base-paths, gets hits when you need them and is solid defensively.  I like Blanco…as a person…but as a ballplayer I think it is time to move on from him (that and I think he may be eligible for AARP soon…).  Don't even get me started on Ty Kelly; I'm sure he is a nice guy too, but has no reason to be on an MLB team, let alone OUR Phillies.  I know I know, he's technically a 3rd baseman, but he has played at the 2B spot too.  So, with only one 2B on the roster, it would be time to call up Scott Kingery FINALLY.  While Kingery just recently received a promotion from AA to AAA, he is batting roughly .300 between the two leagues.  The kid can clearly hit.  His defense could use a little work, but even with a few errors, it's not like this year's Phillies team is going anywhere.  So, Kingery, welcome to the big leagues.
Shortstop:  Okay, I am going to blow everyone's minds with this position.  Freddy Galvis, in my opinion, is THE best defensive player on the team right now.  He has always been a serviceable bat on the team since coming up to the big leagues, and plays with the most heart of anyone on the team.  With that being said, his shadow, J.P. Crawford, has looked abysmal down in AAA.  As the team's #1 prospect, I would like to be writing that he needs to be called up soon and he can contribute and all that garbage that the team and organizational media would like us to think.  But watching him play, he just doesn't look ready.  He recently has taken a huge dive in his overall prospect ranking for MLB.  I think the Phillies should do everything they can to talk him up over the next few weeks and try to move him as the focal point in a big trade, possibly for a legit pitching prospect, something we really could use right now.  We could have Galvis at the SS spot for the next 2-3 years at least, easily, with Cesar Hernandez as a potential utility guy to play the spot for him, if Galvis needs a night off.  (Top trades Phillies should make by the trade deadline – article to come soon!)
Third Base:  Oh, Maikel Franco, what are we to do with you.  I am one of Franco's biggest supporters.  I want to see him do well.  I think we just need to get him some on-on-one coaching.  However, not baseball coaching.  He needs a psychologist, a meditation expert, maybe some yoga?  The guy needs to get his head clear, maybe a trip to the top of machu picchu, or a visit to a monk retreat where he can't talk for 72 hours.  Once his head is cleared, then they need to get him hooked up with a legit hitting coach to fix his 'I-want-to-hit-open-stance – but don't-properly-have-the-correct-open-stance' mechanics.  He should be a perennial All-Star, and thus far has just been a disappointment.  And the fans, the media, the coaches, they're all letting him have it.  I really hope the breaks helps him recoup and get back to being the productive player he should be.  Otherwise, we'll be waiting for the next few years for prospect Cole Stabbe to get ready (who was actually a SS, but they're trying to get him acclimated to a 3B position).
Outfield:  I could write an entire article on the Outfield alone.  Odubel had only batted .218 through the end of May, but had a .321 June and is currently batting .306 in July (.417 in this weekend's Brewers series).  Last season, we were all tricked into thinking Odubel was a piece to build around.  I've seen Jimmy Rollins run out AB's better when HE wasn't caring…and that's saying something.  Until recently, Herrera looks like he just doesn't care out there.  He doesn't look like he's interested at all.  He sure hasn't been playing like the All Star of last year.  I truly hope that Odubel can come out hot in the first few series of the 2nd half of the season…so they can get him a one-way ticket out of here!!  Ignoring Juan Samuel when he puts up the stop sign, absolute BS.  I don't care if you were an All Star last season; you've been dreadful ever since.  (Top trades Phillies should make by the trade deadline – article to come soon!)
With Odubel out of the picture, I think the Phillies could have a great outfield for the next few years.  We have someone I hinted at earlier, absolutely raking in the minors, who is already being compared to Aaron Judge.  The Phillies need to…wait for it…FINALLY call up Dylan Cozens.  Immediately insert him at the #4 spot, no questions asked.  The dude is a monster.  With my next call-up (Mr. Roman Quinn, FINALLY) batting leadoff, with Aaron Altherr batting second, the phillies would have a solid 1-2 punch to get on base when the likes of Franco, Cozens, Hoskins come up to bat.  Nick Williams would be your fourth outfielder in what could become one of baseball's most productive outfield for years to come.  Don't forget we still have the never-aging and surprisingly productive Daniel Nava still hanging around, who would be a great veteran mentor for the kids.  And don't forget, we STILL have Tocci, Randolph, Moniak, and recently creating a stir OF Jhailyn Ortiz down in Williamsport.  I think our OF is going to be solid for years to come…enough with the Saunders', Perkins', and Kendricks' of the world (although Howie is a solid trade piece too; see 'Top trades the Phillies should make by the Trade Deadline' – article to come soon!).
Okay, this is a lot to take in.  So for now, here is what my ideal Phillies lineup would look like, if they were to accomplish the above mentioned moves:
C – Jorge Alfaro, Andrew Knapp
1B – Rhys Hoskins, (Tommy Joseph potential trade)
2B – Cesar Hernandez, Scott Kingery, (Ty Kelly is a goner, sorry)
SS – Freddy Galvis, Andres Blanco (for now), (J.P. Crawford potential trade)
3B – Maikel Franco (please, oh please, Maikel where are you??)
OF – Dylan Cozens, Aaron Altherr, Nick Williams, Roman Quinn, Daniel Nava, (Howie Kendrick potential trade)(Cam Perkins….who?)
NEW Projected Batting Order:
Roman Quinn

Aaron Altherr/ Nick Williams

Maikel Franco

Dylan Cozens

Rhys Hoskins/ Tommy Joseph

Jorge Alfaro/ Andrew Knapp

Cesar Hernandez/ Scott Kingery

Freddy Galvis

Pitcher
World Series, here we come!!!
Coming up tomorrow in the Phillies Blueprint series:  How to fix our pitching…FINALLY.
#TEAMNOBODY