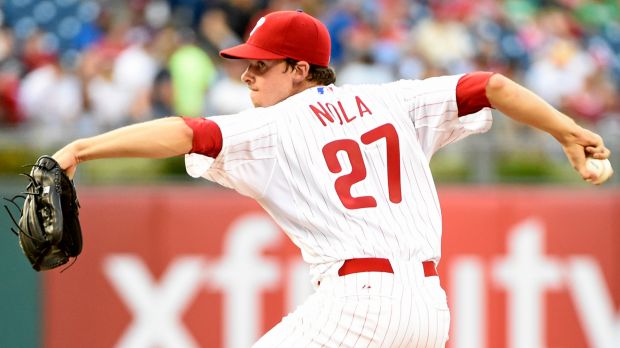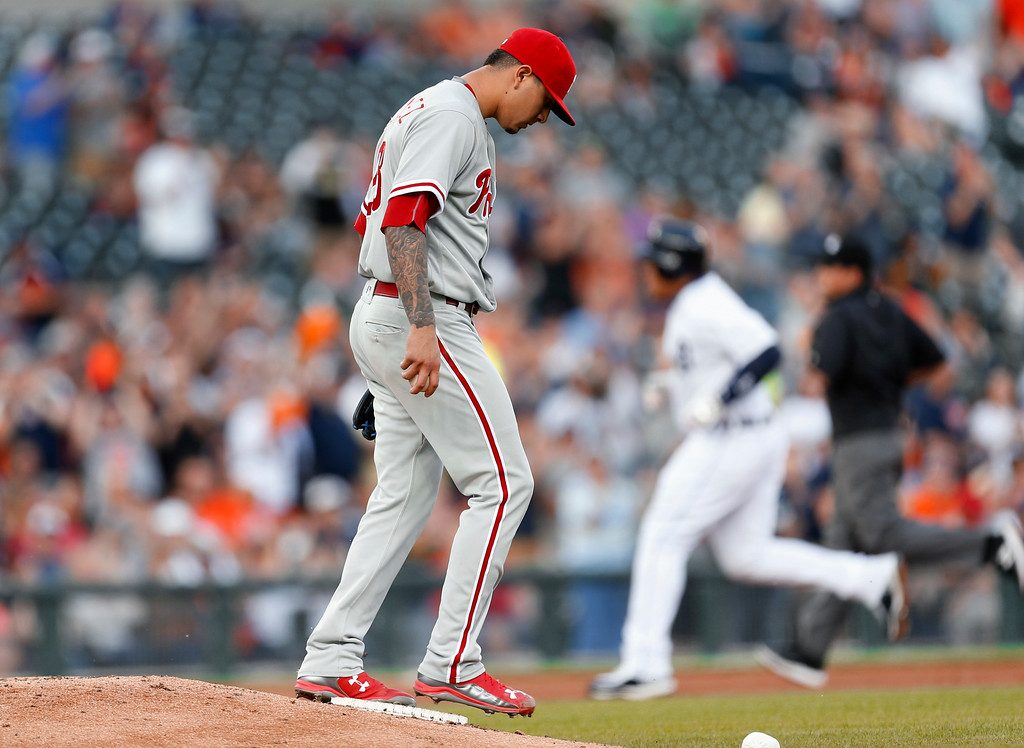 Welcome to installment #2 of the Blueprint series on how to make the Phillies better (my apologies for the delay!!).  Phillies pitching this season has almost been as disastrous as the offense.  The overall team ERA is 4.66, good enough for 23rd in MLB (yes surprisingly there are 7 teams with worse ERAs).  The bullpen has more blown saves (14) then saves (12), making them 30th in the league for both save percentage and ERA.  But hey they are one of the best at being bad!  They rank in the top 10 in hits allowed, Homeruns allowed, and doubles allowed.  Only 11th in triples allowed.  As you can see, not much to be too excited about.
Seriously though, look at this all-star studded lineup:  Jeremy Hellickson, Aaron Nola, Ben Lively, Nick Pivetta, Mark Leiter Jr.  WHAT????  I would be amazed if you could find one person outside of Philadelphia who knew all five of these guys.  Of the starters, only Aaron Nola and Ben Lively have sub 4.00 ERA with a 3.54 and 3.85 ERA respectively.  Everyone had hoped that Nola would develop into a front-of-the-rotation guy, but at this point I think the hope is that he can develop into a decent #2 or #3, although he has been pitching better as of late.  Ben Lively has the stuff to be a solid starter as well, so it is great they are giving him opportunities to refine his pitching in this throw-away of a season.  Hellickson can eat up innings but by NO WAY is he a #1.  At this point in his career, with his 4.44 ERA he is at best a #3.  Nick Pivetta's tryout should've been over after he decided to give up an 8 spot in the 2nd inning during the recent Brewers series (I was there, ugh).  And Mark Leiter Jr?  He is no Al Leiter, I am sorry.  (Update: since I began writing this, Nick Pivetta had a decent outing against the Marlins.  Hopefully we can get another 1-2 of these out of him…and then use him as a trade piece…)
Next, let's look at the bullpen.  Surprisingly, the bullpen isn't as bad as you'd think.  We lack a true closer, hence all the blown saves.  But our middle inning relievers and set-up guys aren't all that bad.  Our only All Star this season (although just a pity All Star on behalf of MLB) was Pat Neshek.  He has been lights-out, when he has gotten into games.  He carries a 1.21 ERA, which of course has caught the rest of the leagues attention.  Neshek will most likely be traded by the deadline to a contender.  Hopefully the Phillies can land a prospect with decent upside, since teams always overpay for bullpen help this late in the season.  The other two worth mentioning are Luis Garcia and Hoby Milner.  Milner has not had a ton of opportunities thus far, but appears to be a decent bullpen piece.  Garcia is super serviceable, although has faltered in some higher-leverage situations.  But believe me, I am not complaining, when compared to the likes of Benoit, Ramos, Rodriguez and the recently-relieved-of-his-job Jeanmar Gomez…
So, while the offense has a ton of potential, the pitching staff is dreadfully lacking much to work with.  I think we can go ahead and say Nola and Lively are locks for the future, along with Luis Garcia in the bullpen.  Vince Velasquez has potential to be another lock as well if he can stay healthy.  Other than those four, however, I wouldn't be surprised if none of the other guys on the roster were on the team next season.  So, what does that mean:  We have 2 of 5 starting pitching spots filled and 1 bullpen spot filled.  Hooray…So, what do we do now?  I assume Jerad Eickhoff will continue to be thrown out there with no run support, and Hellickson will continue to hold his stop gap role.  But when will we have a starting rotation that gets peoples' attention?
The answer to that question:  Look no further than our own farm system:
STUD ALERT: Sixto Sanchez has the potential to be an ELITE pitcher in MLB.  His fastball is already hitting 101 mph, as an 18-year old.  The kid is already attracting a lot of attention down in A-ball.  The hope is he can keep it up (SIXTO WE NEED YOU!!!).  I project future Aroldis Chapman; I think they should move him to the pen right now…okay, getting ahead of myself.
Franklyn Kilome was supposed to be another potential stud for us, but I see him getting hung up in A-ball right now.  Sure, he sports a 2.59 ERA which seems decent, BUT he is also 22 years old and in my opinion, should be up to at least AA ball.  So, this has me worried.
Nick Fanti has been quietly having a super impressive season out at Lakewood.  However, recently he has decided to really step on the gas and grab everyone's attention.  Earlier this week, Fanti pitched his SECOND no-hitter of the year.  The first one was a combined effort, but this one was solely his.  I'll admit, I too like many Phillies fans, hadn't even heard of the kid.  Fanti is currently 7-2 with a 2.52 ERA and two no-hitters.  Now THAT gives me something to be excited about!!
Pat Venditte should get called up purely because he is a switch pitcher.  That's right not a switch hitter, a switch PITCHER.  He is quietly sporting a 8-1 record with a 3.38 ERA out of the bullpen down at Lehigh Valley.  I'd rather have him up in the big leagues, giving Arano a chance to be up in AAA.
Pedro Beato is another who should get called up, as he has 27 saves down in AAA.  He is also 30 years old and has MLB experience.  We need to open these spots up for the younger guys to get chances at save opportunities; who knows, the next Kenley Jansen or Craig Kimbrell could be down there…
Victor Arano – Pitching 2.61 out of the bullpen down at AA Reading, Arano has the potential to be a solid middle reliever for the Phillies.  As mentioned above, I'd like to see him up in AAA by the end of the season to start getting some innings in against better competition.  I really like him being a key part of the middle-inning relief.
Tom Eshelman – Another guy quietly tearing up AAA ball.  7-2 with a 2.14 ERA, I am actually surprised he hasn't been given an opportunity up in the big leagues.  I imagine he will be up in September.
Mark Appel – The former #1 overall pick of the Astros, Appel clearly just isn't cut out to be a starter in MLB.  HOWEVER, he has the pitches to be a VERY SOLID MIDDLE RELIEVER.  I don't know what the phillies are waiting for, just convert the guy to a bullpen arm.  I can see him pitching 7th and 8th innings easily.  And who knows, maybe even 9th innings?
Jake Thompson – Maybe he could use change of scenery, because things aren't going too hot for him in AAA this season.  Add him to my list of tradable players.
Kevin Gowdy, Drew Anderson, Cole Irvin, Adonis Medina, I can continue.  The farm system actually has a LOT of pitching talent at various stages.  I think there are some players on the current big league squad and/or in AAA who have potential but also have the possibility to fizzle out.  Guys the likes of Eickhoff, Pivetta and Thompson all have value to other building teams as well.  Neshek will most likely be traded, and I have been reading rumors surrounding Hellickson as a low-cost trade as well.  With the overabundance of outfielders in the minors, I think the Phillies could afford to part with one or two prospects along with some of these pitchers, to get 1-2 legit pitchers to add to their short-term plans, while the young guys get their experience in the minors.
A list of potentially obtainable pitchers from outside the organization:  Sonny Gray, Alex Cobb, Yu Darvish (don't call me crazy just yet; the Phillies had scouts at Darvish's recent outing against the Royals), Brad Hand, Tyler Chatwood.
Stay tuned for my third and final installation of the Blueprint series, where I actually explain the trades I am thinking of, that make this all come to life!
#DREAMINGOF2008
#TEAMNOBODY