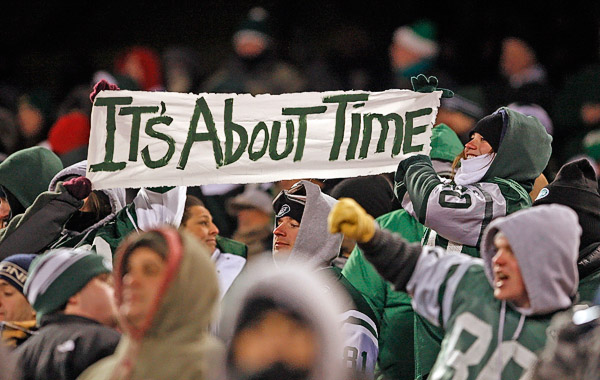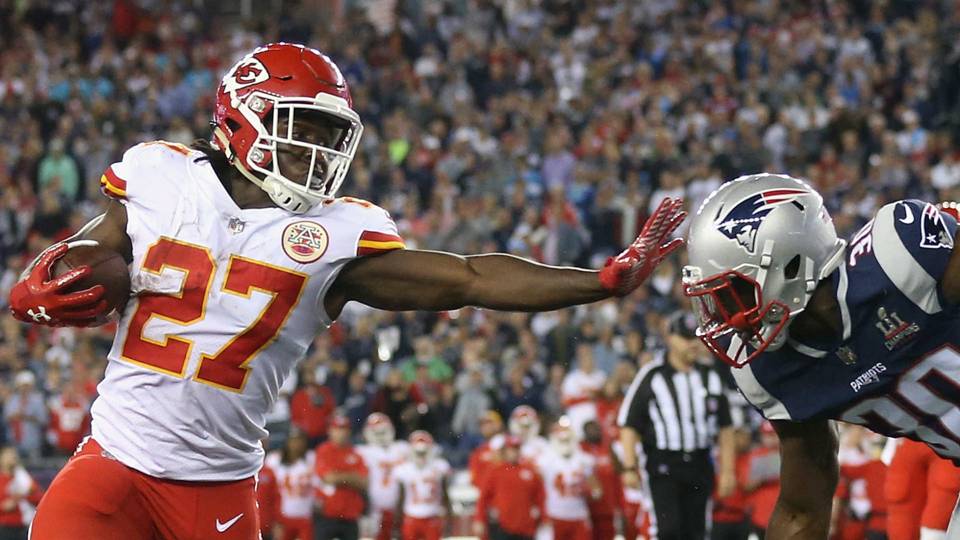 (Image credit above: Sporting News; Cover photo credit: Ed Mulholland)
-Joe Gallagher
Well, it sure has been an entertaining first four weeks of the NFL season!  I keep looking at the standings to make sure that I am not just seeing things.  The Patriots have already lost…TWICE.  The Rams and Jaguars offenses are going off.  The Kansas City Chiefs have unearthed one of the better RB's we've seen in awhile.  The JETS have won games.  TWO games.  TWO.  As in more than ONE.
I'm not even going to waste any time here and just get right into it:  My ten biggest surprises through the first four weeks of the 2017 NFL season…
1.) The New York Jets have the same record as the New England Patriots, at 2-2.
No, this is not a typo.  In fact, I had to check myself a few times to make sure I wasn't dreaming.  How about them J-E-T-S, JETS JETS JETS??  By FAR the biggest surprise through week 4, as I previously predicted they would only win 1 game this year, and I even thought THAT was generous.  The Jets have looked surprisingly good on defense, with Damario Davis leading the way with 40 tackles thus far.  And if that isn't surprising enough, their offense has outscored 12 other teams through the first 4 weeks of the season.  It's amazing to say it, but with a game next week AT Cleveland, we could find the Jets above .500, 5 weeks into the season.   THAT my friends is surprising.
2.) The Kansas City Chiefs are the NFL's ONLY 4-0 team.
While this is true, I would argue that the Lions should be 4-0 as well.  But I won't begin that argument.  The Chiefs look like the most complete team this season, aided by a surprising, up and coming running back in Kareem Hunt.  I know it is only 4 games, but to me they are already a lock for post season play.  Now, can they stay healthy AND perform like the regular season team.  Only time will tell.  But only 4 weeks into the season, I am surprised to only see one team with a flawless record.  We usually still have 3-4 by this point.  So, should be an interesting year!
3.) The Jaguars and Rams have two of the top three positive scoring differentials in the league
The Jaguars and Rams have combined to score 151 points thus far this season.  The Rams lead the way while the Jaguars are currently in the 5th for points scored.  While those numbers are impressive enough, the defenses have done their parts as well.  The only team with a higher scoring differential than these two is the Chiefs.  The Rams currently sit in second with a +37 differential, while the Rams follow in third with a +35 differential.  Last year the Rams had a scoring differential of -170!!  The Jaguars weren't as bad, with a -82, but still…what a tale of two seasons.  Granted we are only 4 games in, but these numbers are a shocking change.
4.) Eli Manning and Philip Rivers (1st and 4th picks of 2004 draft) are a combined 0-8.
The quarterbacks of 2004 are not fairing too well.  Manning and Rivers have thrown for a combined 2200 yards (both in top 7 in passing yards in NFL) and both have 6 TDs to 4 INTs.  However, both teams' defenses rank in the bottom 3rd in pretty much all categories.  Sports Illustrated projected these teams going a combined 16-15-1, which isn't much to write home about…however they are already over halfway to the loss total and we are only 4 games in…SI might want to revisit their recent NFL reporter hires…
5.) It took 4 weeks for the Bears to pull the Trigger on the start of the Mitchell Trubisky era.
I'm pretty sure I wasn't the only one surprised it took this long for the Bears to go with Trubisky.  I mean, I understand you have $14 million invested in Glennon…but that's your own damn fault for overpaying the guy in the first place.  You could've probably given $2 million to Kaepernick and he would get you to at least 1-3 if not better and had $12 million left to put into your inept OL and WR squad.  I said it prior to the start of the season, the trade the bears made (on paper) was stupid as can be.  However, I truly believe Trubisky can make the Bears organization look like geniuses, and I look forward to watching his first NFL start.
6.) The Buffalo Bills are first in the AFC East
NO ONE saw this coming.  The Bills defense are playing out of their minds right now and have given up the least amount of points so far through four games.  The addition of Micah Hyde has looked great for them thus far, as he leads the league with 3 INTs.  Tyrod Taylor always seems to do enough to keep the offense rolling, along with Shady McCoy.  Charles Clay and new WR Jordan Mathews both provide great hands on the receiving end.  With the Patriots recent struggles, the Bills have taken full advantage of it.
7.) Kareem Hunt, who started the preseason 3rd on the Chiefs RB depth chart is frontrunner for ROY.
An injury to Spencer Ware in the preseason opened the door for Kareem Hunt to have a chance to start.  Beating out Charcandrick West to be the Chiefs #1 RB option in week one, Hunt hasn't even remotely looked back.  Hunt has absolutely destroyed opposing team defenses, rushing for 100+ yards in 3 of his first 4 games this season.  Hunt already has 502 rushing yards through 4 games, with an additional 157 receiving yards and 6 TDs.  He is hands down ROY through the first 4 games, and barring injury or an unforeseen decline in production, should take the award this year with ease AND lead his team to a potential first round bye.
8.) The Los Angeles Rams have scored the most points in the NFL thus far.
Yes, THE Los Angeles Rams.  The Jared Goff led Los Angeles Rams.  The 'we are too good for St Louis' Los Angeles Rams.  Just let this sink in:  The Rams finished 32nd in the league in scoring last year and 32nd in the league in total yardage.  For those of you following at home…there are only 32 teams in the league.  So far through the first four games of the season, the Rams are FIRST in the league in points scored, and 5th in total team yardage.  (Insert dumbfounded emoji here).  Todd Gurley is playing MVP football right now.  Jared Goff actually looks like a guy deserving of last year's #1 overall pick.  The offense is clicking.  Whether or not Gurley can sustain the usage right now remains to be seen.  But for the time being, fantasy owners everywhere:  Roll with it.
9.) DeShaun Watson…wow
We knew he had the potential to be good at the next level, but last weekend was just a WOW performance.  His stat line versus the Titans:  25/34 for 283 yards passing, 4 TDs, 1 INT; 4 carries for 24 yards and a rushing TD.  98.3 QBR.  WHAT. A. GAME.  DeShaun Watson without a doubt has DeAndre Hopkins going to be at night with a smile on his face.  He FINALLY has a good QB to get the ball to him.  We might be witnessing the start of a new duo in the NFL, as I can see Watson to Hopkins becoming a household recognized occurrence.
10.) The New England Patriots defense has allowed the most yardage in the NFL thus far.
Last season, the Patriots defense gave up 5200 yards which was 8th best in the league.  They averaged 326 passing yards and only 88 rushing yards allowed per game, with a league low 15.6 Points per game.  WELL, fast forward to a season later and we have a different defense apparently.  Through week 4, the Patriots defense ranks dead last in yards allowed with 1,827.  The 31st ranked team (the Colts) are at 1,585.  For those of you who don't do math, that is 242 less yards.   The Patriots have allowed an average of 457 yards per game, to go along with 32 points per game.  Not even having Tom Brady as your QB can save you from those numbers.  It might be time to worry in New England.
Well, there you have it, those are my 10 biggest surprises and I'm sticking to them!
Let us know your thoughts in the comments.
#TEAMNOBODY