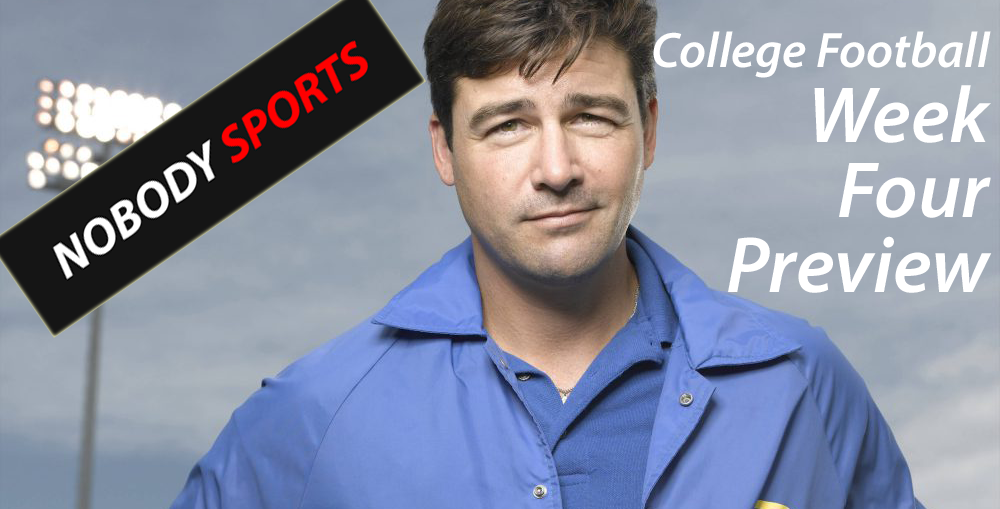 Well guys, it's time for our Week Four College Football Preview. Heading into this week, I'm staring at an astounding 12-6 record picking games this season. And as I sit here relishing my success, I'm beginning my umpteenth cycle of Friday Night Lights. I can't help but wonder how people haven't watched the hell out of this show. (PS – FUCK VOODOO TATUM. How dare you come in and disrespect the Dillon Panthers and all that they are. Also, fuck Netflix for removing this gem on October 1st).  Eric Taylor is my dude. Strong family man, great football coach, and even better person. He seems like the kind of guy I'd want to sit down and watch an entire day of college football with, analyzing every play while just enjoying the game of football. I think a week like this one would be right up Eric Taylor's alley. There are a lot of quality games that are going to go a long way in determining these teams seasons. A few teams are heading into conference play, while a few are wrapping up their preseason schedules. Well, let's get to it. Clear Eyes. Full Hearts. CAN'T LOSE!
-Shawn
---
All games on Saturday unless noted. All times ET.
West Virginia at Kansas (Noon, ESPNU)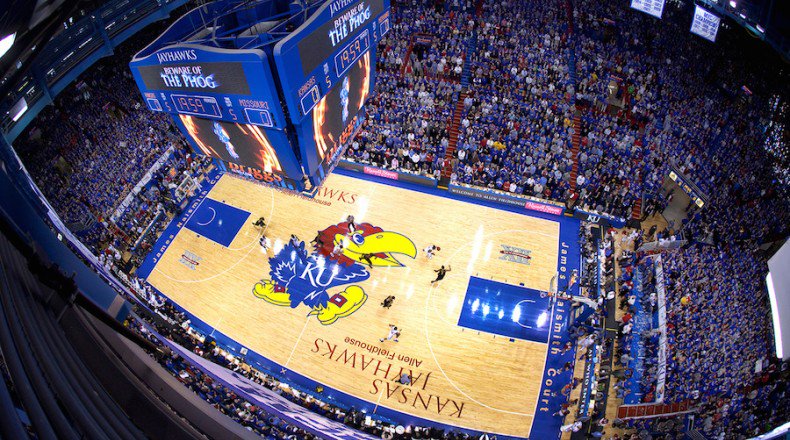 (Don't worry Jayhawk nation. Basketball season is only a month away.)
Vegas has the over/under line on this game at 70.5. West Virginia is averaging 46.3 ppg. Kansas is averaging 31.7. This game is going to be a very explosive game with two defenses that are both allowing over 400 yards/game. Expect WVU Quarterback Will Grier to have a field day with a Kansas defense that has allowed 40+ games in the past two games. Grier and the Mountaineer offense has scored 50+ points in their last two games. While the over/under line is set at 70.5, expect WVU to make up the bulk of those points as the Mountaineers open up their Big 12 season on a high note.
Prediction: WVU wins 56-17
---
Texas Tech at Houston (Noon, ABC/ESPN2)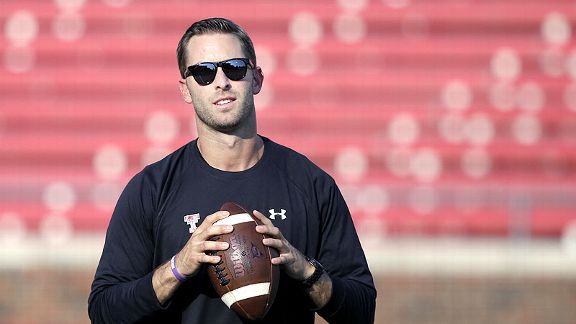 (Nope, not a model. This is actually what Texas Tech head coach Kliff Kingsbury looks like. #Swoon. Photo Credit: LM Otero, AP Photo)
Another barnburner is set up down in Houston this week. Texas Tech is living up to their lineage of incredible offenses this season, averaging 54 ppg and 620.5 yards/game. Houston's staunch defense is averaging 9.5 points allowed per game this season, and this will be a strong test for Major Applewhite's defense as they continue preparations for the American Conference season. While this may be the toughest test for the Cougar defense, this will also be the toughest test that Kliff Kingsbury and Texas Tech has faced this season. This one has all the shapings to be a great way to start a college football season.
Prediction: Houston wins 45-28
---
UCF at Maryland (3:00pm, FS1)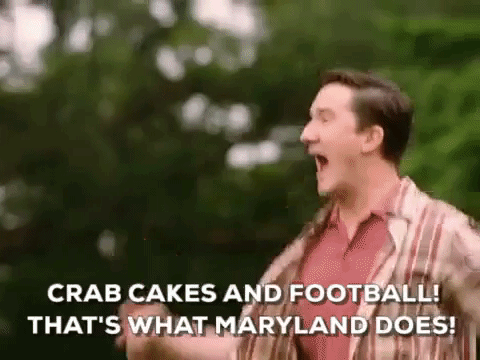 (Literally any time someone mentions Maryland and Football to me, this is my response.)
UCF returns to the field for the first time in 24 days. And this won't be an easy welcome back game for the Coach Frost and the Knights. Maryland has seen their fair share of offensive success this season. The Terrapins have been surprising the nation by breaking the scoreboard against Texas, and going on to annihilate Towson 63 to 17. UCF did put up 61 points against FIU back on August 31st. This game will be very telling for UCF as they being to regain their focus towards football. Maryland will have a lot of trouble trying to contain sophomore quarterback McKenzie Milton. Expect a very passionate showing from the Knights in this one.
Prediction: UCF wins 41-35
---
(16) TCU at (6) Oklahoma St (3:30pm, ESPN)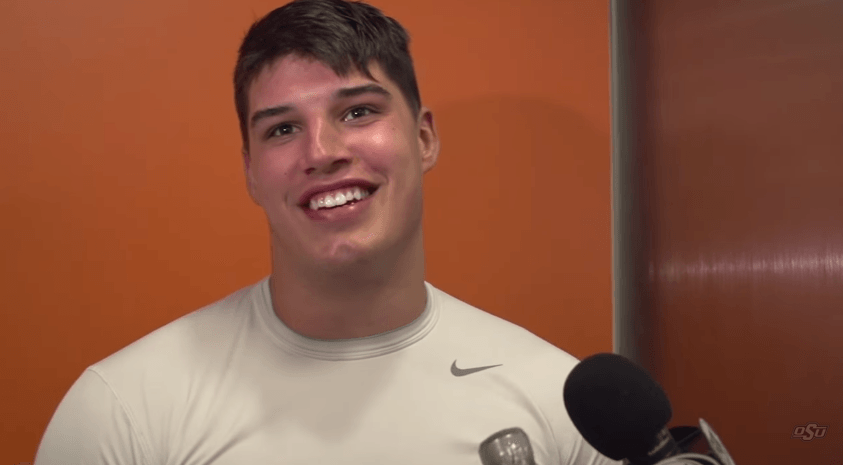 (Could this guy's name be anything other than Mason Rudolph. Probably not. Photo Credit: YouTube)
Another massive Big 12 showdown is on the schedule for Saturday. Mason Rudolph will face his toughest test this season as the TCU Horned Frogs bring their talented defense to Stillwater. TCU is allowing 14.3 points per game this season, but they face an extremely talented offense led by Rudolph who's putting up Heisman-type number, throwing for 1135 yards and 11 TDs. For TCU Head Coach Gary Patterson, the question is how do you slow down this offense. Unfortunately, no one has been able to answer that question this season and expect that to stay the same after this one.
Prediction: (6) OK St wins 49-24
---
(17) Miss St at (11) Georgia (7pm, ESPN)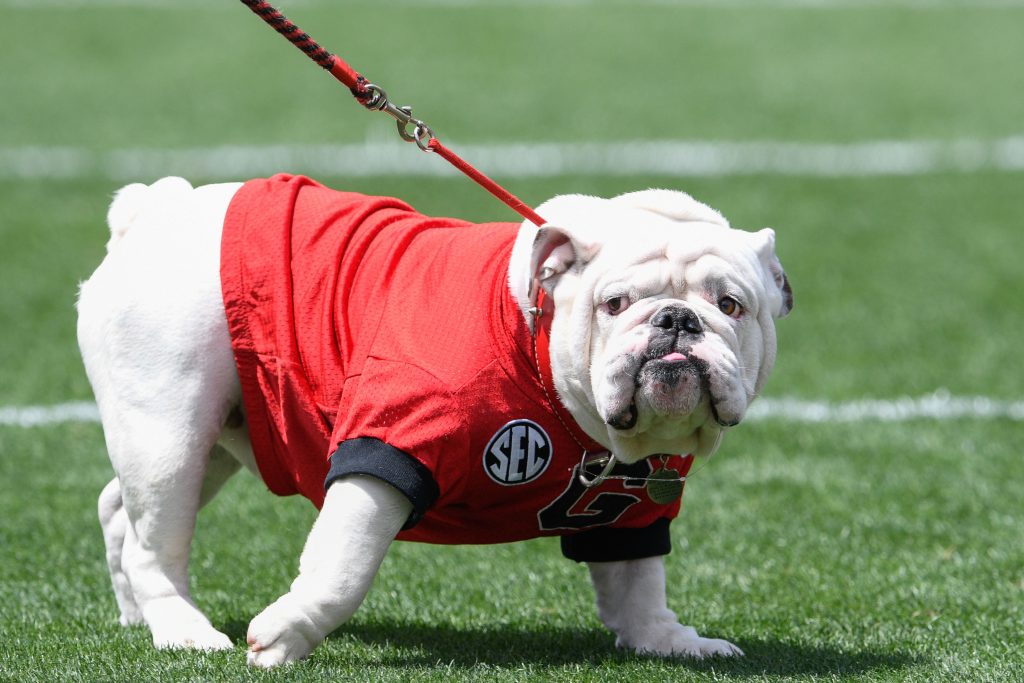 (Probably true quote from a UGA, "They did what to LSU?!?" Photo Credit: Dale Zanine, USA TODAY Sports)
Not going to say I called it, but I called it. Mississippi (yeah, I did the little elementary school saying to spell that) State is coming off a 37-7 rout in Baton Rouge. This was not a game that many were looking at when the schedules came out and saying, "Keep your eye's on that one". Well it's week four, so we live in a different world now and you should definitely keep your eyes on this one. The Miss St defense has been outstanding this season, allowing only 9.3 points per game while Georgia's defense is nothing to scoff at either this season, as they are allowing 14.3 points per game. The difference in this one will be determined by which QB will be able to better dissect the opposing defense.
Prediction: (17) Miss St wins 19-14
---
(24) Oregon at Arizona St (10pm, Pac12 Network)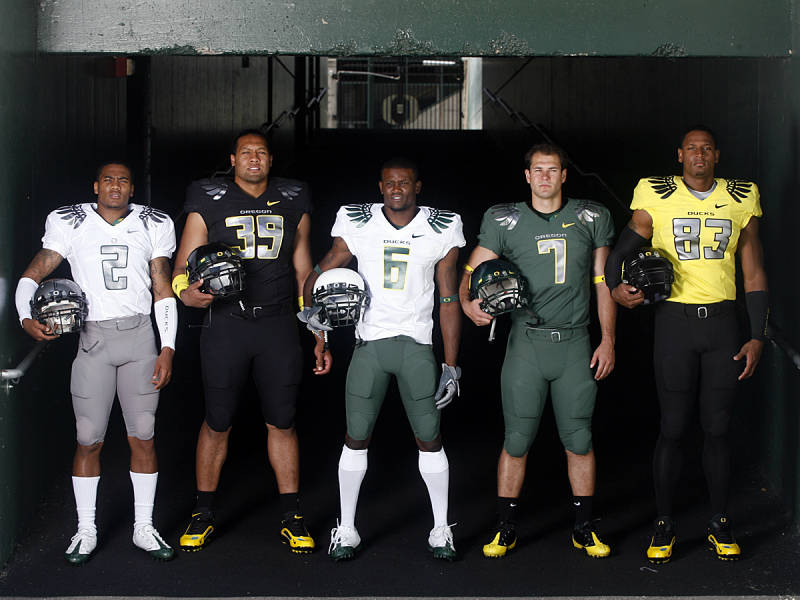 (I feel like the Oregon Ducks and I share the same issue of trying to figure out what to wear.)
It's a stone cold fact that Pac-12 football is best played when it's being played until 1 o'clock in the morning. This is going to be one of those quality games that only Pac-12 fans and College Football die-hards will watch. And for those tuning in, this is going to be a fun one to watch. For the first time in a while, the Oregon Ducks have a defense to pair with their notoriously explosive offense. The Ducks are averaging 609 yards a game and 56 points/game. Their defense is only allowing 303 yards per game. Last week they held Wyoming quarterback and future Sunday football player Josh Allen to 64 yards passing. Expect Oregon to roll through this one.
Prediction: (24) Oregon wins 63-14
---
So there we have it, another great week to look forward to. And with the Badgers on a bye this week, I'll be able to sit back, relax and just college football. Gonna be a quality Saturday in Casa De Shawnzie. So sit back, relax and College Football with me.
#TeamNobody