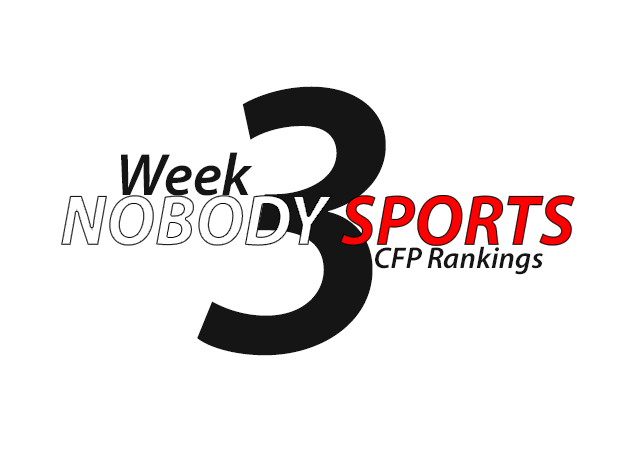 Gang! The rankings just came out. Two SEC and two ACC teams in the top 6. Yes, I'm still listening to "Reputation". Still don't have a favorite song. Solid album top to bottom. As for the rankings, well, not too many surprises. Nice to see UCF hanging out at 15. Rest of the 25 makes a lot of the sense. But we're not here for that. We're looking at the top 5. I've finally calmed down from seeing them. Here are my initial reactions to the top six teams in the week three college football rankings.
-Shawn
---
6 – Auburn (8-2)
Rest of the way: vs ULM, vs (1) Alabama
Auburn, all you have to do is beat Alabama at this point. Not too difficult, right? Just have another kick six. It's really that simple. Oh and go on to win the SEC championship game against Georgia. Who's probably going to be super pissed off. So good luck.
Reputation Song most describing your situation: "Getaway Car"
"We never had shot, gunshot in the dark"
---
5 – Wisconsin (10-0)
Rest of the way: vs (24) Michigan, at Minnesota, Big 10 Championship Game
FUCK YEAH! This is the best case scenario for the Badgers right now. We knew coming into the initial rankings that we needed things to go our way, and BOY OH BOY have they. Miami's trouncing of Notre Dame last week was the best case scenario for Bucky Nation. On the horizon, a newly ranked Michigan Wolverines team comes to Madtown for a mid-morning showdown at Camp Randall. Gameday in town = check. November football = check. Ticket punched to the Big Ten Championship game = check. LET'S FUCKING GO! Oh and then on to destroy a boat in Minneapolis.
Reputation Song: "…Ready For It"
"In the middle of the night, in my dreams, you should see the things we do, baby…"
---
4 – Oklahoma (9-1)
Rest of the way: at Kansas, vs West Virginia
So, Baker Mayfield. He's pretty good at football. I think his plunging of the flag into the block "O" in Columbus holds a lot of weight with the committee.  Wins over OK State and TCU don't hurt. Boomer Sooner's route to the Big 12 Championship seems incredibly easy and will be resume builders for Baker on his quest to the Heisman. The blemish in the long run for the Sooners is that two of their biggest wins are over teams who no longer reside in the Top 10.
Reputation Song: "I Did Something Bad"
"They say I did something bad, then why's it feel so good? Most fun I ever had, and I'd do it over and over and over again if I could"
---
3 – Miami (9-0)
Rest of the way: vs Virginia, at Pittsburgh, ACC Championship Game vs (2) Clemson
THE U IS BACK! Turnover Chain is possible the greatest thing going in college football right now. And that chain is accompanied by a Number 3 spot in this week's rankings. A trouncing of Notre Dame a week ago put the committee on notice and with good reason. The rest of the way is laid out with the ACC Championship being determined against number two Clemson. You have to assume that the winner of that one is guaranteed a birth at this point. The loser will be hopeful for things to fall into place for them among the top 4. But really, that turnover chain is sexy af.
Reputation song: "End Game (feat. Ed Sheeran & Future)
"Big reputation, ooh, you and me, we got big reputations, ah, and you heard about me"
---
2 – Clemson (9-1)
Rest of the way: vs Citadel, at South Carolina, ACC Championship vs (3) Miami
The curious case of the Clemson Tigers. Two seems like a really nice place. But they are in the most vulnerable position of the top 4. If the rest of the top six win out, Clemson needs to win out. They can't really make a mistake from here on out. A tough matchup with the Gamecocks over Thanksgiving weekend, plus a date with the Hurricanes in the ACC Championship Game. Dabo needs perfection at this point.
Reputation song: "Delicate"
"We can't make any promises now, can we, babe? But you can make me a drink."
---
1 – Alabama (10-0)
Rest of the way: vs Mercer, at (6) Auburn
Well Bama, welcome back. Nick Saban can stop running three-a-days now in Tuscaloosa now that his Crimson Tide are back where they are very used to being. With a nap coming up this Saturday again Mercer (seriously, Mercer?), the focus turns to Auburn and the Iron Bowl over Thanksgiving weekend. The world is a better place when the Iron Bowl matters. And there are serious playoff implications surrounding the birthplace of the Kick Six. A win and a trip to the SEC Championship should keep the tide rolling. Roll Tide (it's really just fun to say.)
Reputation song: "Gorgeous"
"You should take it as a compliment, that I got drunk and made fun of the way you talk."
---
Well, there you go. Rankings are out. Reputation is out. I haven't decided which one I'm enjoying more. (No but seriously, go buy Reputation. Taylor Swift killed it. ALL OF THE FIRE EMOJIS).
Talk to you guys soon
#TeamNobody