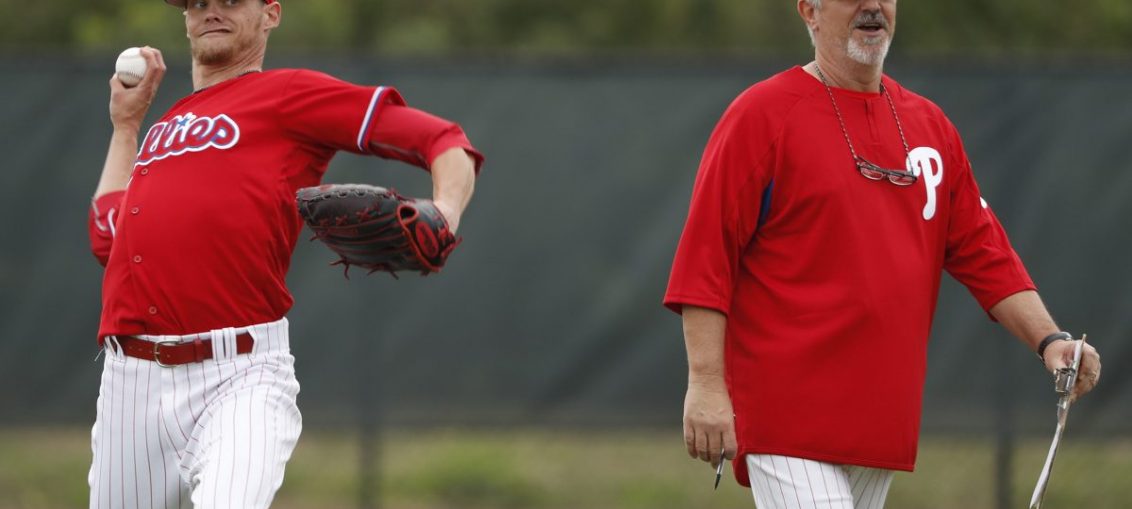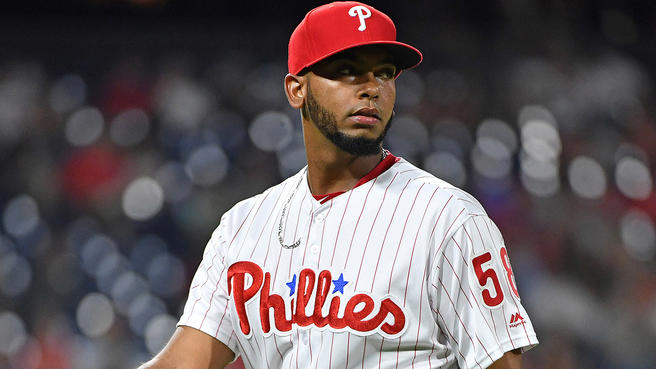 (Cover Photo courtesy of Philly.com; photo above from NBC Sports)
-Joe Gallagher
Dear Mr. Kranitz,
I love the Phillies.  I've loved the Phillies for 30 years.  The first sports-related piece of clothing I can vividly remember receiving still to this day was a Phillies pajama set for my 3rd birthday.  Hell, I can barely remember what I have for breakfast most days…but I'll never forget that Green, cuddly thing on the front of my pajamas with his tongue out and his pals from the Galapagos Islands dancing around.  I've gone to countless games, sat through the highs (WORLD FU**ING CHAMPIONS) and I've sat through the lows – not sure which was worse, the 2000 team or 2015 team…ugh… At the end of each season, I still love my Phillies.
I came into this season with low expectations – great group of guys, a ton of potential, a rotation that could be good but was still young.  And holy **** has the team surprised me.  Nola is pitching like the Cy-Young Ace candidate we knew he could become.  Eflin has been absolutely surprising me.  Odubel is doing everything he can to make me regret ever saying we should trade the guy.  Hoskins is being Hoskins.  And last but not least: We have unearthed a gem of a bullpen guy in Seranthony Dominguez.   That last point, SIR Seranthony himself, is the biggest reason WHY I am penning this post.
Living in Wisconsin now (moved to Madison in August of 2016), I have had to travel to Milwaukee and Chicago to see my beloved Phillies play (aside from watching on MLB.tv).  Night after night, week after week, I find myself texting the other guys of NobodySports the same thing:  "Here goes the bullpen, bout to blow another one…"  On Wednesday June 6th, I was down at Wrigley to see the Phillies play the Cubs.  If you recall on our twitter page, all I asked for was Dylan Cozens to get in, so I could see his first MLB home run.  Well, he did just that, top 9th, 2-run-shot, beauty.  And then, the bottom of the 9th came along.  Here I was, the lone red blip in a sea of cubbie blue…and Adam Morgan came waltzing up to the pitcher's mound, since Dominguez had pitched for his 100th straight game (you'll understand why shortly…).  I turned to the cubs fans in my row and said, "Whelp, you guys have won this one…"  We all know what happened next…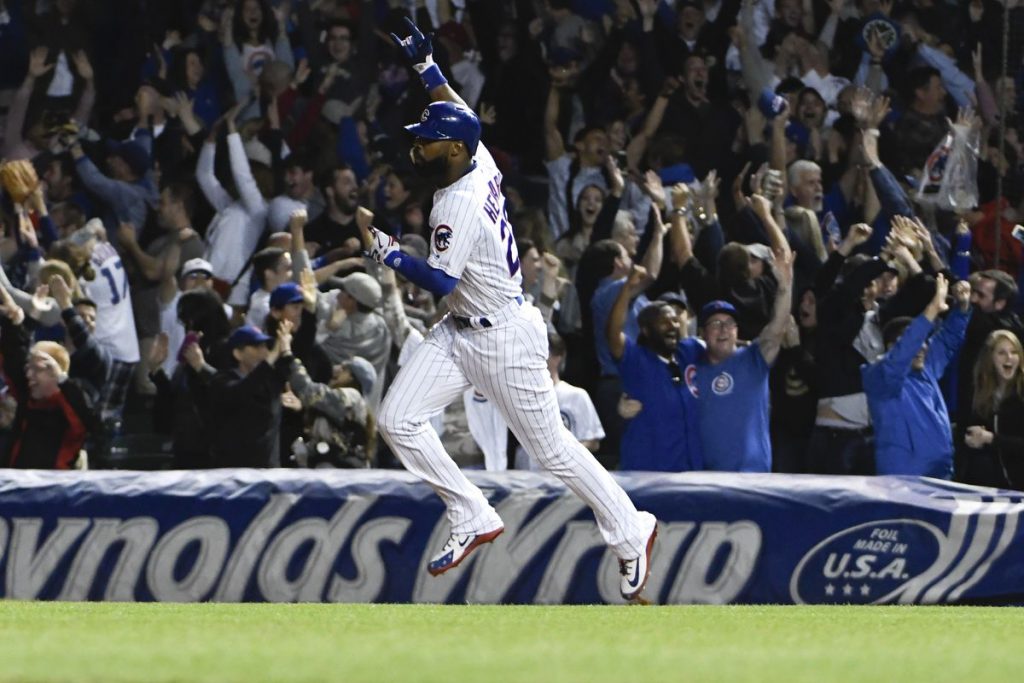 (Image from Bleed Cubbie Blue)
As I watched Heyward round the bases, I thought to myself, how hard is it to put together a bullpen that doesn't blow games.  Like, I thought the point of the bullpen was Holds, Saves, strikeouts, low ERAs, you know, all those categories that us fantasy baseball geeks are trying to fill up each week with our random bullpen guys (Side note – I love you Seranthony).  And, as harsh of a critic as I felt myself being, it wasn't really "the bullpen" that was frustrating me, but moreso TWO guys in the bullpen – the guy who just gave up a grand slam, and Hector 'I can't locate a pitch to save my soul' Neris.
Now, I didn't want to be too hard on the guys, so I decided to look into each of their recent performances.  Oh boy was that a mistake.  Let's start with Adam Morgan.  In his last 9 games he's made an appearance, he has pitched 7-1/3 innings, given up 7 ER, has 2 losses due to blown saves, and has given up a walk-off grand slam to Jason Heyward, a grand slam to a guy who was then traded the following day in Ji-man Choi (unfortunately, I was at BOTH of those games), and had an outing where he gave up 2 hits and a run versus the Giants…on 7 pitches.  Those sound like statistics that I myself should be getting pitching for the Phillies, NOT Adam Morgan.  Hell, if the Phillies want to pay me $560,000 to pitch like that just give me a call; I mean I'll suck just as much AND you'll have a touching, inspirational story about how a guy who blogs for fun came out and threw 7 MLB pitches…granted getting zero outs, but that's not the main point of the article!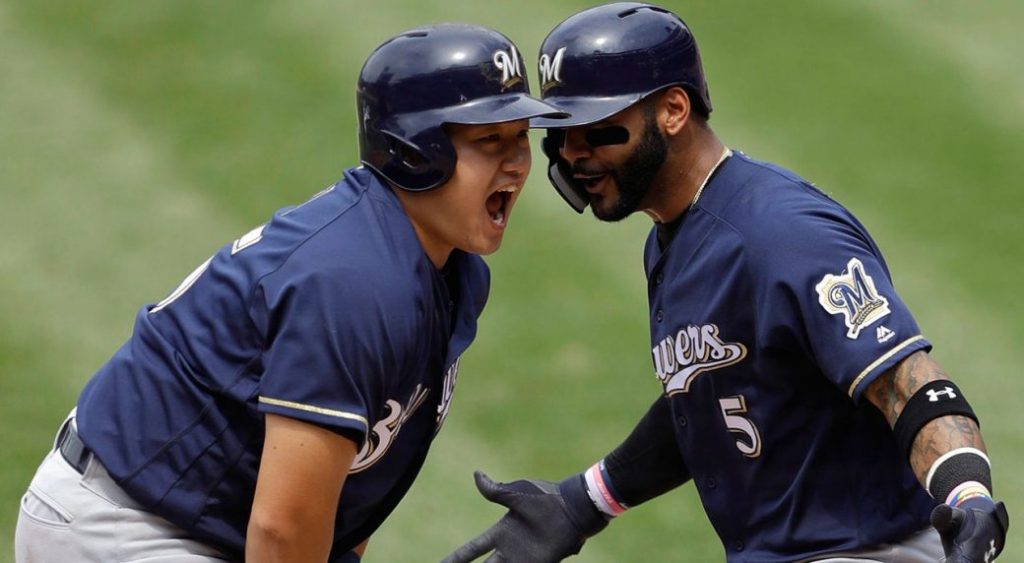 (Image from sportsnet.com)
Okay, so if you haven't figured out I am not a huge fan of Adam Morgan's garbage pitching lately, let me continue right on to Hector Neris.  His last 9 games are even worse!  8 Innings pitched in his last 9 appearances, 9 ER, wild pitches, and an abomination of a finish in today's Brewers game.  He is "the Phillies closer" with a 6.00 ERA.  Hell, the Phillies as a whole have a 4.56 ERA in the ninth inning alone this year…and if you remove Neris, it drops to a 3.52!!!  (statistic recently reported by NBC 10 Philadelphia's Corey Seidman here: insert link)  Neris has been so bad lately, that I had to do a little lineage search on ancestry.com to make sure that Neris wasn't somehow a distant cousin of Helen Keller.  Okay, that is probably kind of rude; I am sure Helen would make a fine pitcher.  Plus, luckily for her she would've never had to hear OR see the atrocity of pitching coming out of our bullpen each time Neris walks on the field.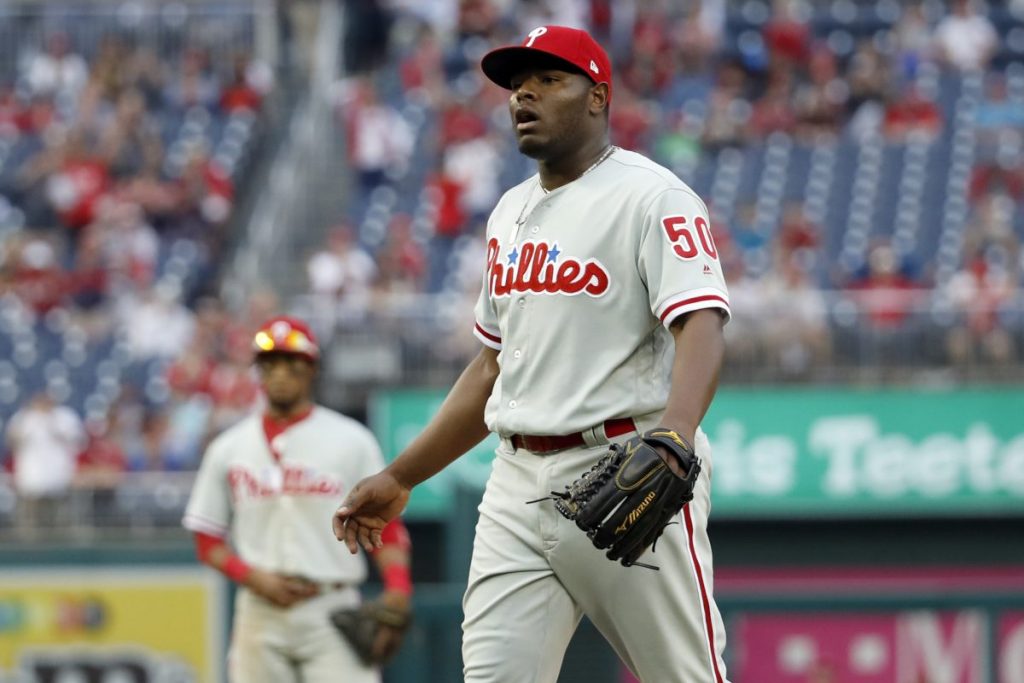 (Image from Philly.com)
Alright, I am just stamping my one-way ticket to hell right now; honestly Helen Keller said one of the greatest quotes ever "Alone we can do so little; together we can do so much."  So my plea to all of you Phillies fans out there, is to VOICE your concerns over the atrocity known our bullpen.  With the exception of Arano, Ramos and Dominguez, our bullpen has been straight G-A-R-B-A-G-E.  What does Brandon Leibrandt have to do down at AAA to get a call up?  "He could be a starter, " you all say… I don't care!  Let the kid pitch out of the bullpen.  No, instead we call up Jake 'I'm really good in the minors but can't find home plate in the majors' Thompson.  Why not call up the long locks of Zac Curtis?  Or give Austin Davis his due?  No, instead we roll out the same garbage every night, while Velasquez goes 6-7 innings striking out the entire opponent's team, only to have his win lost at the hands of middle school pitchers in our bullpen.
Rick Kranitz, I am begging you – PLEASE take a hard look at these guys you put out there each night.  The ONLY 3 guys that have earned a spot in that bullpen are Dominguez (1.27 ERA), Arano (1.99 ERA) and Ramos (0.69 ERA).  And you have three guys in AAA – Leibrandt, Curtis, Davis who all deserve a shot.  If you really want Neris to be your closer, send him down to AAA to get his confidence back, call up Beato to be a short-term solution (granted not much better).  As for Morgan – he's a class act guy, but he too needs to get his confidence back.
Please Mr. Kranitz – do your job.
#NobodySports